Astros click on all cylinders to knock off Jays
Carter's three hits, jack in fifth support strong start by Oberholtzer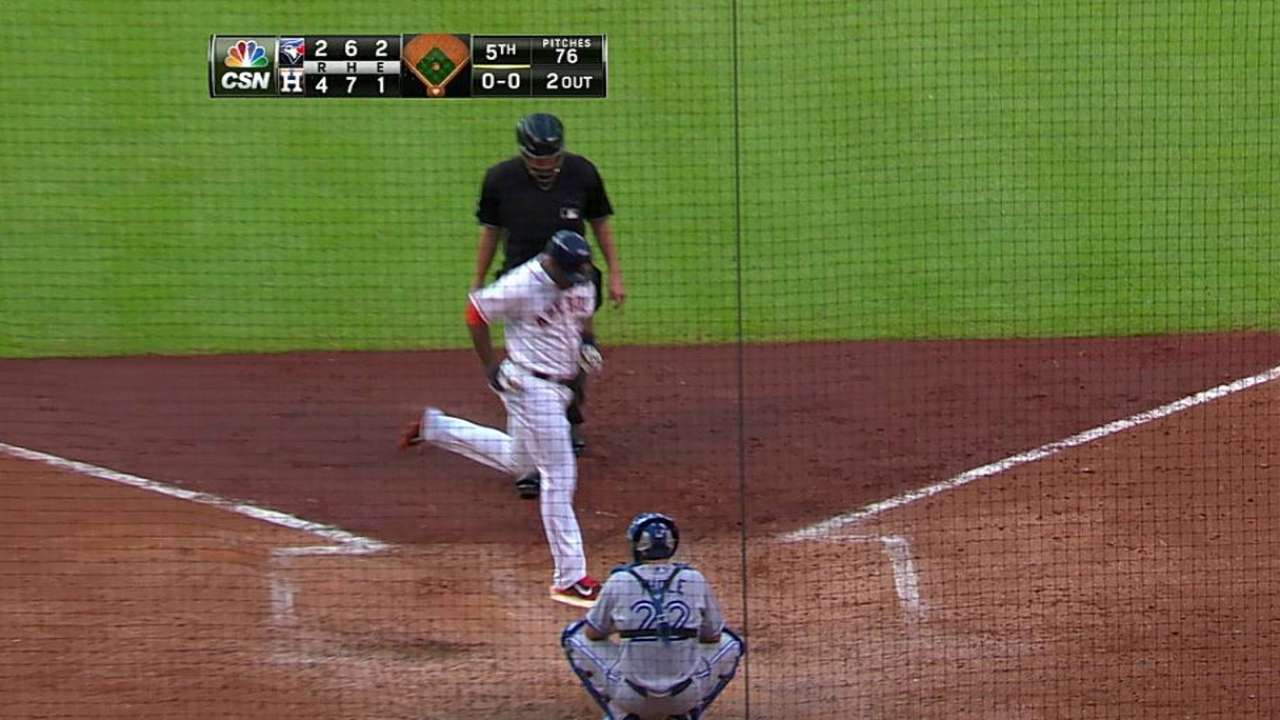 HOUSTON -- When Jose Altuve is hitting, the starting pitching is keeping the bullpen inactive and Chris Carter is cranking homers, the Astros have a formula for success.
The back end of this season-long 10-game homestand is proof of that, cemented by Saturday night's 8-2 victory over the Blue Jays at Minute Maid Park. Houston took a series from Oakland earlier this week and has guaranteed at least a split of this four-game set with Toronto.
On an uncharacteristically cool evening with the roof open, the Astros found the formula and even added some flourishes.
"It was fun to be a part of and to watch," said starter Brett Oberholtzer. "Arguably one of the better games we've played all year."
Oberholtzer settled down after a shaky start, consistently keeping the Blue Jays out of the air, while using some ground balls and his own nifty glovework to get out of jams.
"That's the key word, settling in," he said. "First few innings, I was off and [my] command wasn't really there."
But working out of a bases-loaded jam in the fourth inning finally turned the tide and kept Oberholtzer in the game for the long haul. He logged seven innings, allowing only two runs on six hits with five strikeouts on 92 pitches.
The lefty has solidified his place in the rotation going forward -- especially after Jarred Cosart was traded on Thursday -- by going 4-1 with a 3.08 ERA in his last eight starts. Houston is 6-2 in those eight outings.
Porter said a fifth-inning sequence in which Oberholtzer worked his way back from a 3-0 count to get Jose Bautista out stood in stark contrast to the lefty's tentativeness last season.
"He goes 3-0 to Bautista and he throws a 3-0 changeup for a strike, then a 3-1 changeup -- easy flyball," Porter said. "Brett doesn't make those pitches last year, just because of his confidence level in his changeup.
"To see him be able to make those pitches and make them with confidence lets me know how much he's progressed."
Meanwhile, Altuve atoned for his past lack of success against Toronto knuckleballer R.A. Dickey. The second baseman, who entered the game 0-for-10 against Dickey, laced a double to lead off the first and eventually scored on Carter's double to tie the game at 1. Altuve finished with two hits off Dickey in a 2-for-5 night.
Jon Singleton's RBI single put the Astros in front by the end of the frame.
After the Jays tied it in the third, a pitcher's duel ensued before a seemingly harmless pickoff attempt changed the game's complexion.
After Altuve's fifth-inning single, Dickey fired an errant throw and Altuve headed for third. Danny Valencia's cross-diamond throw to third skipped away and Altuve trotted home for a 3-2 lead.
"That's a basestealer, I'm trying to pick him off," Dickey said. "A lot of times those throws are going to be low. Unfortunately, I kind of threw it up the line just a tad. But look, I'm trying to get him out. I always try to do that and that's why I usually have good success at picking guys off."
Enter Carter. He followed up on his hot July, when he tied for the American League lead in homers with eight, by cranking a 411-foot solo shot off the train tracks well above the left-field stands. Carter finished the night with three hits and two RBIs, just a triple shy of the cycle.
Meanwhile, heralded pitching prospect Mike Foltynewicz was impressive in his Major League debut with a scoreless two-thirds of an inning in the eighth to earn a standing ovation.
Foltynewicz, a notoriously hard thrower, touched 99 miles per hour as he struck out a batter and coaxed a lazy foul popup from another. He left with a runner on due to a walk, but lefty Tony Sipp shut the door behind him with the help of Robbie Grossman's stellar over-the-wall catch to rob pinch-hitter Juan Francisco of a potential game-tying two-run homer.
"I literally didn't have any reaction at all," said Porter when asked about the near game-tying homer. "I turned to the rest of the dugout and went, 'Holy smokes.' I didn't think it was going to get out, but as I started to look at it, I had to hold up."
"Robbie Grossman just made a tremendous play."
Jason Castro provided insurance with a two-run homer in the eighth, his third jack of the homestand before Singleton's shot off the wall in deep right-center field that got away from Anthony Gose.
Singleton was initially ruled out at home, but a replay review overturned the call for the first Astros inside-the-park homer since Altuve did it against the Giants on Aug. 20, 2011.
Chris Abshire is a contributor to MLB.com. This story was not subject to the approval of Major League Baseball or its clubs.