Dickey, Blue Jays knocked around by Astros
Knuckleballer labors in pair of two-run frames, commits throwing error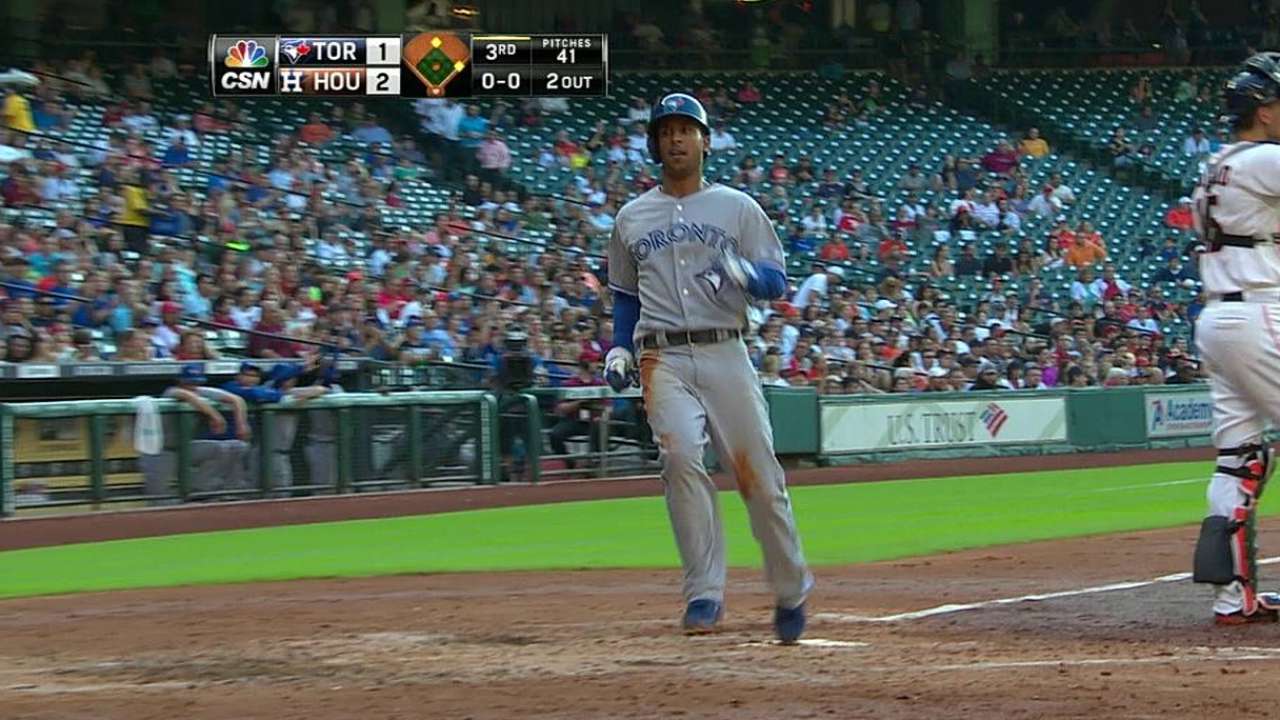 HOUSTON -- The toughest part of the Blue Jays' three-city road trip was expected to be in Boston or New York. Instead, it turned out to be here in Houston.
Toronto easily took its series vs. the Red Sox and Yankees but after winning six games in a row, the club hit a road block. The Astros might be inexperienced, but they're proving to be a talented and resilient squad.
R.A. Dickey allowed five runs over seven-plus innings and the Blue Jays were outplayed in every facet of the game during an 8-2 loss on Saturday night at Minute Maid Park.
"They play with passion over there, a bunch of young talented kids that it means something to," manager John Gibbons said. "They took it to us."
The final score is rather deceiving because the Blue Jays were down two runs when pinch-hitter Juan Francisco stepped to the plate in the eighth inning. Toronto then thought it had a brand new ballgame as Francisco lifted a deep fly ball to right field with a runner on.
The game looked like it was about to be tied, until all of a sudden, right fielder Robbie Grossman tracked the ball down and perfectly timed his jump to make a highlight-reel catch. The spectacular grab was one of several plays that Houston made which will probably end up on the plays of the week in both Canada and the United States.
In addition to Grossman's grab, L.J. Hoes jumped into the seats down the left-field line to record an out in the ninth. One inning earlier, Jon Singleton put the crowd on its feet with an inside-the-park homer. It was textbook baseball all around for the Astros and instead of being active participants, the Blue Jays found themselves helpless bystanders.
"It will take the wind out of you when you think you've tied the game up," Blue Jays catcher Josh Thole said. "But he made a great play so hats off to him. What a great catch, going into the stands and get it. It's frustrating, but those are the things you try to overcome."
For the second consecutive game, Toronto's offense struck early with one run in the first but then seemed to disappear. Jose Bautista did add an RBI double in the third, but the Blue Jays went without a hit for the final five innings of the game.
Houston left-hander Brett Oberholtzer was a big reason. The 25-year-old scattered six hits and one walk, while striking out five over seven strong innings to pick up his fourth victory. Michael Foltynewicz, Tony Sipp and Paul Clemens closed things out with two scoreless innings.
Toronto entered play on Friday with at least four runs in 10 consecutive games, but it has now scored three over the past 18 innings.
"You have a chance to open it up, instead of one run in that first inning, didn't happen," Gibbons said. "We've been playing good baseball, that's the way the game goes, ups and downs. We need to come out tomorrow and hopefully [Marcus Stroman's] on like he has been all year and then walk out of here with a win."
Dickey entered the All-Star break on a roll, but he has now allowed at least four runs in three of his past four starts. A lot of those issues are related to the home run as he's surrendered four over the previous 27 innings.
The night didn't start off well as Dickey allowed two runs in the first inning, but he then found a way to settle in until the fifth. That's when Dickey created his own problems by making a pickoff attempt of Jose Altuve at first base. Dickey's throw was low, a little off target and bounced away from first baseman Danny Valencia.
Altuve was cruising into third when Valencia made an ill-advised decision to throw across the diamond. That throw was in the dirt as well and got away from infielder Steve Tolleson. Altuve jogged home as Houston took a 3-2 lead. Chris Carter made it 4-2 a couple of batters later when he crushed his 22nd home run of the season.
It stayed 4-2 until the Blue Jays came unglued in the bottom of the eighth inning. Dickey opened the inning by allowing an opposite-field single to Carter. Left-hander Brett Cecil entered and promptly gave up a two-run homer to Jason Castro.
Two batters later, Jon Singleton hit one off the wall in right-center field. Anthony Gose misplayed the ball and fell down as it ricocheted off the wall. Singleton kept running and was almost to third base by the time Gose retrieved the ball. Gose made a perfect throw into the infield and after the ball was relayed home, Singleton was called out on a close play at home.
Houston challenged and the call on the field was overturned. Singleton was credited with Houston's first inside-the-park homer since Jose Altuve did it on Aug. 20, 2011.
All in all, it was a rough night for the Blue Jays.
"They played spectacular defense," Dickey said. "They did a nice job of hitting some tough pitches, Altuve in particular, on the inning that he scored. That was a good knuckleball that he hit and there was some other hits that they got on good pitches.
"Some nights you have to tip your cap, give them credit and learn from what you did poorly and attack the next outing."
Gregor Chisholm is a reporter for MLB.com. Read his blog, North of the Border, and follow him on Twitter @gregorMLB. This story was not subject to the approval of Major League Baseball or its clubs.