Defense faulty as Vargas unravels in costly frame
Lefty sets down first 12 batters before giving up seven runs in the fifth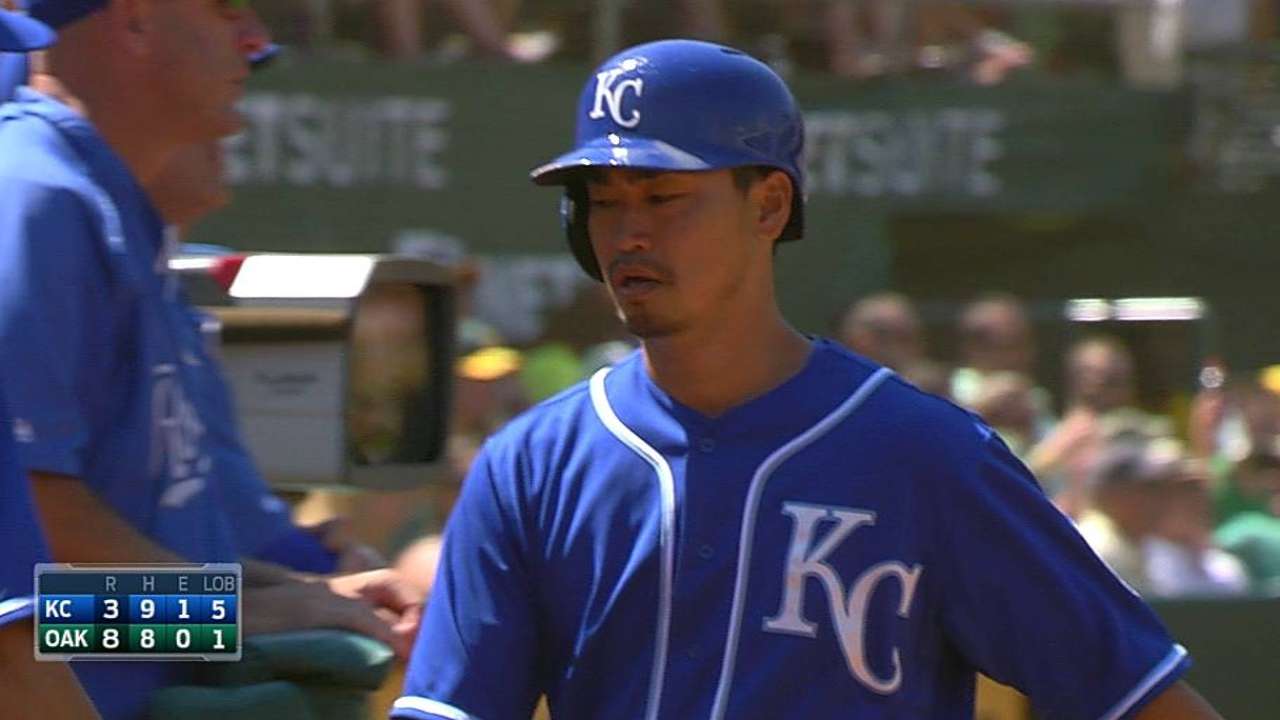 OAKLAND -- What started as a perfect afternoon for Jason Vargas ended in disaster.
Despite retiring the first dozen A's he faced, the Kansas City southpaw was tattooed in the eight-run fifth inning of Oakland's 8-3 victory on Saturday.
Vargas' defense didn't help him much, either. Though the Royals were charged with just one error during Oakland's big outburst, there were a trio of notable misplays that helped the A's pour it on.
"Left some balls up, we didn't play defense and that's what happens. It unraveled," Vargas said. "Just as a whole, we weren't good in the fifth inning. That's what it comes down to."
Vargas (8-5, 3.69 ERA) was eager to get back to the mound after sitting out since July 8 due to an appendectomy. He looked like he had no issues to begin the contest, striking out four straight batters at one point as he set down the first 12 batters he faced.
The crafty veteran pounded the zone, used good location and relied on a fastball-changeup combo to keep Oakland's lineup off-balance. Or as Royals manager Ned Yost said: "It was vintage Vargas."
But then the A's bats came alive in the fifth inning and Vargas couldn't make it out of the frame. He allowed seven hits and was charged with seven earned runs, while getting just one out.
A's catcher Derek Norris started the rally by hitting a leadoff double before Billy Butler committed Kansas City's first defensive miscue of the afternoon. Jonny Gomes skied one high in the infield, and Butler looked like he had a beat on it, but the ball dropped at the first baseman's feet.
The sun has been responsible for several dropped balls by defenders this year at O.Co Coliseum, like earlier in the day when A's third baseman Josh Donaldson misplayed a potential flyout, but Yost said Butler simply had a lapse.
"The sun didn't come into play there," Yost said. "He screwed it up."
The A's used four straight singles to chase Vargas from the game. The fourth single, off the bat of Jed Lowrie, deflected off of Mike Moustakas' glove at the hot corner and drove in another run to make it 4-1, A's. But Kansas City's defensive woes weren't over.
Once Vargas exited, Aaron Crow walked Donaldson with the bases loaded to bring home another run before the wheels completely fell off. Gomes hit a single to left field with the bases loaded and Alex Gordon misplayed it, allowing the bases to clear and Oakland to extend its lead to 8-1.
"I took my eye off the ball," Gordon said. "I was trying to throw the guy out at home before I got the ball. Stupid mistake on my part -- not seeing the ball into the glove -- and that's what happens."
The Royals, winners of eight of their past 11, have been playing sharp as of late. Friday night's 1-0 shutout of the A's serves as a fine example, but Saturday it simply wasn't there.
"The fifth inning, you probably won't see something like that happen again," Vargas said. "If you do, it probably won't be for a while. It's one of those that got away from us. We were careless and it came back to bite us."
For a while, Vargas was locked up in a pitchers' duel with fellow lefty Jon Lester, who made his A's debut after being acquired in a blockbuster Trade Deadline deal on Thursday.
Kansas City cracked Lester in the seventh, scoring two runs to chase him from the mound, but the damage was already done. Lester (11-7, 2.59 ERA) finished 6 2/3 innings, allowing three earned runs on nine hits and a walk while striking out three to earn his first victory in Oakland.
Lester received a standing ovation as he left the mound and tipped his cap to his new hometown crowd before reaching the dugout.
"It was a little different at first, but baseball's baseball," Lester said, "and I gotta focus on that and try to help these guys win and do that the best I can. There will be a time, later down the road, where I can sit and reminisce about all the times then, but I can't allow myself to do that."
The Royals scored the game's initial run in the third inning, when Salvador Perez hit a sac fly to plate Alcides Escobar. They nearly scored another run on a sac fly in the fourth to double their lead, but a stellar throw from center fielder Sam Fuld nabbed Gordon at the plate for an inning-ending double play.
"That was a close play," Gordon said. "I thought I had made a good slide, but he obviously tagged me before I got to the plate. Sam Fuld made a great throw. To throw it from there on a line, for a strike, it's a good play. ... It would have been nice to be up 2-0."
Instead of having a two-run lead, the Royals found themselves in a seven-run hole just an inning later.
"They took advantage of every mistake we made," Yost said.
Alex Espinoza is an associate reporter on MLB.com. This story was not subject to the approval of Major League Baseball or its clubs.