Big hit eludes Rangers in shutout loss to Indians
Mikolas produces solid start, but Texas goes 0-for-9 with RISP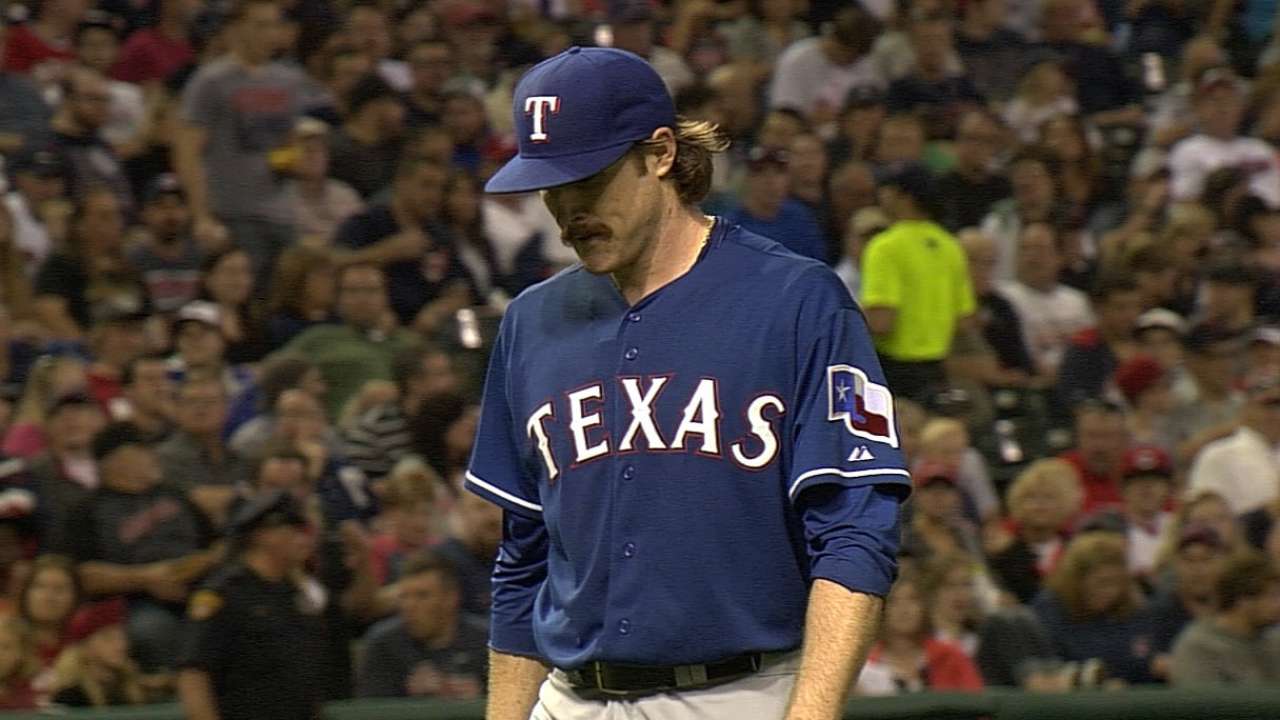 CLEVELAND -- The Rangers' inability to get a big hit with runners in scoring position cost them again on Saturday night at Progressive Field.
That has often been the case this season and the Rangers' futility in those situations continued after going 0-for-9 with runners in scoring position in a 2-0 loss to the Indians.
The Rangers' lack of offense left starter Miles Mikolas taking the loss despite a strong outing. Mikolas, doing a superb job of changing speeds, held the Indians to two runs in seven innings, allowing five hits, walking two and striking out six.
"He pitched really, really well," manager Ron Washington said. "Too bad we couldn't score for him."
The Indians were 2-for-4 with runners in scoring position with both hits coming in the sixth inning and that made the difference. The Rangers were held without a hit in those situations for the 22nd time and are 2-20 in those games.
"We're just not playing the Rangers' game right now," shortstop Elvis Andrus said. "We've got to score runs anyway we can. We're just not doing it. We're just not executing … the last couple of games. We were playing a lot better baseball before we came here. Need to come back tomorrow and execute."
Failure to get a hit with a runner at second or third does not always doom a team to defeat. The Rangers were 8-13 in those games in 2011 because they could overcome the clutch hit with the long ball. But this edition of the Rangers has the second fewest home runs in the league.
The Rangers are hitting .239 with runners in scoring position, the second lowest for the club since STATS Inc. started charting such statistics in 1974. The Rangers hit .227 in those situations in 1992.
"We're just not getting it done," Washington said. "We're creating opportunities but we're not cashing them in. We just haven't been able to get it done. We're just not driving in the runs. Tonight it was throughout the lineup, not just one spot."
The Rangers had two chances to give Mikolas the lead and couldn't deliver. In the second, J.P. Arencibia led off with a roller down the first-base line. Pitcher T.J. House fielded it but threw wildly to first. Arencibia ended up at second but stayed there. Leonys Martin grounded out, Chris Gimenez struck out and Rougned Odor grounded out.
In the sixth, Elvis Andrus walked and Alex Rios reached on an infield single to start the inning. After reliever Scott Atchison replaced House, they both moved up as Adrian Beltre grounded out to first base. Arencibia followed with a grounder to third baseman Lonnie Chisenhall and Andrus was thrown out in a rundown. Martin then took a called strike three to end the inning.
"Sometimes all it takes is a ground ball," Washington said. "Sometimes all it takes is a fly ball. We just have to execute in those situations. We have to push some runs across."
Mikolas took a two-hit shutout into the sixth before giving up a leadoff single to Jason Kipnis. Mike Aviles bunted him to second and Kipnis went to third on Michael Brantley's grounder to short.
After Carlos Santana was intentionally walked, Chisenhall fought off a first-pitch fastball and dumped it into center field for a run-scoring single.
"It was a fastball in and I thought I got it in enough," Mikolas said. "I probably could have thrown it in more, maybe get a broken-bat popup to second base."
Nick Swisher lined a single to right to give the Indians a 2-0 lead before David Murphy grounded out to end the inning. Mikolas then retired the side in order in the seventh but was still left on the hook for the loss.
"I threw a lot of strikes," Mikolas said. "A lot of the things we have been working on came through and I threw a lot of quality strikes. I had some good velocity and I was able to locate my curveball."
"Their guy, coming in with a high ERA, but he's commanding," Indians manager Terry Francona said. "Not only throwing a solid fastball, but he's flipping that breaking ball over almost at will, and it really made it tough on us. But the one inning we executed."
The Rangers had one last chance to save Mikolas from a tough-luck loss. They started the ninth with a walk by Arencibia and a single by Martin against Indians closer Cody Allen. But the script didn't change.
Allen struck out pinch-hitter Jim Adduci, got Odor on a foul pop and caught Daniel Robertson looking at strike three to end the game.
T.R. Sullivan is a reporter for MLB.com Read his blog, Postcards from Elysian Fields and follow him on Twitter @Sullivan_Ranger. This story was not subject to the approval of Major League Baseball or its clubs.