Indians pitch way back to .500, blank Rangers
House throws five shutout innings; Chisenhall, Swisher deliver RBI hits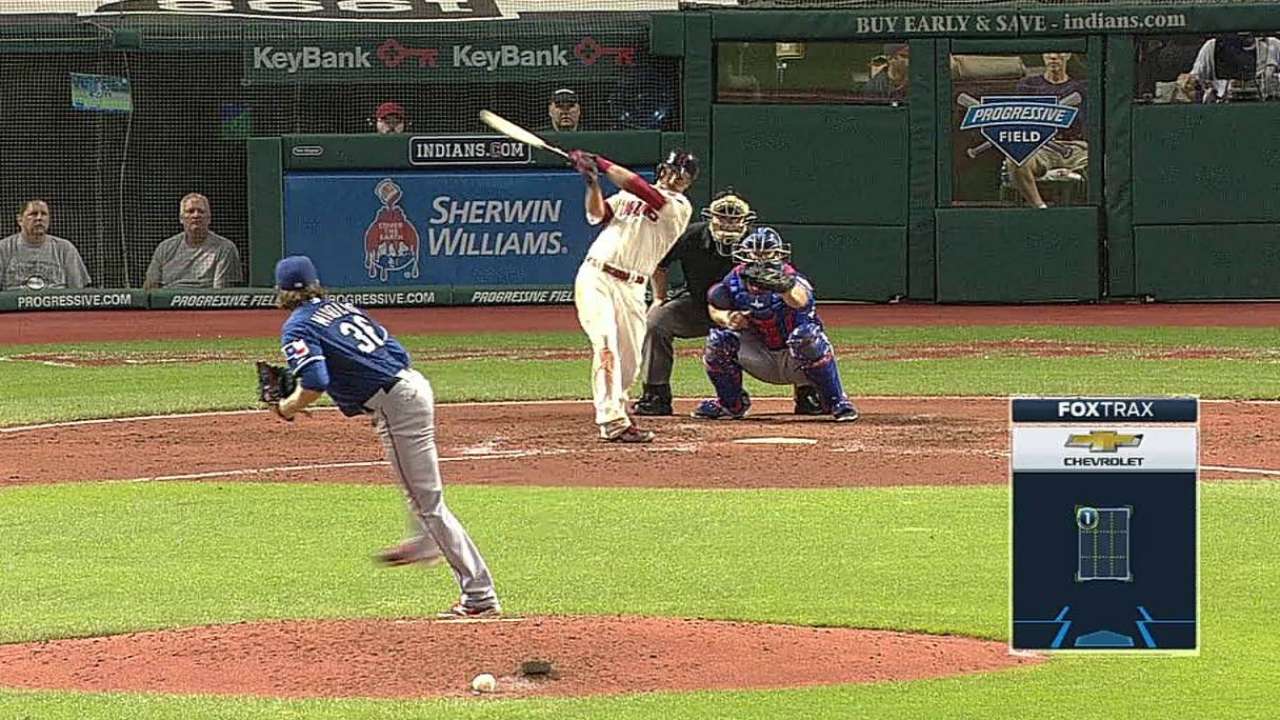 CLEVELAND -- For much of the season, consistent starting pitching has been frustratingly elusive for the Indians. On Saturday night, it was the typically lights-out Cody Allen that appeared in danger of squandering a strong effort on the mound.
But even with the potential game-tying run standing on first for the Rangers in the top of the ninth, the pressure did not phase Allen. In fact, he got stronger as the game got tighter.
"Just got to slow it down as much as possible, try to go back to the basics, just get strike one," Allen said. "I just have to kind of trust my stuff."
Allen caught Daniel Robertson looking at strike three to retire the final three batters in order and preserve the Tribe's series-clinching 2-0 victory in front of 28,285 at Progressive Field. Lonnie Chisenhall and Nick Swisher provided the timely hitting for Cleveland (55-55), producing back-to-back RBI singles in the two-run sixth inning.
Allen picked up his 14th save of the season and extended his scoreless streak to 14 1/3 innings with the appearance. Since May 30, the right-hander has posted a 0.74 ERA while recording 33 strikeouts in 25 games.
Despite the inauspicious way Allen's night began -- he issued a leadoff walk and then allowed a single in the next at-bat -- Tribe manager Terry Francona stood firm in believing his late-inning fireballer could still shut the door. His faith turned out to be well-placed, as Allen tossed a pair of strikeouts and incuded a popup into foul territory to seal the win.
"He was obviously having a tough time commanding," Francona said. "The first-pitch walk and then the hit, runs the count full, and because of that probably allowed him a better chance of getting a hit. But then he really beared down.
"I guess the biggest complement is the way he was commanding, we didn't get anybody up. The inning or anything like that won't get the better of him."
Neither club looked comfortable in the batter's box for much what qualified as one of the year's more unlikely pitching duels.
Left-hander T.J. House allowed three hits and struck out seven batter over five-plus shutout frames en route to the first scoreless start of his fledgling Major League career. He proved effective early, retiring 14 of the first 17 batters he faced, but hit a snag during the sixth inning when he allowed the first two Texas hitters to reach base.
With the young southpaw already at 97 pitches in a deadlock, the Tribe turned to veteran righty Scott Atchison, who sat down the next three batters in order to escape the jam.
"I would've liked to go a little longer," House said, "but definitely felt prepared and confident out there. I knew the guys I'd seen before so I knew how to attack them, and Roberto [Perez] called a good game for me."
Atchison, 38, also made a pivotal defensive play during the sequence by running down and tagging the speedy Andrus, who found himself caught in a pickle between third base and home plate.
"That was awesome. He was moving," Allen said. "He was not going to let him get there, so that was good to see. That was a huge play for us, that was a big spot in the game."
Rangers right-hander Miles Mikolas took the loss despite baffling the Cleveland lineup through the first five frames, during which he racked up six punchouts while allowing only a pair of base hits.
"Their guy, coming in with a high ERA, but he's commanding," Francona said. "Not only throwing a solid fastball, but he's flipping that breaking ball over almost at will, and it really made it tough on us."
The offensive stalemate finally came to an end later in the sixth when Chisenhall floated a single to center that scored Jason Kipnis, which gave the Indians a one-run advantage. Swisher extended the lead to 2-0 in the following at-bat with a base hit down the right-field line.
"The one inning we executed, Mikey [Aviles] gets the bunt down, Brantley hits the bullet to short and Andrus makes a really nice play. Then Lonnie finds some outfield grass and Swish gets a hit. We hung on."
Atchison improved to 4-0 after allowing one hit over 1 2/3 innings and combined with relievers Nick Hagadone and Bryan Shaw to quiet the Rangers until Allen finished the job in the ninth.
It was not the cleanest outing for Allen, who has strung together a remarkable season as the Tribe's de facto closer. The Indians will certainly still take the effort.
"Cody's a good pitcher regardless of what inning he pitches," Francona said. "He was having a tough time commanding, and he found a way to reel it back in and execute pitches."
Alec Shirkey is an associate reporter for MLB.com. This story was not subject to the approval of Major League Baseball or its clubs.