Opportunistic Yanks ride big rally past Red Sox
Jeter ignites four-run rally; Tex hits team-leading 19th homer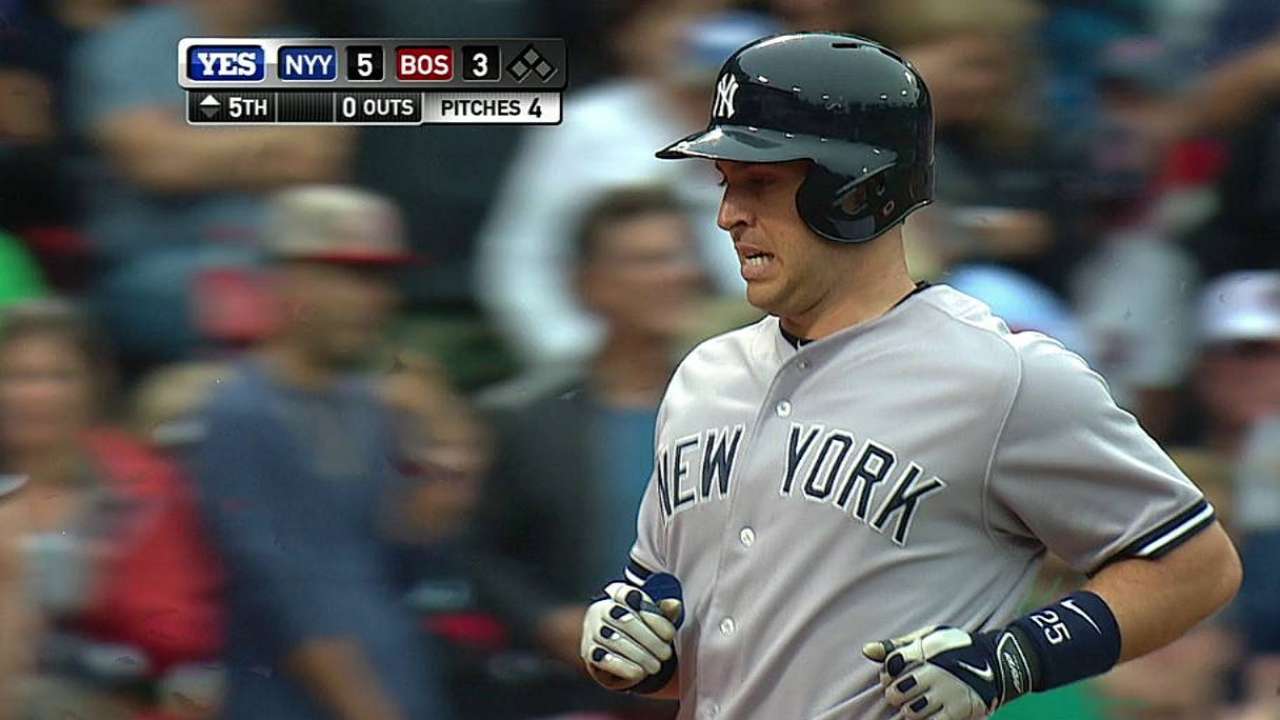 BOSTON -- If the Yankees are to accomplish their goal of being present in the postseason race, now that their final third of the season has officially started, they'll need to take advantage of whatever opportunities come their way.
Three straight walks by a rookie starter would qualify as one of those chances, flashing in neon orange. The Yankees did not miss it, as they sent 10 men to the plate in a four-run third inning to spark a 6-4 victory over the Red Sox on Saturday at Fenway Park.
"You aren't always going to hit the ball hard, get a lot of hits or score a lot of runs," Yankees captain Derek Jeter said. "When you do, hopefully it lasts for as long as possible. You can always feel like you have a hit streak coming, but you have to go out and do it."
With Allen Webster struggling to throw strikes, Jeter punched a two-run double into shallow right field and Jacoby Ellsbury tied the game with a run-scoring groundout.
"You know you have to take advantage," manager Joe Girardi said. "We were able to do it. Whenever you get three free baserunners with nobody out, you've got to do something."
Carlos Beltran gave New York the lead with an RBI single off Webster, who was pulled after 2 2/3 innings and issuing six walks in his ninth career Major League start.
"I felt really good and in control of the game in the first two innings," Webster said. "Then, I really struggled with my release point in the third and never got back to finding it."
The Yankees squeezed a 4 2/3-inning start out of rookie Shane Greene, though the right-hander had them concerned after a three-run second inning that prompted activity in the visiting bullpen.
"I was kind of in my own head for a little bit," Greene said. "I felt good. I was just trying to make perfect pitches. I just had to go back to my game plan and attack guys."
Mike Napoli belted a two-run homer over the Green Monster ("That Napoli pitch, I said, 'Hey, let's see how far you can hit it. He let me know how far he could hit it,'" Greene joked) and Christian Vazquez knocked an RBI single in the frame.
Greene could laugh about it later because he went back to work with a one-run lead, impressing Girardi by making it stand up. Greene's outing concluded with him scattering six hits and two walks, while recording five strikeouts. He has allowed three runs or fewer in four of five starts this year.
"You've got to remember, he is a young kid and a lot of this is all new for him," Girardi said. "The most impressive thing for me was that he made the adjustment, and that's what you want to see."
Shawn Kelley worked 1 1/3 strong innings of relief to earn the victory, striking out three.
Boston trimmed the deficit back to two in the seventh, as David Ortiz lifted a sacrifice fly against Dellin Betances, bringing home Brock Holt with a run that was charged to Adam Warren.
Betances then retired the next four batters he faced, hitting triple digits on the Fenway radar gun, and David Robertson bounced back from a troubled outing against the Rangers in Texas to secure his 28th save of the season.
"Today was one of our good days," Robertson said. "Kelley, Adam and Betances, they've been really good all year. We had a tough time in Texas. We still managed to win that ballgame, but it's nice for us to do what we're supposed to do -- keep the runs down and give our team a real opportunity to win ballgames."
Mark Teixeira connected for his team-leading 19th home run of the season in the fifth inning, clearing Lansdowne Street with a solo blast off Craig Breslow.
New Yankee Martin Prado went 1-for-3 in the win and Stephen Drew also notched his first Yankees hit with a run-scoring double off Alex Wilson in the seventh. Drew has played a solid second base in his first two career games at the position following Thursday's trade.
"It is coming along," Drew said. "I've been here two games. It will be an adjustment. The more games I get there, the more comfortable I will feel."
With the rubber game of the series ahead on Sunday night, Girardi said that he hopes to salvage what started out as a disappointing road trip with two losses to the cellar-dwelling Rangers. Saturday's performance offered encouragement to that end.
"I thought we actually swung the bats better than six runs," Girardi said. "That's what you want to see. When you start seeing consistent, hard contact, you're going to score runs."
Bryan Hoch is a reporter for MLB.com. Follow him on Twitter @bryanhoch and read his MLBlog, Bombers Beat. This story was not subject to the approval of Major League Baseball or its clubs.