Webster struggles with control in loss to Yankees
Cespedes singles in his first Red Sox at-bat; Napoli hits 13th homer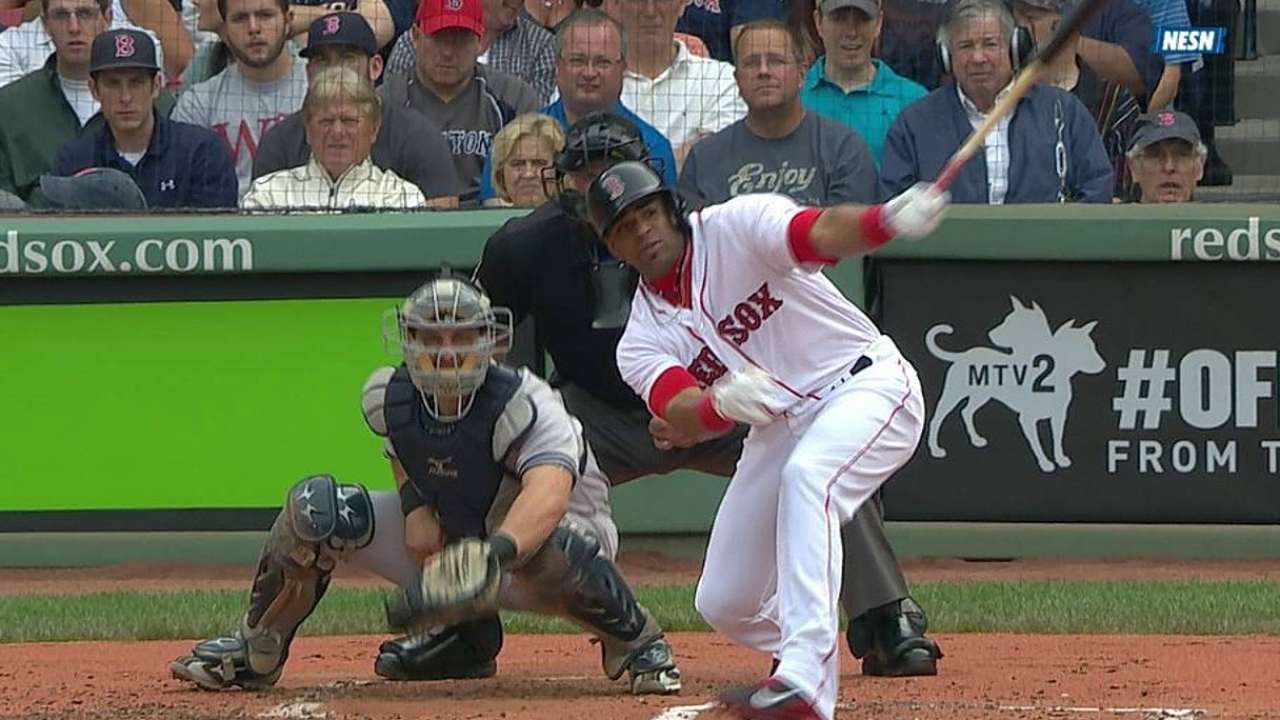 BOSTON -- A mound meltdown was in progress for Red Sox right-hander Allen Webster on Saturday afternoon at Fenway Park, and catcher Christian Vazquez tried to stop it.
"Yeah, calm down," Vazquez says he told Webster. "Stay behind the ball and relax, pitch by pitch."
But there was no relaxation for Webster in a 6-4 loss to the Yankees.
The stress built up and the 24-year-old righty couldn't get through it. Ultimately, Webster exited with the third inning still in progress -- a frame in which he walked five batters.
Webster had an outing like this last season at Fenway Park, but he hoped he was past it by now.
With young pitchers, you just never know when it will click.
"Different guys take different [amounts of time]," said pitching coach Juan Nieves, "There's no length. It's all personality and feel. There are so many things that are involved with that. It could be 10 starts. It could be 30 starts. It could be 50 starts. It could be 70 starts. We don't know. Everybody is different."
After trading four starting pitchers within the last week, the Red Sox have committed to young starters for the rest of the season.
Webster, who has made two starts for Boston in 2014, will have to make improvements from Saturday to keep his rotation spot.
"Yeah, it was clear he lost command of the strike zone," said manager John Farrell. "And while there's plenty of stuff in terms of fastball action, swing-and-miss to his changeup, just the ability to make an adjustment from either pitch-to-pitch or hitter-to-hitter was elusive."
Slugger Yoenis Cespedes made his debut for Boston, two days after the blockbuster trade that sent Jon Lester to Oakland.
On the same day Lester earned a victory for the Athletics, Cespedes drilled a single in his first at-bat with the Sox, and finished 1-for-4 on the day.
There was a chance for drama in the seventh, as Cespedes represented the tying run as he dug in against Yankees flamethrower Dellin Betances.
The righty threw him a couple of offspeed pitches and then came at him with a 99-mph fastball, and Cespedes popped to third.
"I've only faced one pitcher like that who could throw 100-mph, and that was Aroldis Chapman," said Cespedes. "I faced Betances once earlier in the year. He wasn't at that kind of velocity. He really only throws two pitches, and I was hunting the fastball. Just didn't get that one."
Webster lasted just 2 2/3 innings and gave up four runs while walking six.
"Today, I felt good in the first two innings, really struggled with my release point in the third and never got it back," said Webster.
The Red Sox got off to a promising start. Cespedes, after receiving a nice applause from the Fenway faithful, lined a 3-2 pitch into left for a single to open the second. Mike Napoli followed with a two-run shot that went over everything in left. Daniel Nava followed with a walk, moved to second on a groundout and scored on a single by Vazquez.
With a 3-0 lead, Webster gave it back and then some with a complete loss of command.
Webster walked the first three batters he faced in the third. Derek Jeter blooped a two-run double to right. Jacoby Ellsbury's broken-bat, fielder's choice grounder to second tied the game. Carlos Beltran put the Yankees in front by looping an RBI single to left.
"We took the lead, and we were hoping a continuation happens, but it seems like there was no adjustments during the course of the game," said Nieves. "Things unraveled a little bit on him. It's always a challenge for him on becoming more consistent in the strike zone. That's our ultimate plan."
Mark Teixiera smashed a solo shot to left against Craig Breslow in the fifth and Stephen Drew added an RBI double off Alex Wilson in the seventh, allowing the Yankees to take a 6-3 lead.
David Ortiz sliced the deficit to two runs with a shallow sacrifice fly to left field in the seventh, as Brock Holt scored when the throw couldn't be handled by catcher Francisco Cervelli.
But the Red Sox couldn't draw any closer.
"We got off to a pretty good start," said Farrell. "We swung the bat well. Brock Holt with a couple of base hits, as well. Nap gives us a quick two runs with the home run, and after the three-run inning, unfortunately the four-run top of the third took some of the momentum away. From that point on, their bullpen shut us down."
Ian Browne is a reporter for MLB.com. Read his blog, Brownie Points, and follow him on Twitter @IanMBrowne. This story was not subject to the approval of Major League Baseball or its clubs.