Rendon's four RBIs lead Nationals' rout of Phils
Third baseman tallies three hits; Zimmermann earns 50th career win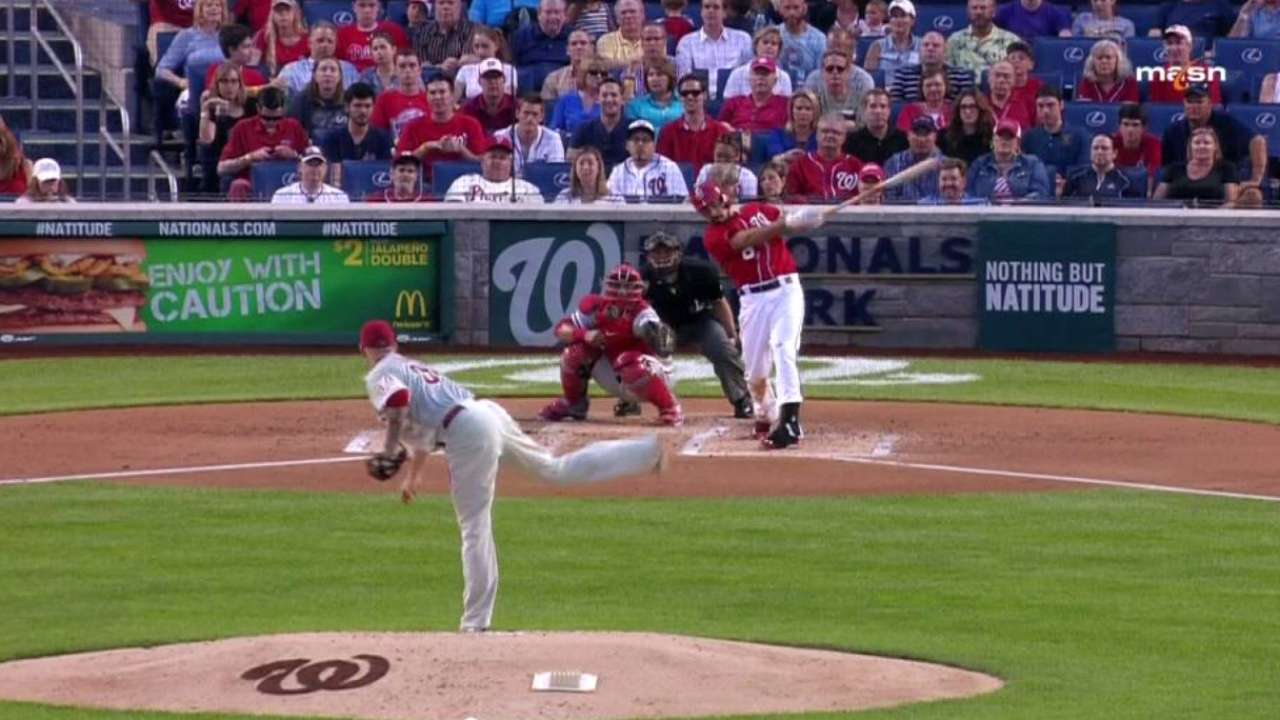 WASHINGTON -- The Nationals have spent the last several games searching for some kind of power and offense, which they've been missing since Ryan Zimmerman went down with a hamstring injury on July 22. Anthony Rendon gave them plenty of both on Saturday night.
Rendon hit an early three-run homer, drove in four runs and finished 3-for-5 as the Nationals banged out 14 hits en route to an 11-0 victory over the Phillies.
Everything started early for both Rendon and the Nationals (59-49), leaders in the National League East. He got an RBI single in the first, added the game-breaking three-run homer in the second plus drilled a double in the fourth as Washington jumped to an 11-0 lead over the Phillies (49-62) after four innings.
Rendon led an offense that saw everyone in the starting lineup get at least one hit. The Nationals also went 7-for-15 with runners in scoring position, coming up with a number of key hits during their early surge, which they hadn't done well lately.
"Everyone swung the bat well," Nationals manager Matt Williams said. "Anthony had a great game."
Rendon said he knew that he just needed a triple to complete the cycle, a big reason why Williams didn't remove him later as he did some other starters. Several of the fans kept reminding the third baseman about it.
"I heard people in the stands [saying], 'Get the triple, get the triple' -- that means I've got to run more," Rendon said with a laugh. "I'll stop at second base."
Rendon even stole a base, as did Denard Span and Ian Desmond. Span started the first with a single, reaching base for the 28th straight game, the longest active streak in the Major Leagues. He finished 2-for-4 with two runs scored and an RBI.
Newly acquired infielder Asdrubal Cabrera and catcher Wilson Ramos each also finished with two hits. The only Nationals player in the starting lineup who didn't knock in a run was Zimmermann. But he certainly helped out with a 1-for-2 game with two walks and a run scored. It could have been better if Phillies center fielder Marlon Byrd hadn't robbed Zimmermann by making a running catch of his two-out liner with two on in the third.
All of that offense proved more than enough for Zimmerman (7-5), who won for the first time in five starts and earned his 50th career victory. He struck out eight without a walk and gave up five hits. All of those came in the first 3 1/3 innings before the right-hander retired the final 11 batters he faced.
"I felt good; these guys gave me some runs early," Zimmermann said. "I was able to settle in, just throw strikes and let the defense work."
Phillies starter A.J. Burnett (6-11) had a tougher time, lasting just 1 2/3 innings, allowing five runs on three hits before home-plate umpire Chris Guccione threw him out one pitch after Rendon's three-run homer. The right-hander appeared to make some kind of wave toward Guccione after throwing a pitch to Jayson Werth, and the umpire quickly tossed the pitcher.
Manager Ryne Sandberg also got thrown out as the arguing became heated for a few minutes.
"It was one of those things where he felt I showed [him] up in front of 40,000 people," Burnett said. "I try not to make [arguing] too obvious, but he felt that way and that was it."
The offense started quickly for Washington when Span singled and stole second in the first, followed by Rendon's RBI single for a 1-0 lead. Span added a sacrifice fly in the second before Rendon belted his three-run homer to make it 5-0.
Washington added another run in the third before scoring five runs on seven hits in the fourth. Five hitters each drove in a run in that inning, all off Phillippe Aumont, who came in for Burnett in the second.
Aumont was scheduled to lead off in the fifth, and the Phillies appeared to be trying to get him to finish the fourth so they wouldn't have to waste a pitcher or an at-bat in that inning, but they pulled him after Wilson Ramos made it 11-0 on an RBI single with two outs.
The Nationals now have to face tough left-hander Cole Hamels in the series finale on Sunday, but they want to keep the offensive punch from this game going.
"Hopefully, it can carry over," Span said.
Jeff Seidel is a contributor to MLB.com. This story was not subject to the approval of Major League Baseball or its clubs.