Pair of blasts spur Mariners in Paxton's return
Cano, Ackley hit big homers in lefty's first outing since April 8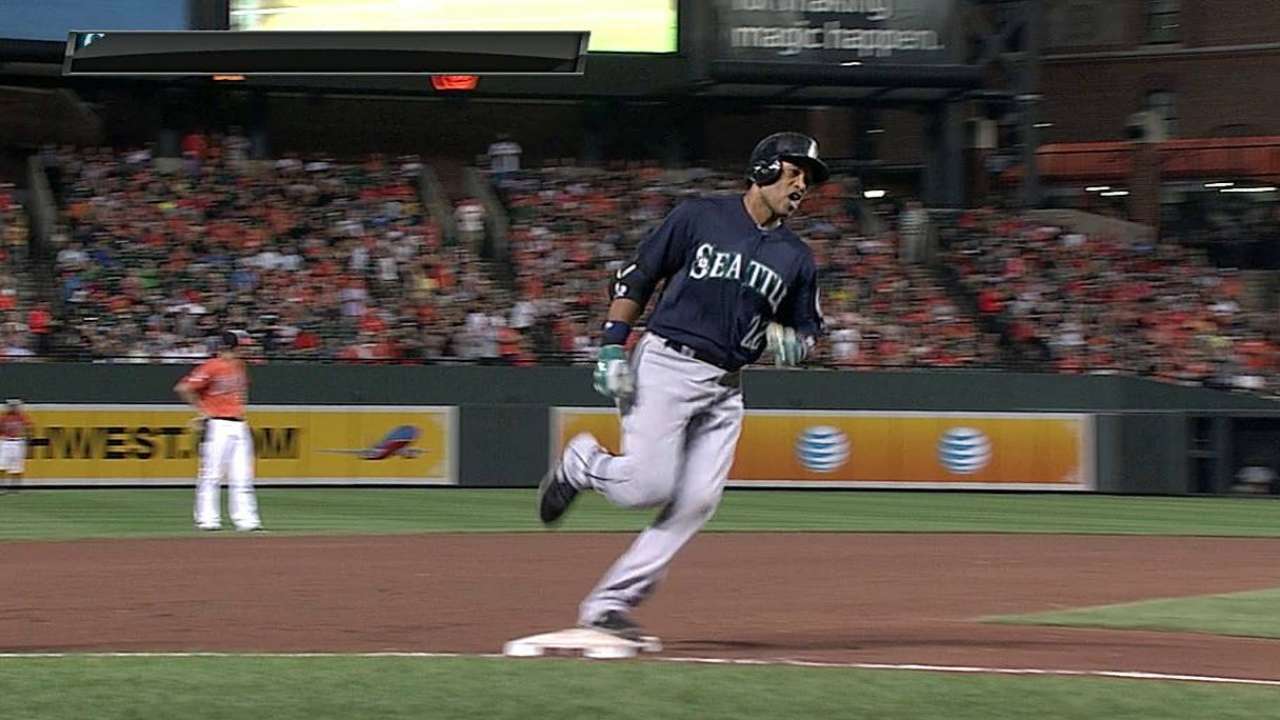 BALTIMORE -- The Mariners certainly haven't complained about Robinson Cano's production this year, as their new second baseman has been batting over .330 most of the season and providing American League Gold Glove Award-caliber defense.
But a three-run homer now and then never hurts, and Cano came through Saturday night with the key blow in a 6-3 victory over the Orioles at Camden Yards as Seattle evened its series against the AL East leaders.
"It's about time," Cano said with a smile. "This is just one of those parks that I have success in."
Cano's three-run blast to right field in the fifth was his eighth home run and just his first since July 12, raising his RBI total to 62. But he's always hit well against the Orioles, his 29 homers against them being the most of any opponent in his career. And 15 of those have come at Camden Yards.
"Robbie came through big time for us there," said manager Lloyd McClendon. "He loves hitting in this ballpark, and tonight was indicative of that."
Cano traditionally has been a strong second-half hitter, and the Mariners certainly could use a hot bat in the middle of their order as they pulled within two games of Toronto in the AL Wild Card chase with a 57-53 record.
James Paxton could play a part in those hopes as well, as the rookie southpaw came off the 60-day disabled list and threw 4 1/3 innings of two-run ball before McClendon pulled him after 83 pitches.
Paxton survived a shaky first inning and a hard line drive off his leg in the second, but couldn't hang in long enough to earn the decision as he left with a 4-2 lead after surrendering a fifth-inning home run and a walk.
"I felt really strong," said Paxton. "I had absolutely no problems with my arm. Everything felt great. So now it's just a matter of tightening things up, getting ahead in some counts and going deep in the ballgame for our guys."
Paxton still has yet to lose a game in seven Major League starts over two seasons, and he's 2-0 with a 2.76 ERA in three outings this season after his long-awaited return from a strained lat muscle. The 25-year-old gave up four hits with three walks and five strikeouts.
Paxton took a hard shot by catcher Caleb Joseph off the inside of his right leg in the second inning. After throwing a few test pitches, he got out of the inning and appeared unfazed the rest of his outing, as he was hitting 97-98 mph with his fastball in his final two frames.
"It squared me up pretty good, but I'm all good," Paxton said. "It definitely did sting. I was feeling it. But like I said in spring when I got hit, I wouldn't be very Canadian if I came out of the game after getting hit."
Rookie Dominic Leone replaced Paxton in the fifth and was awarded the win after throwing 1 2/3 perfect innings as the first of five Seattle relievers who combined to allow just one run over the final 4 2/3 frames, with Fernando Rodney giving up a tally in the ninth in a non-save situation.
"We know how good their bullpen is, and tonight was another good indication," said Orioles manager Buck Showalter.
Left fielder Dustin Ackley continued his strong second half with a solo homer in the third and a double in the fifth, as he went 3-for-5 with three runs. Ackley has batted .372 (35-for-94) since July 1 to raise his average to .258, and he has hit two homers in the past three games to give him six for the season.
"I'm not going to sit there and think about homers all the time," Ackley said. "I'll just stay with the same thing I've been doing the last three-to-four weeks and go with that. I definitely didn't think that one was out. My two home runs, I've just barely snuck out. They probably don't go out at home, but I'll take it. They're pleasant surprises."
Center fielder Austin Jackson, acquired Wednesday from the Tigers, picked up his first hit for the Mariners with a single in the fifth and scored on Cano's homer. He went 2-for-4 with a walk and scored twice, putting him at 2-for-7 with two walks in two games.
Jackson and Ackley combined to reach base six times and score five runs in the top two spots in the order.
"I like our offense a lot better now," said McClendon. "We've got some weapons. We don't have that big, big bopper in the middle of our lineup, obviously, but we've got some guys who are professional hitters and know the strike zone and what they can do up there."
Ackley and Jackson both scored in the top of the ninth on Kendrys Morales' two-run single with the bases loaded to give Seattle a 6-2 lead.
"The middle of the lineup has some guys that can really swing the bat," said Jackson, who acknowledged feeling a lot more rested and comfortable with a day to get used to his new club and settle in. "We've got some power there. So if we do our job and get on, they're good contact hitters as well and we can really do some damage if we get on base."
Rookie shortstop Chris Taylor was 2-for-4 to raise his average at .375 (9-for-24) in seven games since his promotion from Triple-A.
Greg Johns is a reporter for MLB.com. Follow him on Twitter @GregJohnsMLB as well as his Mariners Musings blog. This story was not subject to the approval of Major League Baseball or its clubs.