Missed opportunities define rough night vs. Mariners
Gonzalez allows four runs over five innings; O's go 1-for-13 with RISP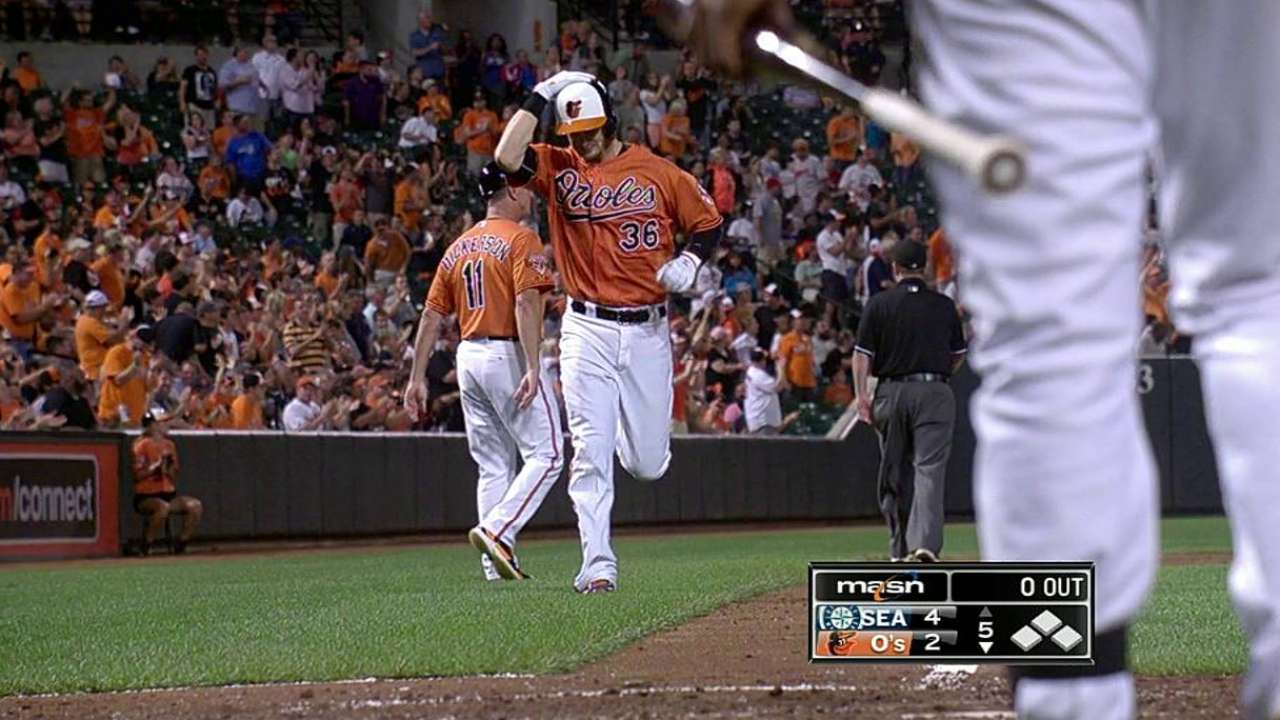 BALTIMORE -- The Orioles had runners on first and second during the opening frame on Saturday night, and Adam Jones stood at the plate. Perhaps the O's offense, which has been among the worst in baseball since the All-Star break, was ready to return to form.
Jones hit a grounder over to second base to drive in Nick Markakis and move Manny Machado to third. A groundout alone couldn't doom this inning.
But after two strikeouts, the O's squandered the best chance they'd get all night and fell to the Mariners, 6-3, in front of 36,508 at Oriole Park at Camden Yards.
"There's an ebb and flow to all parts of the season," manager Buck Showalter said. "It's not a flat line. Some people who are not doing well now will do so as the season goes on, and some who are might cool off some."
Miguel Gonzalez allowed four runs and Robinson Cano broke a 1-1 tie with a three-run home run in the fifth inning.
Gonzalez (5-6) had given Cano fits with his splitter in the past, and he tried to beat him with it again. Gonzalez left the pitch up and the All-Star cranked his third hit in 27 at-bats against the O's starter over the right-field wall.
The home run was Cano's 29th against Baltimore (61-48) in his career, but with first base open, Showalter trusted Gonzalez and his starting pitcher's history against the second baseman.
"I thought it was good just trying to go after him," Gonzalez said. "I've had really good success against him. You just tip your hat. I left the ball up and he was able to get a piece of it."
Gonzalez allowed seven hits and only struck out one batter in five frames during his worst outing since June 29, when he allowed three runs on eight hits and didn't make it out of the fifth inning in a loss to the Rays.
Catcher Caleb Joseph answered Cano's homer with a solo shot of his own in the bottom half of the inning, and Mariners starting pitcher James Paxton left one out later. In his first Major League appearance since April 8, Paxton held the Orioles to just four hits before exiting for relief pitcher Dominic Leone (4-2).
The O's collected six hits all night, three of which went for extra bases. The Orioles didn't manage a hit with a runner in scoring position until after Seattle (57-53) stretched the lead to four runs in the ninth inning.
"We're swinging the bats, putting the barrel on the ball," Joseph said. "Sometimes they don't fall, sometimes they do. We're just going to stay within ourselves. We believe in our offense, and we'll continue to go out and do our work and keep swinging."
Baltimore has posted the lowest batting average (.203) and on-base percentage (.267) in the American League since the break, and the club ranks ahead of only the Mariners and last-place Rangers in slugging percentage.
The O's managed to win games despite that because of an excellent string of starting pitching -- they delivered 12 straight quality starts with a 2.12 ERA during that stretch -- but that run ended on Saturday.
"We've just got to go out there and try to do our best," Gonzalez said. "We've been doing a pretty good job. Everyone's been going deep in ballgames except for tonight's game, but it's going to happen. We can't be perfect all of the time."
Seven innings after his first chance, Jones again stood at the plate as the tying run with a runner on second. He fought off a handful of pitches and took a ball in the dirt, but he eventually struck out on a two-seam fastball tailing in toward his hands. The next two batters went down in order and the heart of the Orioles' order wasted another chance.
There was a minor rally in the ninth, as Steve Pearce walked with one out. Two batters later, pinch-hitter Ryan Flaherty hit an RBI single off Fernando Rodney. By then, Baltimore was just slicing into a four-run deficit and left with a three-run loss.
"As the season goes on, it gets a little harder to hit because guys are playing every day and pitchers are once every fifth or sixth day," Showalter said. "It's pretty normal this time of year, unfortunately, that the season becomes more of a challenge."
David Wilson is an associate reporter for MLB.com. This story was not subject to the approval of Major League Baseball or its clubs.