Medica's career night fuels resurgent Padres
Rookie homers twice on 5-for-5 night; San Diego notches 20 hits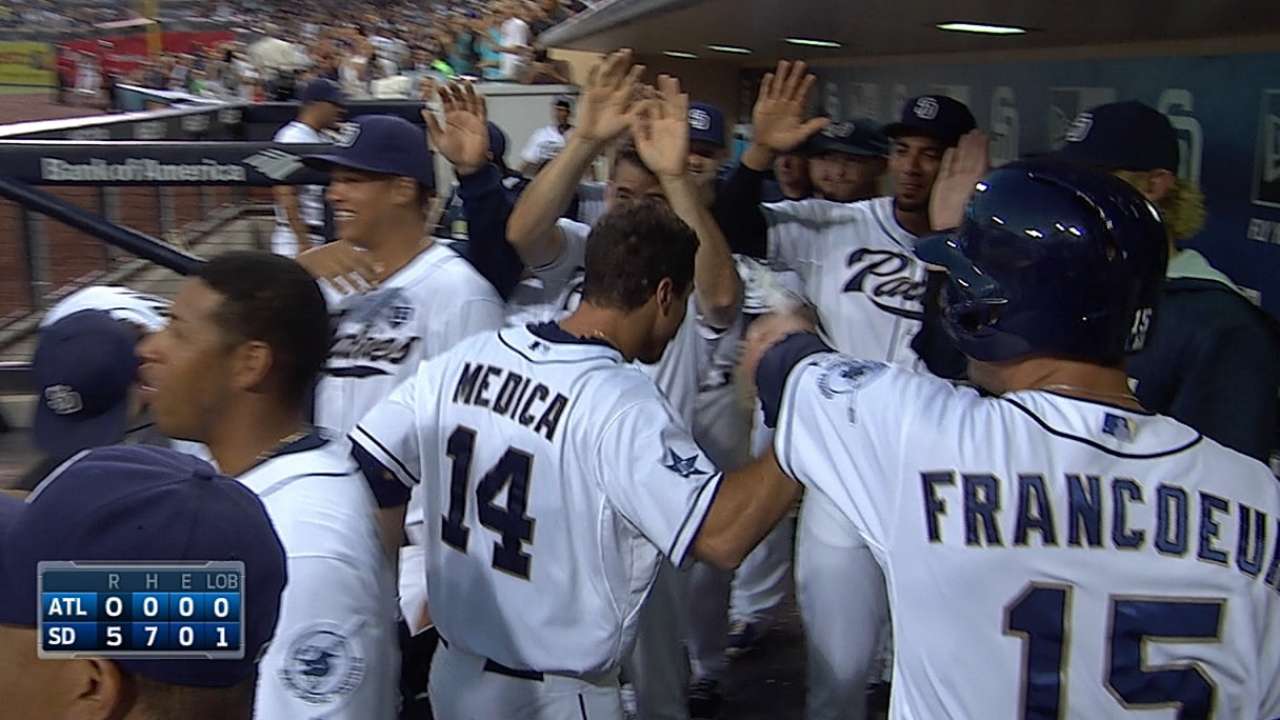 SAN DIEGO -- Tommy Medica tried out the slightly heavier and longer bat of teammate Yasmani Grandal on Friday night against the Braves. Given that it helped Medica produce the best offensive night of his career, Grandal might have to share that bat for the foreseeable future.
"I'm actually taking it home with me tonight," Medica said. "Before the game I was in the back grabbing a new hat or something, and I saw a nice-looking piece of lumber. I picked it up, and it felt good. So I was like, 'Let's try it out today.'"
The Padres are certainly glad he did. Medica had his first multi-homer and five-hit game on Friday -- with most of his damage coming against struggling Atlanta southpaw Mike Minor -- to lead the Padres (49-60) in their triumphant 10-1 series opener against the Braves (58-52).
Medica went 0-for-2 with a walk and a strikeout against Minor during the Padres' 8-3 loss on Sunday in Atlanta, but he could do no wrong against the lefty on Friday. He filled up the box score, going 5-for-5 with two homers, four RBIs, four runs and a stolen base, with three of the hits coming against Minor.
"It always helps when you get to see a pitcher twice, especially in one week like that," Medica said. "The hitters have the upper hand on something like that, and we were able to put a lot of good at-bats together."
Medica came into the night without a homer since June 24 but quickly went about fixing that with a two-run clout in the first. He then launched a tape-measure shot in the third that nearly reached the base of the JumboTron in the left-field bleachers to put the Padres up 5-0. The homer was estimated to travel 438 feet.
"Tommy's got some pull power, and that ball was right middle-in," said Padres manager Bud Black. "He got the head to it and really squared it up."
The first baseman went on to add three singles, raising his average from .248 to .273 and making him only the second Padre in history to have two home runs in a five-hit game. The other is Ryan Klesko, who completed the feat on Aug. 29, 2001.
Medica was far from the only Padre to catch fire, though. Every starting position player pitched in to help San Diego tie the franchise record for hits at Petco Park (20), which is also a season high.
Everth Cabrera was 4-for-5, and Abraham Almonte, acquired on Thursday as part of the Chris Denorfia trade, was 1-for-4 with a walk. He showed off his speed in the sixth by legging out a double in the gap that didn't even roll past Atlanta's outfielders.
"When a team starts hitting, it's contagious," Medica said. "You're rolling over the lineup, people are getting more at-bats with less time in between at-bats. That makes it much easier to hit instead of it being about an hour between each at-bat when things aren't going well."
San Diego's offensive eruption let Eric Stults (4-13) work comfortably. He didn't allow any baserunners his first time through the order and only gave up two hits and an unearned run in 6 1/3 innings with four walks and three strikeouts.
Stults had faced the Braves last weekend and was blown up in one inning for six runs. He didn't give up a hit in his other five innings of work, though, which convinced him he didn't need to change his plan of attack.
"The results [Sunday] didn't show how I threw," Stults said. "You might be fresh in their mind, but they're fresh in your mind, too. The game plan we had there was a good game plan."
Chris Johnson and Justin Upton were the only Braves starters to record hits.
"We got pitches to hit, we just didn't hit them tonight," said first baseman Freddie Freeman. "I was getting pitches right down the middle and I'm rolling them over. I can't explain it."
The first baserunner Stults allowed reached on a misplay by Jeff Francoeur, who got turned around on a fly ball by B.J. Upton that bounced off his glove for a two-base error. Johnson followed later in the inning with Atlanta's first hit, an RBI single that cut the lead to 5-1.
But the Padres weren't finished -- they scored at least one run against each Braves reliever who took the mound, and blew it wide open in the seventh against David Hale, who retired just one of the eight hitters he faced via a double play. After Hale gave up three runs and loaded the bases again, David Carpenter had to be called on to end the frame by striking out Jedd Gyorko.
Gyorko did hit an RBI double in the third to extend his modest hitting streak to five games since returning from the disabled list. He's 8-for-19 (.421) during that span.
San Diego had at least one baserunner in every frame against Minor (4-7), who gave up nine hits and five runs with two walks and just one strikeout.
"I felt like I was making decent pitches, and I felt good, and they were still putting the ball on the barrel," Minor said. "The game plan we had last week, they caught on to us and reacted to it."
After fielding the Majors' worst offense (2.9 runs per game) by a wide margin in the first half, the Padres have averaged 5.1 runs in 14 games since the All-Star break.
Black credited the return of Gyorko and the acquisition of Yangervis Solarte as offensive sparks but also thinks the recent outburst can partly be attributed to luck finally smiling on the Padres.
"The at-bats are getting toward how things even out in baseball," Black said. "Today we chopped a couple balls and blooped a couple balls. ... There's reasons why, but it still comes down to every at-bat is counting, and those guys are doing a nice job."
Will Laws is an associate reporter for MLB.com. This story was not subject to the approval of Major League Baseball or its clubs.