Gray deals sharp outing, but bats baffled by Royals
A's unable to generate runs, squander young ace's seven-inning start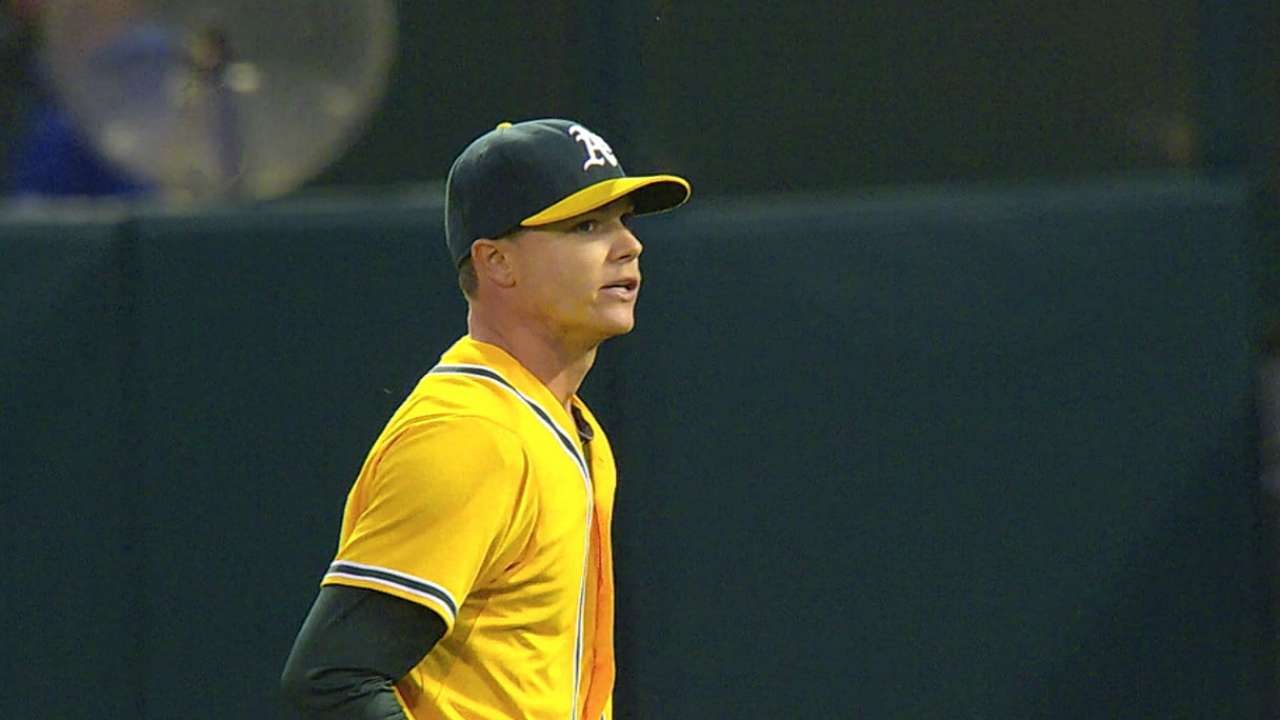 OAKLAND -- With Yoenis Cespedes on the opposite side of the country on Friday, the A's offense was nowhere to be found.
Sonny Gray was on his game at the Coliseum. But he was not perfect -- and on this night, he needed to be.
Gray's one mistake was a solo home run surrendered to Raul Ibanez in the fifth. That was the difference as the A's dropped their series opener to the Royals, 1-0, to kick off a 10-game homestand.
"It kind of had that feeling early on that it might be a low-scoring game," said A's manager Bob Melvin. "Sonny -- one pitch, other than that was terrific."
That one pitch was a 93-mph fastball to the 42-year-old Ibanez.
"Just looking for something good to hit," Ibanez said. "Looking for a pitch that I could get the fat part of the bat on and hit a line drive with. Just jumped on the first pitch I saw that was good. He's got good stuff and I didn't feel like waiting around too long."
Oakland squandered two opportunities with runners on first and third and one out, first in the fourth and then in the sixth. New addition Sam Fuld started both rallies with a double and a walk, respectively, but both times, Brandon Moss and Jed Lowrie were unable to get the ball out of the infield.
Part of the problem was that the A's appeared to have trouble adjusting to the zone of home-plate umpire Mike Estabrook. In the fourth, Lowrie erroneously tossed his bat aside on a 3-1 strike call, and he slammed his helmet after Estabrook's called strike three.
"You look at the frustration coming out of both dugouts," Lowrie said. "I think it was a frustrating night to be a hitter. I don't think it was one-sided. It was just a good night to be a pitcher."
Fuld came up with two on and two outs in the seventh and struck out swinging. Then in the ninth, Josh Reddick doubled off Greg Holland with two outs. But Estabrook called Alberto Callaspo out on a check swing to end the game, much to the dismay of a sellout crowd on Fireworks Night.
Only Reddick had multiple hits for Oakland, going 3-for-4 to improve to 13-for-35 (.371) since coming off the disabled list.
The A's were shut out for the fifth time this season, as Kansas City righty Jeremy Guthrie baffled them for six innings. The Royals' bullpen -- ranked sixth in the American League -- did the rest.
"He was ultra sharp," Royals manager Ned Yost said of Guthrie. "He was commanding all of his pitches, he was changing all his speeds really effectively, he was hitting all his spots. He did a great job of just pitching to the gameplan."
Melvin suggested the A's bats have been cold of late, though Oakland is averaging 3.7 runs in seven contests since the start of its most recent road trip.
"We haven't been swinging great here recently," Melvin said. "Other than one inning in Houston, we didn't do much offensively. We're kind of in a down period offensively at this point."
Gray, a serious candidate for July's AL Pitcher of the Month award, did his part, allowing only the Ibanez homer in seven innings of three-hit work. He fanned seven and walked none, and he now boasts a 1.07 ERA over his last six starts.
"Fastball is moving all over the place, good command of his curveball and just enough changeups to keep them off balance," said Melvin. "You feel like if you can give him one or two runs you're going to win the game. We just didn't give him anything today."
"He was phenomenal," Lowrie said. "He was able to throw curveballs for strikes really well tonight and also throw it down in the zone in the chase area. Then, to get ahead with his fastball like he did, it's going to be tough for those guys."
The A's defense was solid, too. Moss made a pair of running grabs in left field, and Stephen Vogt made a slick play on a grounder up the first-base line.
But for the team that leads the Majors in runs scored, offense was the one thing missing.
Aaron Leibowitz is an associate reporter for MLB.com. This story was not subject to the approval of Major League Baseball or its clubs.