D-backs' bullpen can't hold three-run lead
Delgado, Schultz give up eight runs in the eighth, ninth as Pirates rally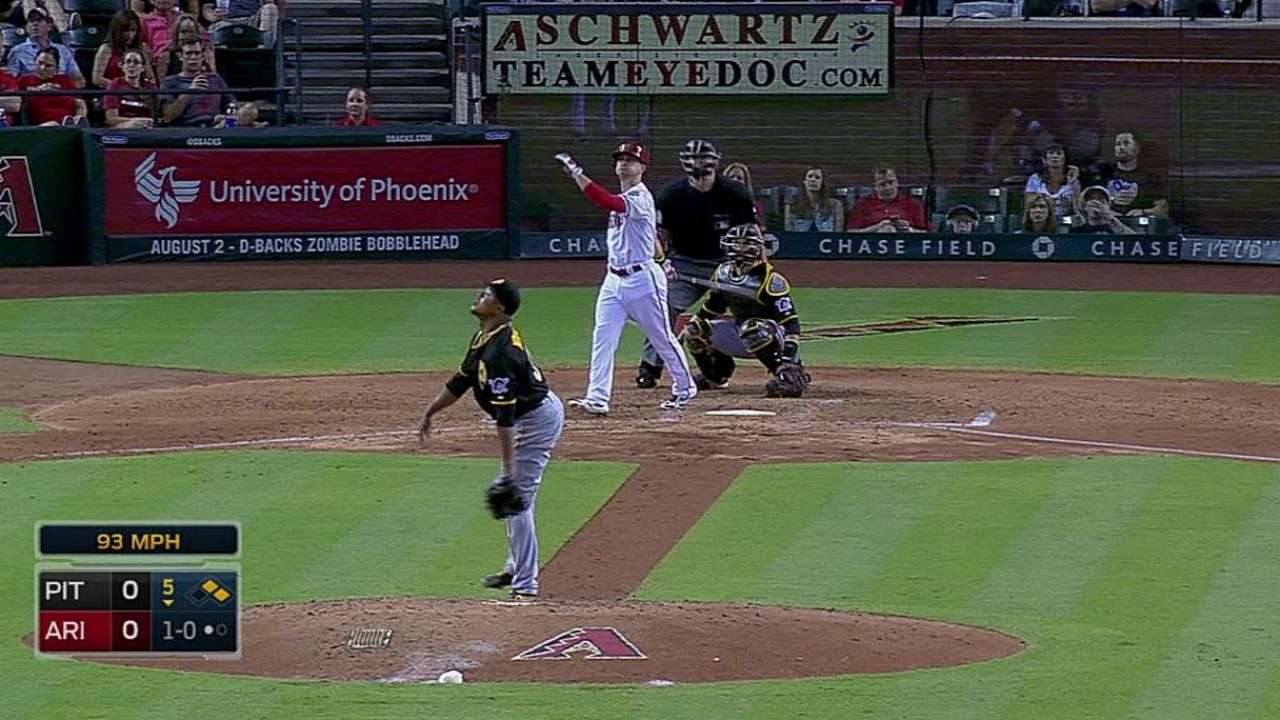 PHOENIX -- Sometimes it's better to take a pitcher out too early rather than too late. Leaving Randall Delgado in to pitch the eighth inning certainly proved costly for the D-backs on Friday night.
Despite holding a three-run lead going to the eighth inning, the D-backs bullpen imploded late, giving up eight runs in the final two innings of their 9-4 loss to the Pirates at Chase Field.
"We were in a bad spot today with the bullpen," manager Kirk Gibson said. "I made the decision to try to get through it with the guys I pitched, and they were unable to do so and gave up eight runs."
Gibson's go-to middle relievers -- Evan Marshall, Oliver Perez and Brad Ziegler -- all pitched in the D-backs' win in the series opener, so Gibson tried to stay away from them.
At first, it looked like that would be a fine strategy. Delgado, who had only allowed one run in his previous 14 innings entering Friday's game, pitched a scoreless seventh inning, so Gibson sent him back out for the eighth.
But unlike the previous frame, the Pirates were locked in against Delgado in the eighth. Josh Harrison hit a one-out triple off the right-field wall, Jordy Mercer walked and Andrew McCutchen cut the lead to 4-2 with an RBI double.
The double ended Delgado's night, and Gibson turned to rookie Eury De La Rosa to get out of the jam. He had no such luck.
The first batter De La Rosa faced, pinch-hitter Pedro Alvarez, roped a double into right field, tying the game at 4.
"It's not something we ask him to do a lot of," Pirates manager Clint Hurdle said. "To stay on a left-hander like that was good to see, and it should boost his confidence."
But if the eighth inning was bad for the D-backs, the ninth inning was worse in more ways than one.
De La Rosa got the first out of the inning, and Gibson brought in rookie Bo Schultz for only his third Major League appearance. As part of the double switch to bring Schultz in, Gibson also subbed in All-Star Paul Goldschmidt, who had a rare day off.
The trouble started immediately for Schultz, who gave up back-to-back doubles to the first two batters he faced, giving the Pirates the lead. After Schultz intentionally walked McCutchen, four of the next five batters singled, blowing the game open. When the dust settled, the D-backs trailed by five.
"I hated to leave him out there," Gibson said. "Hopefully, it's something he can learn from."
But if losing a late lead wasn't bad enough, the D-backs may have suffered an even bigger loss in the bottom half of the inning.
Pirates reliever Ernesto Frieri hit Goldschmidt's left hand with a 93-mph fastball. Goldschmidt stayed in the game, but X-rays on his hand were inconclusive.
Goldschmidt said he didn't think the hit by pitch was intentional, and the Pirates echoed that sentiment after the game.
"I don't think anybody on their side was happy that Goldschmidt got hit," Hurdle said. "There wasn't any intent on Ernesto's part. He's fighting and scratching to get outs. Nobody wants to hit a guy in that situation. I just think something was said, and everybody kind of kept a calm head and walked away from it."
Lost in the late-inning fireworks was a solid start from Vidal Nuno, who surrendered only one run in six innings of work. Nuno has three quality starts since he joined the D-backs on July 6.
"Everyone's trying their best," Nuno said. "Unfortunately, they came back with their sticks and everything, and they were putting up runs."
Adam Lichtenstein is an associate reporter for MLB.com. This story was not subject to the approval of Major League Baseball or its clubs.