Lester, Gomes make welcomed arrival to Oakland
Pair of Red Sox jump atop standings after A's pull off blockbuster Deadline deal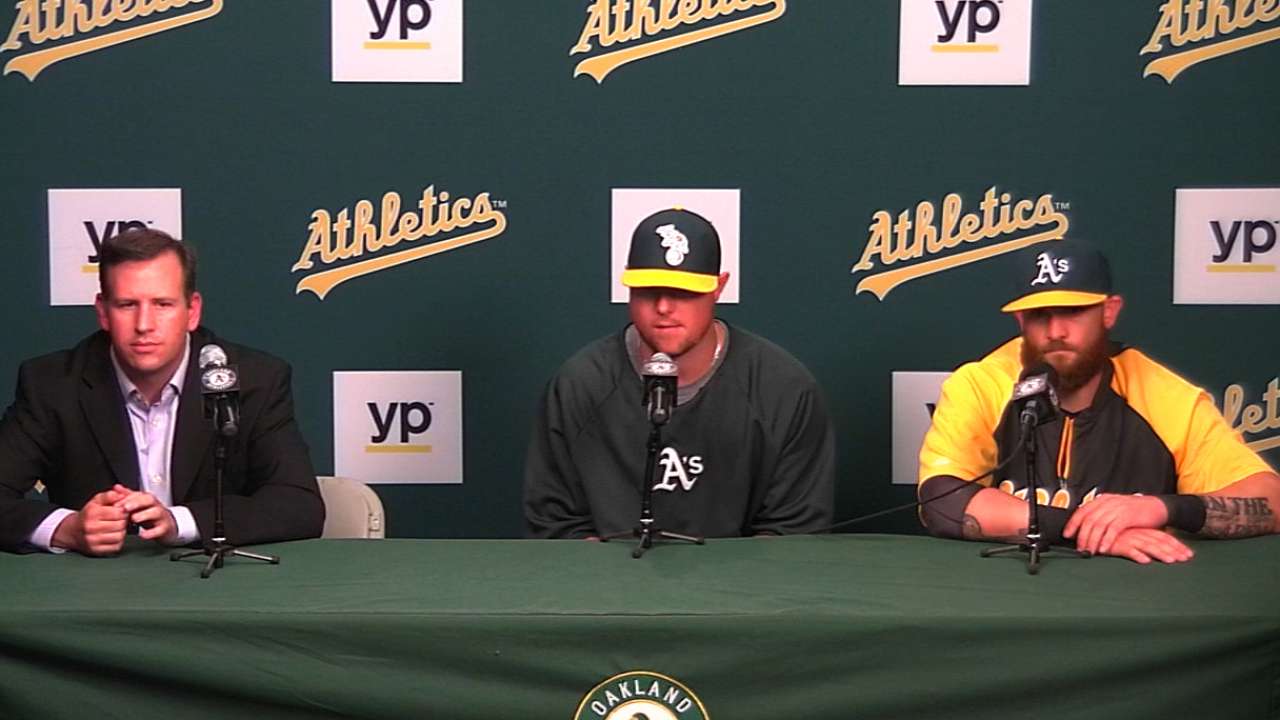 OAKLAND -- From worst to first to worst again, Jon Lester has found his way back to first, albeit in white cleats.
"Changing uniforms doesn't change what we're trying to do between the lines," said Jonny Gomes.
Just their chances of standing between those lines past September.
Taken off an obliterated last-place Red Sox roster following Thursday's startling trade to the first-place A's, Lester and Gomes arrived at the Oakland Coliseum on Friday afternoon ready to go about their business.
Except landing a bona-fide ace after already reeling in Jeff Samardzija in a trade with the Cubs on the Fourth of July isn't business as usual for these A's, who were forced to part with wildly talented slugger Yoenis Cespedes to make it all work.
That's why many in the building were still hungover from the shock that Thursday's off-day produced.
"It's a lot to digest," said manager Bob Melvin. "The magnitude of that type of trade gets your attention. Everybody was so close to Cespy here, and he had an unbelievable impact on what we've done here in the last two-plus years, and we wish him the best and we thank him for everything.
"But to bring in the guys that we brought in, you have to trade something very significant, and that's what it took."
Such shock is mitigated by the presence of impact players like Lester and Gomes, who walked into the A's clubhouse to the soundtrack of John Phillip Souza's "Washington Post March," while catcher Derek Norris literally marched around the room.
Welcome to Oakland, Jon Lester.
"Obviously leaving Boston after being there for so long is difficult, but I'm excited to be here," said Lester, who will make his A's debut Saturday against the Royals. "Going from a team that hasn't done so well this year to the team with the best record in baseball is exciting.
"They play the game the right way. Obviously their pitching staff has always been strong. It'll be fun to be a part of."
The 30-year-old was in the middle of his ninth season with the Red Sox, whose sudden fall from World Series champions to the cellar of the American League East prompted a swift reshuffling project. Gone went contending in 2014, and gone went their chances of signing Lester to an extension -- though both parties are open to getting back together in the offseason, it seems.
The A's plan only goes so far as 2014.
"Any time you negotiate with a team and it doesn't go the way everyone wants it, there's always a little bit of disappointment," said Lester, "but that's not to say the effort wasn't there on both sides to get something done. But my time in Boston will be something I always remember and cherish, from 2002 to yesterday. I've got nothing but great things to say about the organization, the way they treated me, treated my family through the good times and bad times. We'll see where that relationship goes later on, but right now I'm an A and I'm going to go out and perform for these guys and do the best I can to bring the championship here."
The lefty joins a formidable rotation of Scott Kazmir, Sonny Gray, Samardzija and Jason Hammel, and is also reunited with pitching coach Curt Young, who worked the same role in Boston in 2011.
He's not of the same goofy mold as Gomes, but both share the title of consummate pro.
Lester also has a 1.07 ERA in his last eight starts, a 2.52 ERA on the year, and a 2.11 ERA in the postseason, along with the second-best winning percentage (.636) among active American League pitchers.
"Not only is this guy well-decorated and climbing the totem pole of the left-handers in the game and left-handers in the postseason, that's what you guys get to see," said Gomes. "You guys don't get to see the work ethic, what goes into his success, what goes into his championship pedigree, something I didn't know on the other side. It truly is a breath of fresh air to know the best pitcher on the team is also the hardest-working guy on the team.
"We both realized early on in our career why we play 162 -- 162 is just the appetizer for what this game's all about. This is a pretty big piece to add to a ballclub. I've been blessed and lucky to have played behind him. I can't think of a better guy to toe the rubber in a big situation."
"Any time you can get a very good All-Star starting pitcher," said Norris, "that trumps hitting in my mind."
Norris was one of several A's players, Josh Reddick and Josh Donaldson included, who greatly benefited from Gomes' counsel in the middle of their 2012 storybook season.
"He was the guy that kind of broke me into the big leagues," he said. "He was the guy that I tried to model myself after as far as the way he carries himself. He's a positive guy, he's a great clubhouse guy, he's a high-energy guy. He's old school. He's fun to have around."
"You create a different bond of guys when you go through a season that takes you into the playoffs," said Gomes, who will platoon in left field. "Like last year with the Sox and the year before here. Little biased from my end, growing up in the area, being an A's fan. I always thought it was unique coming here. I went from A's pajamas to an A's uniform in about 22 years. I put a lot of work into the young guys, physically, mentally -- like a proud father watching these guys take off, so to see six A's in the All-Star Game, that was pretty cool. So I of course kept tabs on these guys."
Now he wants to share with them the experience he believes every ballplayer should have.
"I was fortunate enough to have that lifelong goal to get that World Series ring," said Gomes. "I thought I was hungry to get that World Series ring. Now that I have it, I've become starving for it. It really sinks home to that's what we play for."
Jane Lee is a reporter for MLB.com. This story was not subject to the approval of Major League Baseball or its clubs.