With little support, Cosart drops Marlins debut
Hatcher allows 3 inherited runners to score; Stanton's HR not enough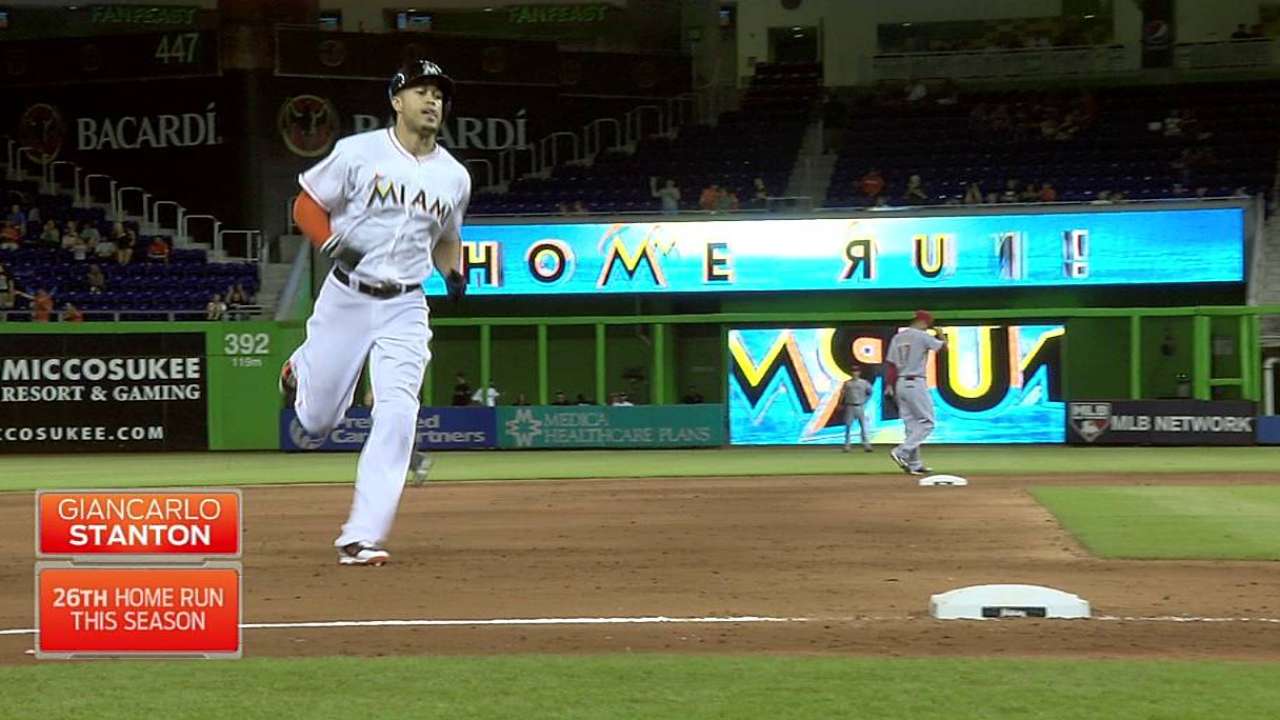 MIAMI -- Jarred Cosart made his Marlins debut a day after being acquired, and the 24-year-old showed promise. But he was upset at himself for not fielding his position better in an inning that swung in the Reds' favor.
Mat Latos limited the Marlins to one run in seven innings, and Ryan Ludwick delivered a two-run double that lifted the Reds to a 5-2 victory on Friday night at Marlins Park.
Yielding hits will happen. So will issuing occasional walks. The way Cosart broke his Miami debut down was expressing his frustration over not making a play on Todd Frazier's comeback grounder that deflected off the pitcher's glove and was ruled a hit. The play was part of a three-run sixth inning.
Although Cosart exited with the score tied, the bases were loaded for Chris Hatcher. All three runs scored.
"We lost because I couldn't do a PFP [pitcher's fielding practice]," the right-hander said. "That was the ground ball back to me. It hit off my glove and put guys on first and second. I ended up walking a guy, putting Hatcher in a really bad spot. It's just baseball. I've got to make that play."
As hard as he was on himself, Cosart didn't receive much run support.
After falling behind by three, Giancarlo Stanton homered off Jonathan Broxton to lead off the eighth inning. Now with 143 career blasts, Stanton is tied with Mike Lowell for third most in franchise history. He's also gone deep in three straight games.
The Marlins managed little else, however, as they dropped three straight after winning six in a row and nine of 10. They've scored just six runs total during their losing slide.
"Stanton is swinging the bat," manager Mike Redmond said. "We've got to get a couple of other guys in front of him on base consistently and get some other guys to get some big hits. We've been pretty quiet the last couple days."
The night marked the arrival of Cosart, acquired on Thursday from the Astros. The right-hander worked 5 1/3 innings, giving up four runs on four hits with two walks and three strikeouts.
"I thought he looked good for five innings," Redmond said. "He looked like he kind of ran out of gas there in the sixth. But I saw some good things. I saw a good fastball, hit on some good breaking balls. I thought overall he did fine."
The lack of a shutdown inning proved costly in the momentum-swinging, three-run Cincinnati sixth. After striking out Billy Hamilton to open the inning, Cosart walked Jay Bruce and Miami got a bad break when Frazier's sharp grounder up the middle was deflected by Cosart toward third base for an infield hit. Devin Mesoraco worked a walk, loading the bases and prompting a pitching change.
Hatcher faced Ludwick, who lofted a two-run double to left on a 1-2 pitch. Skip Schumaker's sacrifice fly gave the Reds a 4-1 advantage.
"I feel like the baseball gods were kind of on my side, because the at-bat before I hit the line drive at the third baseman," Ludwick said.
All three runs were charged to Cosart, who retired the first nine he faced. And in the third inning, he collected his first big league hit, an infield single.
"Yeah, I really got all of it," Cosart said. "I hustled out of the box so I could get on base and give us a chance. I did that, but my job is to go out there and pitch."
With the Astros in the American League, Cosart had only three career at-bats.
Cosart started off strong, but in the fourth inning, the Reds strung together three straight hits, and Frazier had an RBI single.
Miami pulled even at 1 in the fifth inning on Jordany Valdespin's two-out RBI single.
The Marlins had a chance to pull ahead, when with the bases full, Garrett Jones chopped a grounder to first. Frazier flipped to Latos covering first, and umpire Tom Woodring ruled safe. It would have been a run-scoring infield hit. But the Reds challenged, and the call was overturned. Replay showed Latos' foot got the corner of the base before Jones arrived.
"We just need to keep battling and go out there and hopefully tomorrow night put some runs up against some good pitching," Redmond said.
Joe Frisaro is a reporter for MLB.com. He writes a blog, called The Fish Pond. Follow him on Twitter @JoeFrisaro. This story was not subject to the approval of Major League Baseball or its clubs.