Rockies unable to shake off road woes in Detroit
Morales opens start strong, but Tigers pull ahead for good in fifth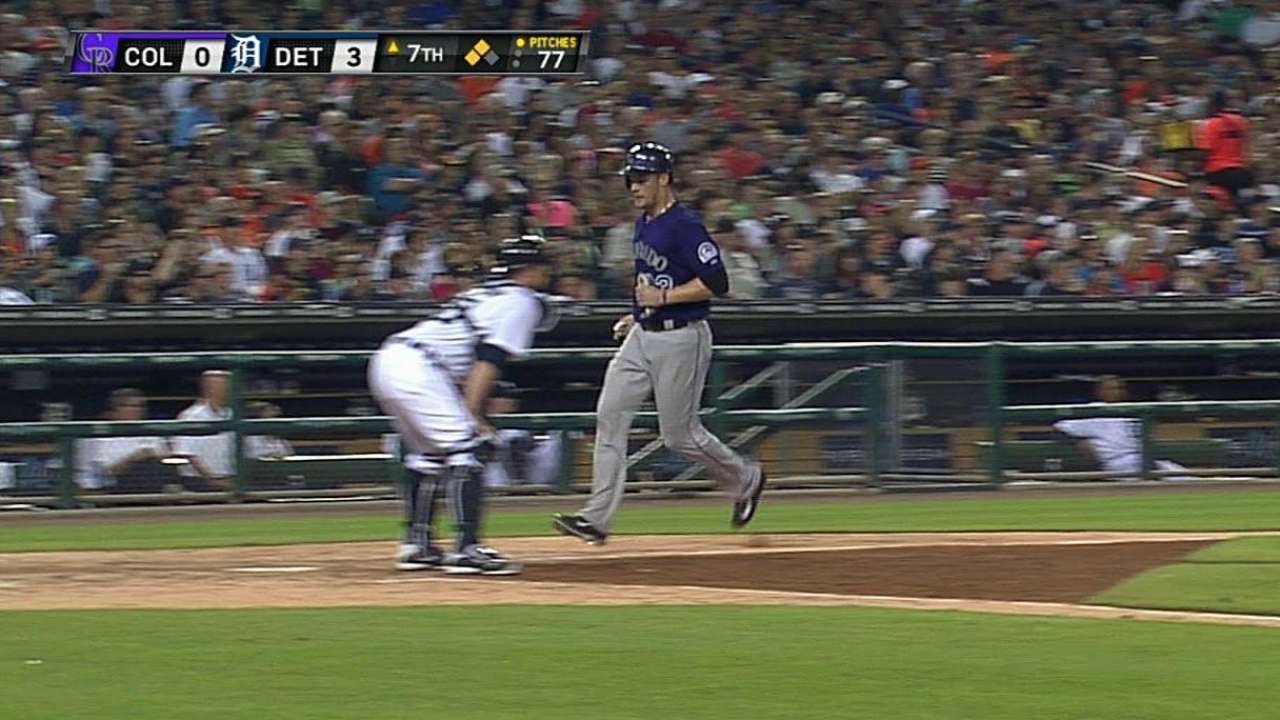 DETROIT -- On Colorado Day, the state's 138th anniversary, there was no place else the Rockies would rather have been.
Their road woes continued as the offense again came up short in a 4-2 loss to the Tigers on Friday night in the series opener at Comerica Park.
For four innings, Franklin Morales matched Justin Verlander pitch for pitch, but the game got away from him in the fifth. Detroit notched three runs that inning and Colorado had little response.
The Rockies are averaging just 2.6 runs per game through the first five games of their current road trip.
The best example of how things have been going for the offense lately came when the team was on defense.
In the fifth inning, with runners on second and third, the Colorado defense was playing in, hoping to keep the Tigers off the board. Manager Walt Weiss knew that his team was not in a position to concede a run and hope to make it up later.
"We can't play it safe," he said. "We're going to roll the dice."
Detroit's Rajai Davis found a hole up the middle for a single that scored two of the Tigers' three runs that frame. Still, Weiss said, "I'd do it again, every time."
In the fourth, it appeared Morales was in for a rough inning when he allowed a single to Miguel Cabrera and a walk to Victor Martinez to open the inning. But he got Torii Hunter to strike out on a curveball in the dirt, then induced a double-play ball off the bat of J.D. Martinez to end the threat.
The game stayed scoreless until the Tigers' next at-bat, which is when things fell apart for Morales. Four straight hits plated three runs, which was enough against the struggling Rockies.
"In the fifth inning, I tried to make good pitches to get ground balls, and I didn't have any luck," Morales said.
The damage might have been worse, but Carlos Gonzalez managed an incredible sliding catch on a foul ball down the right-field line to put an end to the inning. However, Gonzalez injured his right ankle on the play and is listed as day to day.
Brandon Barnes replaced Gonzalez, who not even a week ago injured his right ankle, in right field.
For the third straight inning, Morales pitched himself into trouble in the sixth by walking two straight batters to start the frame. He escaped courtesy of another inning-ending double play, putting an end to his night after six innings of three-run ball.
"I thought [Morales] did a nice job," Weiss said. "I thought he handled a really good lineup pretty well."
The offense awoke from its slumber in the seventh, but it wasn't enough. Wilin Rosario scored Justin Morneau with a single, and Barnes crossed the plate when Tigers third baseman Nick Castellanos threw home with one out instead of getting the sure out at first. His throw wasn't in time, and the lead was cut to one run.
Verlander responded with strikeouts of DJ LeMahieu and Charlie Blackmon, the latter on a 95-mph fastball.
Designated hitter Corey Dickerson said Verlander did a good job of keeping enough gas in the tank to dial it up like that in the later innings. The 2011 American League Cy Young Award winner, who hasn't displayed that dominant form this season, kept his fastball in the low 90s in the first few innings. The Rockies couldn't catch up when he added a little more zip later, like on the strikeout of Blackmon.
"I felt like we had a pretty good approach against him," Weiss said of Verlander. "You can see him elevate his game when he gets in a tough spot. He's always been able to do that."
The Rockies put two men on in the ninth off Detroit closer Joe Nathan, but Blackmon flew out to center field to end the game.
Colorado has now lost 16 of its last 18 away from Coors Field.
Matt Slovin is an associate reporter for MLB.com. This story was not subject to the approval of Major League Baseball or its clubs.