National Youth Baseball Championships kick off in NY
Three-day tournament brings together the best in coaches and players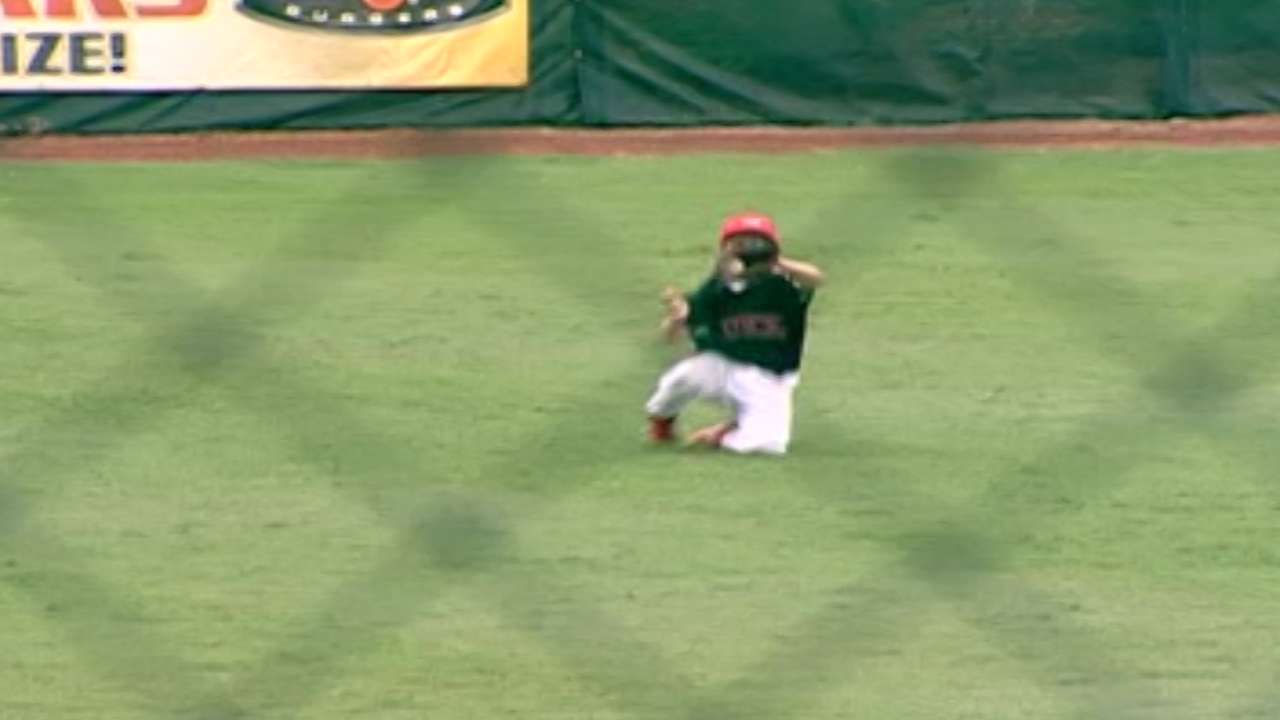 YAPHANK, N.Y. -- The Long Island complex is called Baseball Heaven, and it's pretty clear why.
Seven turf fields, indoor and outdoor batting cages, and congregations of young players from across the country, eager to swat baseballs for just a day -- or for some just hours -- after arriving to New York for the first time in their young lives.
Friday afternoon, the best 12-year-old baseball players in the U.S. convened there for the seventh annual National Youth Baseball Championships, a three-day All-Star tournament beginning Saturday and concluding Monday night. It allows the kids, many bigger, taller and stronger than your average pre-teen, to showcase their prestigious talents in several games that will be broadcast on CBS Sports Network and streamed online through MLB.com.
It also allows the young athletes to meet new coaches, parents and players, who may become their teammates as they grow older. Families from Oklahoma shake hands with Californians while their sons size each other up, embodying a youth baseball mixer that will likely spawn some potential Major League stars.
"It's meeting new people and getting the word out," said Ryan Sizemore, the tournament's director. "Maybe they'll meet each other and cross paths again later in their careers.
"It kind of gets them ready for the next level because a lot of them, if they're not already in middle school, will be starting," he said. "So it's their time to start working [toward] whatever their ultimate goals will be, whether it's playing in high school, college or at the pro level."
The kids, who regularly travel long distances with several tournament teams each year, hail from all corners of the country and are split into four teams, broken down by regions (East, South, West, and Central). The teams will compete in a round robin schedule, and based on their records, will be reseeded for a single-elimination bracket on Monday to determine a winner.
For every player, this is just another normal weekend of nonstop baseball. As they checked in Friday, both parents and players attested to the grueling 50-70 game schedules that come with playing in travel team baseball, constantly migrating from state to state to find elite tournaments that get their kids recognized.
That's how Nathan Clinkenbeard, the tournament's media director and managing editor of the magazine Baseball Youth, finds them. He's responsible for searching, scouting and compiling lists of players to come together in Long Island, a process that involves sending lots of invitations and piecing together an even amount of kids for each region. Oftentimes the players will be familiar with each other, joining their teammates for the trip east, while others are the only representatives from their state.
"We like to invite the all-tournament players," said Clinekenbeard. "We look at the elite events. [In] our magazine we rank teams, so we have team rankings of the Top 25. We contact those teams, [and] find out who their top players are."
Some of the 12-year-olds have amazing stories. Like Dawson Batts, a pitcher and first baseman from North Carolina who was born with only his right arm. Beginning from age three he started hitting from a tee and has now become the best player on his tournament team, a swinging lefty with power. His dad was eager to add that he turned two unassisted triple plays this season.
Another story of devotion comes from Joseph Cruz, who lives in San Juan, Puerto Rico, but still manages to travel to the states twice a month for baseball tournaments. He stays with family members from his team, flying into Texas, Arizona, or wherever the next set of games takes place.
Friday evening, as jetlag began to wear off, Clinkenbeard introduced players by team and name on the field, offering the first opportunity for them to interact with their new teammates. Later, a home run derby and race around the bases allowed a momentary release of bottled up baseball energy.
Action will begin on Saturday with South versus Central at 11a.m. ET followed by East versus West at 2 p.m. Unlike regular Little League regulations, games will last seven innings while the mound and baseline distances extend to 50 and 70 feet, respectively.
After the tournament finishes, players who stay in the city will get a chance to attend a Yankees-Tigers game at Yankee Stadium Tuesday, a welcoming off-day reward for both the kids and their families.
"Just travelling from all across the U.S. to come here to New York, to just participate in this," said Sizemore of the parents. "It wouldn't be possible without them."
Worth noting:
While the NYBC All-Star tournament starts Saturday, baseball was still being played Friday.
The afternoon began with the NYBC Last Chance Qualifier, a tournament featuring 12 teams from the Northeastern corridor. After playing in a double-elimination bracket, two winners will emerge Sunday to play in a national tournament next week, joining 14 other teams from around the country.
To open the qualifier, the Long Island Titans defeated Team Baseball Heaven Black, 7-3. The Long Island Junior Ducks followed with an 8-7 victory over Diamond Jacks Gold, while Team Beast and the Southshoremen finished tied at 8.
In the two night games, the East Coast Jays clobbered the LI Baymen Prospects, 11-0, and the Diamond Jacks Super 12 were victorious, 10-5, over the Gator's Baseball Club.
Play resumes Saturday morning with three games beginning at 8 a.m.
Jake Kring-Schreifels is an associate reporter for MLB.com. This story was not subject to the approval of Major League Baseball or its clubs.