Pirates stun D-backs with unlikely comeback
Bucs score eight runs in final two innings; Mercer delivers go-ahead hit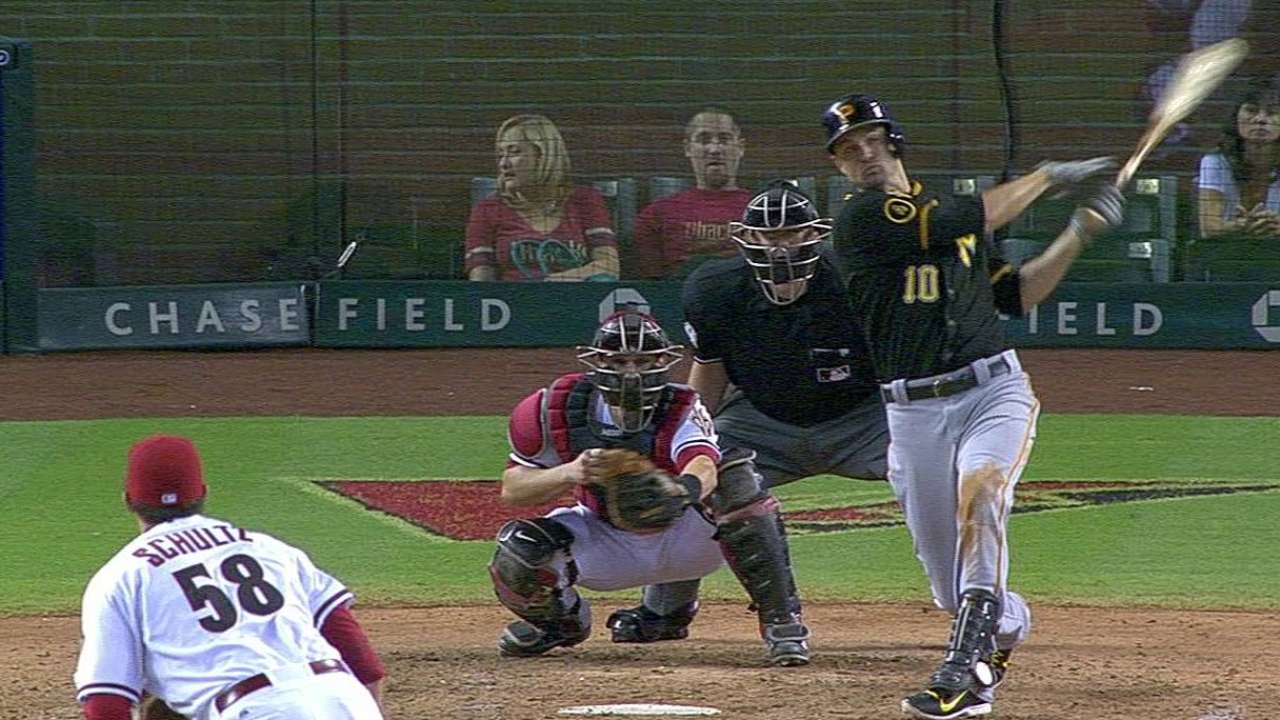 PHOENIX -- There are a lot of people waking up around Pittsburgh this morning who will be stunned when they turn on their phones, boot up their computers or pick up the morning newspaper.
Yes, folks, the Pirates did beat the Arizona Diamondbacks, 9-4, Friday night. This was the same game you had probably turned off with dismay around midnight, and hit the pillow with your Bucs trailing 4-1 going into the eighth, and apparently lifeless.
"There are games where, at times, I'm sure you think, 'Well, how much of a shot do you have?' We always think we got a shot until we're finished," Clint Hurdle said after the Bucs' late-game lightning had zapped the D-backs.
The Bucs didn't just roll to this comeback. They bulldozed to it, scoring eight of their runs and getting 10 of their 13 hits in the last two innings.
They definitely rubbed the Diamondbacks the wrong way. All it took was one errant pitch in the ninth by Ernesto Frieri to lead to an odd postgame scene: members of both teams milling on the field, hashing -- not brawling -- things out.
Arizona first-base coach Dave McKay called out Frieri for having hit Paul Goldschmidt on the left hand with an 0-1 pitch in the ninth.
"Oh, the first-base coach was saying some things, but I just moved on," Frieri said. "I didn't care about that. We won the game, that's the only thing that mattered."
Pittsburgh catcher Russell Martin expressed his regrets about the errant pitch, and there was a bit of pushing and shoving.
"I don't think anybody on their side was happy that Goldschmidt got hit," Hurdle said. "I just think something was said, and everybody kind of kept a calm head and walked away from it."
Actually, it was hard to find a single Pirates player who felt calm after a comeback Neil Walker called "about as good as any we've ever had. That was something."
The Pirates' stealth weapons went off with both barrels late Friday, and so the Bucs again became a bullpen's worst nightmare.
Andrew McCutchen, hidden by a slump for two weeks, and Pedro Alvarez, lost on the bench since the All-Star break, torched a furious tying rally in the eighth and the Pirates closed the deal with another rally in the ninth for the comeback, and come-back-to-life, victory.
McCutchen drove in the first run of the three-run eighth with a double -- his third extra-base hit in 14 games. Alvarez drilled a two-run, pinch-hit double off left-hander Eury De La Rosa -- his first pinch-hit since July 3, 2012 -- to make it 4-4.
Jordy Mercer's double off Bo Schultz with one out in the ninth drove in Josh Harrison with the go-ahead run. The Bucs kept on keepin' on. Pinch-hitter Michael Martinez and Martin singled for runs, then Travis Snider singled for two more.
"The late flurry was just a team effort, from the start," Hurdle said. "We just keep playing the game."
Both late rallies were triggered by the usual reveille-blower, Harrison, who had tripled with one away in the eighth, then doubled with one down in the ninth. This followed his four-strikeout game of the previous night, prompting this question to the former utility man:
"Had you had a four-strikeout game a couple of years ago, how long would it have been before we saw you again?"
And Harrison replied, beaming, "Thank God it's two years later."
McCutchen had started the game with four hits in his last 33 at-bats, a nine-game lull that had spiraled his average to .304. With his double, Alvarez picked up his first RBI since July 12, and we were now in August.
Arizona had built is 4-0 lead on Ender Inciarte's three-run homer off Edinson Volquez in the fifth and Volquez's run-scoring wild pitch later in that inning.
After having been limited to McCutchen's first-inning infield single through the fifth, the Bucs finally dented left-handed starter Vidal Nuno, ever so briefly.
With one out, Mercer doubled, and with two away Gaby Sanchez chased him home with a single.
Although Volquez's bottom line did not change, the no-decision was the result of one bad pitch, the one Inciarte turned into his second big league homer in his 200th at-bat.
Tom Singer is a reporter for MLB.com and writes an MLBlog Change for a Nickel. He can also be found on Twitter @Tom_Singer. This story was not subject to the approval of Major League Baseball or its clubs.