Dodgers' winning streak snapped in sloppy loss
Wild game includes four replay reviews and multiple injuries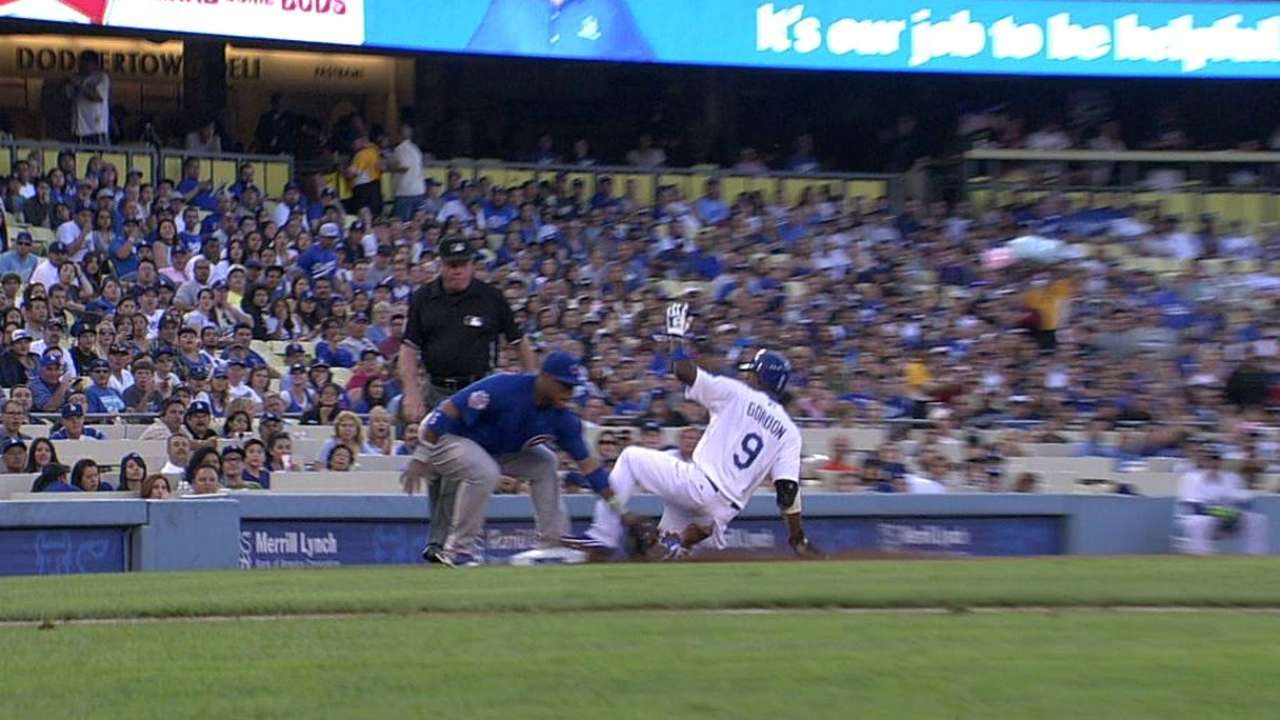 LOS ANGELES -- After sweeping the Giants and Braves, the Dodgers let down in many ways Friday night when they were dumped by the last-place Cubs, 8-2, in a game that had four Dodgers injuries and as many umpire reviews.
Four Dodgers were injured -- relief pitcher Paul Maholm, first baseman Adrian Gonzalez, center fielder Yasiel Puig, and catcher A.J. Ellis.
Maholm appears to be the most severe, hearing a pop in his right knee trying to cover first base during the seventh inning and leaving on crutches to get an MRI. Manager Don Mattingly said it "seemed serious," implying that a disabled list stint is almost certain.
Gonzalez said his right knee went numb when it stuck in the clay as he started a first-inning slide at the plate. He was removed an inning later, but said he was OK by game's end.
Puig's departure was curious. He left after six innings with what was announced as "mild left hamstring soreness," but he was walking fine as he left quickly to avoid Fireworks Night traffic. Mattingly said the injury apparently happened in the sixth inning as Puig went from first to second base. But Puig's legs seemed sound immediately afterward as he daringly raced from second to score a meaningless run on an infield forceout, his club trailing by six runs.
Ellis stayed in the game for several innings despite taking a foul tip off the same right knee that swelled up after taking a foul tip the night before. He was replaced in a ninth inning double-switch.
Dodgers starting pitcher Dan Haren left early, but not from an injury. Pushed back three games in the rotation, his losing streak reached five as he didn't finish the fifth inning.
"I'm just embarrassed by my performance and I feel bad for the fans and the other 24 guys," said Haren. "It's kind of a broken record my last few starts. I didn't have good stuff. I don't know why. Healthwise, I'm fine.
"As bad as it's been lately, I felt really good mentally and came to the park feeling good things were going to happen. But just the same results. It's one of the toughest times in my career. I had a bad start last year, but this means more, the way we've been playing and to be the weak link. I have no one to blame but myself."
Haren would be a likely candidate to be replaced in the rotation, but who replaces him? Maholm would get the first call, but now he's hurt. The Dodgers were unable to deal for a starting pitcher this week and there is no standout candidate at Triple-A Albuquerque to call up.
Haren was charged with seven runs (six earned) in 4 1/3 innings. Since one-hitting the Indians for seven innings June 30, his ERA is 10.03 and he's averaging less than five innings a start.
Meanwhile, the only Dodgers runs off rookie Kyle Hendricks scored without a ball hit out of the infield. Hendricks, an Orange County native, allowed only four hits over seven innings.
"It was awesome tonight -- that's a heck of a lineup over there," Hendricks said. "Every guy up and down can hit, they're one of the best teams in the league. I was lucky to go out there and throw some strikes and get them out. It was really fun to have my family and friends here to watch."
Hendricks was obtained by the Cubs two years ago for Ryan Dempster when the Rangers outbid the Dodgers, who wouldn't include Zach Lee in the deal.
Haren got through the first inning unscathed, which was news, then Dee Gordon did his thing with an infield single off Hendricks and steals of second and third bases, giving him 50 on the season.
Gonzalez was walked intentionally and then the Dodgers scored on a bizarre play. Hanley Ramirez bounced into the hole, where shortstop Starlin Castro fielded the ball and threw wildly past second base as Gordon scored. Gonzalez, beginning at first base, tried to score as the ball rolled into foul territory.
Gonzalez overslid the plate, catcher Welington Castillo made the tag and plate umpire Jim Wolf made the out call, which was confirmed after a crew-chief review to determine if Castillo had illegally blocked the plate. An inning later, Gonzalez was removed from the game.
The Dodgers scored a second run without a ball hit out of the infield in the sixth when Puig reached on an infield single, went to second on a fielder's-choice error by Castillo and scored from second by avoiding a tag at the plate by Castillo that would have ended the inning. Plate umpire Jim Wolf's call was upheld with the fourth review of the game.
Ken Gurnick is a reporter for MLB.com. This story was not subject to the approval of Major League Baseball or its clubs.