L.A.-area native Hendricks impresses in homecoming
Starter goes seven innings, collects win, first RBI, multi-hit game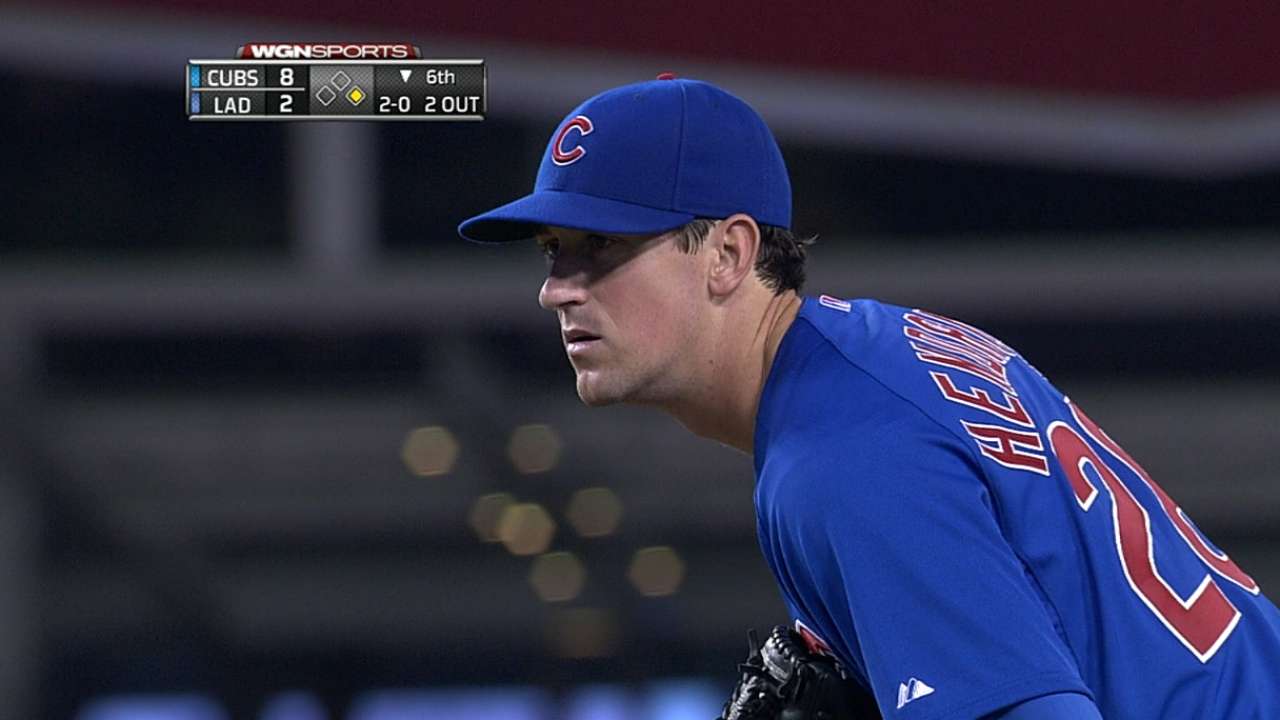 LOS ANGELES -- It was a perfect homecoming for Cubs pitcher Kyle Hendricks.
Hendricks, who grew up about one hour from Dodger Stadium, picked up his second big league win, plus his first multi-hit game, and first RBI in the Cubs' 8-2 win over the Dodgers Friday night.
"He continues to impress everybody," Cubs manager Rick Renteria said.
This was Hendricks' third consecutive quality start, and he's the first Cubs rookie to total that many in a row since Casey Coleman had four straight, Sept. 12 to Oct. 1, 2010. It's the second time Hendricks has pitched at Dodger Stadium, although he didn't feel the first one counted because it was one inning in a high school showcase in front of a few hundred people.
On Friday, there were 47,900 at the ballpark, including at least 40 of Hendricks' family and friends, including his high school coach.
"It was awesome tonight -- that's a heck of a lineup over there," Hendricks said. "Every guy up and down can hit, they're one of the best teams in the league. I was lucky to go out there and throw some strikes and get them out. It was really fun to have my family and friends here to watch."
The Hendricks contingent was easy to spot in right field. They were dressed in Cubs blue and had brought posters to brag about the right-hander.
"We've seen him execute, mix his pitches, and knows what he needs to throw in particular counts," Renteria said. "He's pitching, and I think he's done it since the first day we saw him. ... Kyle set the tone in his ability to attack the hitters and attack the offense. He gave us an opportunity to go ahead and do what we did on the offensive side."
Luis Valbuena hit a solo home run and an RBI single, and Starlin Castro had three hits to back Hendricks, 24, who now has pitched at least six innings in each of his four big league starts. The Cubs acquired the right-hander two years ago at the Trade Deadline from the Rangers in the Ryan Dempster deal, and last season, was named the Cubs' Minor League pitcher of the year.
At that point, he didn't think about making a start at Dodger Stadium, practically in his backyard.
"You always have lofty dreams but I was more concerned with the day-to-day work to get me here, and I think that's what I attribute to finally getting me here," said Hendricks, from Newport Beach in Orange County. "I thought about playing up here but didn't think about this moment necessarily."
Hendricks got a wake-up call as Dee Gordon lined a single off the pitcher's calf to lead off for the Dodgers. Gordon then stole second and third for his 49th and 50th steals of the season, more than the entire Cubs team has combined. One out later, Adrian Gonzalez was intentionally walked and Hanley Ramirez hit a grounder to Castro, whose throw sailed into right field. Gordon scored on the play, and Gonzalez was thrown out at home on a 9-3-2 relay.
"You can't get rattled," Hendricks said. "You have to stay in the game. The guys scored a ton of runs for me. You have to try to treat it like a 1-0 lead."
Valbuena quickly tied the game with a leadoff home run in the Chicago second, and the Cubs added three more runs in the third when Ryan Sweeney hit an RBI single and Castro scored on a throwing error by right fielder Matt Kemp. Sweeney then tallied on a wild pitch by Dodgers starter Dan Haren.
"I'm just embarrassed by my performance and I feel bad for the fans and the other 24 guys," Haren said. "As bad as it's been lately, I felt really good mentally and came to the park feeling good things were going to happen. But just the same results. It's one of the toughest times in my career. I had a bad start last year, but this means more, the way we've been playing and to be the weak link. I have no one to blame but myself."
The Cubs scored three more runs in the fifth, including one on an infield single by Hendricks to third that deflected off pitcher Chris Perez toward third baseman Justin Turner, who didn't step on the bag for a force or make a throw.
How did he prepare for the start? Hendricks, a Dartmouth graduate, studied video, talked about each hitter with catcher Welington Castillo, and did his homework. Give credit to Triple-A Iowa pitching coach Bruce Walton, who did his best to prepare the right-hander for the big leagues, telling Hendricks to eliminate the fans and the hype and the upper deck, and focus on making good pitches.
He's been tested. Hendricks' first big league start was in Cincinnati, he's faced the Cardinals at Wrigley Field and now the Dodgers on the road.
"He's really smart and he knows what he's doing, and he knows what to use and when to use it," Castillo said of Hendricks. "I think his stuff is not like [Adam] Wainwright or guys like that. What he does is get his pitches down in the zone and do his homework and I think it's working. Execute the pitches -- that's working for him."
Carrie Muskat is a reporter for MLB.com. She writes a blog, Muskat Ramblings, and you can follow her on Twitter @CarrieMuskat. This story was not subject to the approval of Major League Baseball or its clubs.