Infusion of new talent helps Sox knock off Yanks
Ranaudo notches win in big league debut; Pedroia records two RBIs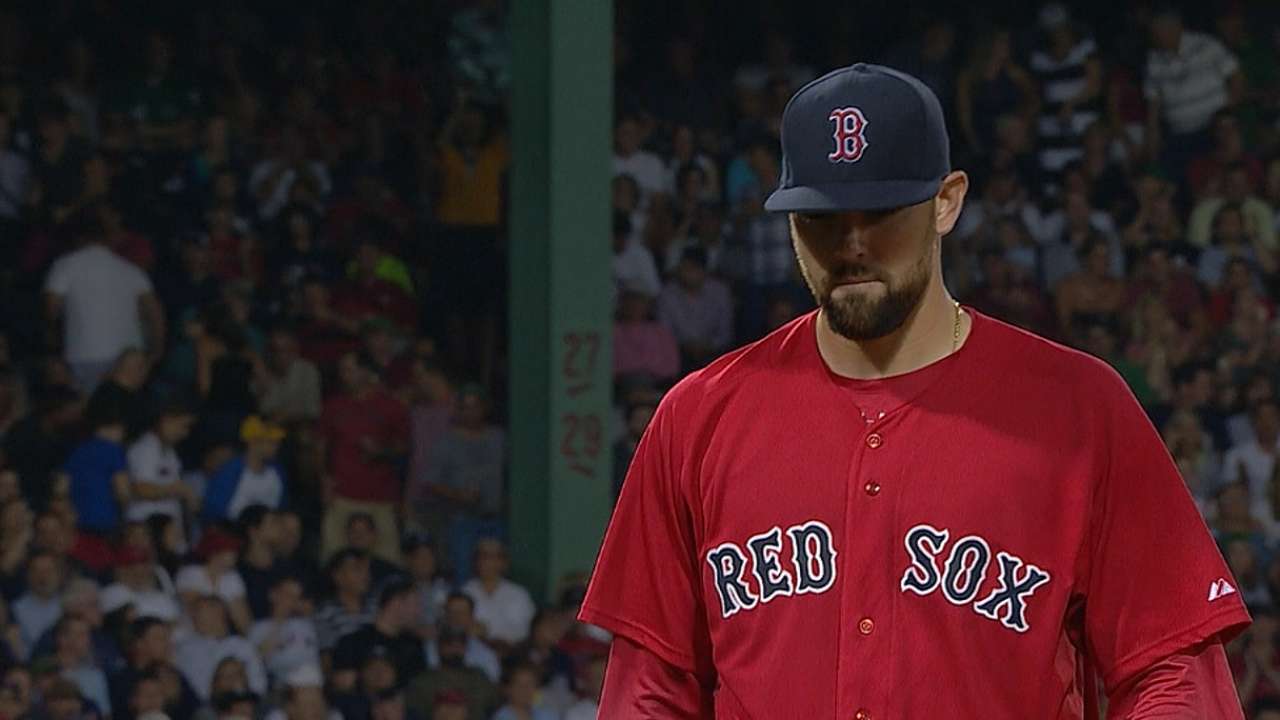 BOSTON -- The newly-constructed Red Sox, coming off a Trade Deadline day of massive player movement, took the field with Anthony Ranaudo making his Major League debut against the team he grew up rooting for as a kid in New Jersey.
And by the time they walked off the field, Ranaudo was the winning pitcher as Boston defeated the Yankees, 4-3, to open a three-game series at Fenway Park.
Ranaudo's first career strikeout? Just Derek Jeter, the man he idolized as a kid.
"I think they put it in my locker," said Ranaudo, who is ranked the club's No. 6 prospect. "It's something that's going to be part of my life for the rest of my life. To have my first strikeout be Derek Jeter is pretty awesome."
Following the game, Ranaudo was told he will likely head back to Triple-A Pawtucket on Saturday, as trade acquisition Joe Kelly will join the rotation. But that couldn't wipe the glow off his face.
"That part is not up to me," said Ranaudo. "All I can do is, whenever they give me the ball, go out there and compete and try to do the things I do well the best that I can and focus on the things I can control, and that's all I'm going to do."
Yoenis Cespedes didn't play in his first day wearing a Red Sox uniform, but Allen Craig did, and he supplied a double in his debut.
"It was so exciting," said Craig. "It felt good to get out there and put the uniform on and just play the game. It was great. Obviously it's new and it's different, but it's good. I had a good time."
Meanwhile, Ranaudo fired six strong innings, allowing four hits and two runs while walking four and striking out two.
"I think I'd be lying if I told you there wasn't a lot of emotion, because it was against the New York Yankees, the team I watched growing up, but when it was 7:10 and the first pitch was coming, I had to focus on being that those guys are competing against me and I'm trying to win the game," Ranaudo said. "I think I did a good job with that, not really worrying about who was in the box necessarily but executing my pitches."
The offense, dormant for much of a nine-game stretch that preceded this one, came to life enough to beat Chris Capuano, the West Springfield, Mass., native who pitched for Boston earlier this season.
It was a game that had all kinds of subplots. Stephen Drew, traded from the Red Sox to the Yankees on Thursday, started at second base but went 0-for-4.
Koji Uehara, a key pitcher who wasn't dealt, came in and nailed down the save, his 22nd of the season.
Before the game, manager John Farrell addressed his clubhouse about the club's mission for the rest of the season.
"We spoke before the game about 54 games remaining and it's important for us to take every opportunity to go out and execute as consistent and successful as possible, and tonight was a step in that way," said Farrell.
Was there a different vibe in the clubhouse?
"A different mood, because we've got probably a third of a new team," said Farrell. "So there's certainly some newness, but I think there was a lot of enthusiasm with the guys that we've brought in and we're looking forward to seeing Yoenis in the outfield tomorrow. The pressure, I wouldn't say pressure. There's still an expectation and it will be good to see this lineup get more opportunities together and hopefully continue to gel further."
Mookie Betts, called up for the second time this season before the game, helped preserve the win with a sensational catch in which he tumbled on the warning track.
"I don't really remember what happened," said Betts. "It all happened at once. I hit the ground, saw the ball in my glove. I'm happy about that."
Brock Holt helped the Red Sox jump out first, when he laced a triple into the corner in right in the third. Dustin Pedroia followed by hammering a ground-rule double into the triangle in right-center. David Ortiz made it 2-0 with an RBI single to right.
Ranaudo didn't give up a run in this first three innings. Carlos Beltran changed that with one swing, when he went deep to right to open the fourth.
Back came the Red Sox against Capuano in the fourth, as Will Middlebrooks led off with a double to right and David Ross, who would later leave the game with what could be a significant planter fasciitis injury, followed with an opposite-field RBI single to right.
Jacoby Ellsbury tried to spark a Yankees comeback with a leadoff walk in the sixth. He was originally ruled out trying to steal second, but the call was overturned after a replay challenge by Yankees manager Joe Girardi. That proved beneficial when Beltran came through with an RBI single up the middle to nip Boston's lead to 3-2.
But Ranaudo got a groundout to third from Brian McCann in the final pitch of his outing and walked off the mound with the lead
"You know, I thought he did a good job keeping the game under control," said Farrell. "There were a number of innings where the leadoff hitter would get on base and [he] found a way to navigate through three walks to lead some innings off. I thought he threw the ball downhill well and kept the ball out of the middle of the plate for the most part."
Ian Browne is a reporter for MLB.com. Read his blog, Brownie Points, and follow him on Twitter @IanMBrowne. This story was not subject to the approval of Major League Baseball or its clubs.