Cards lose ground in Central with loss to Crew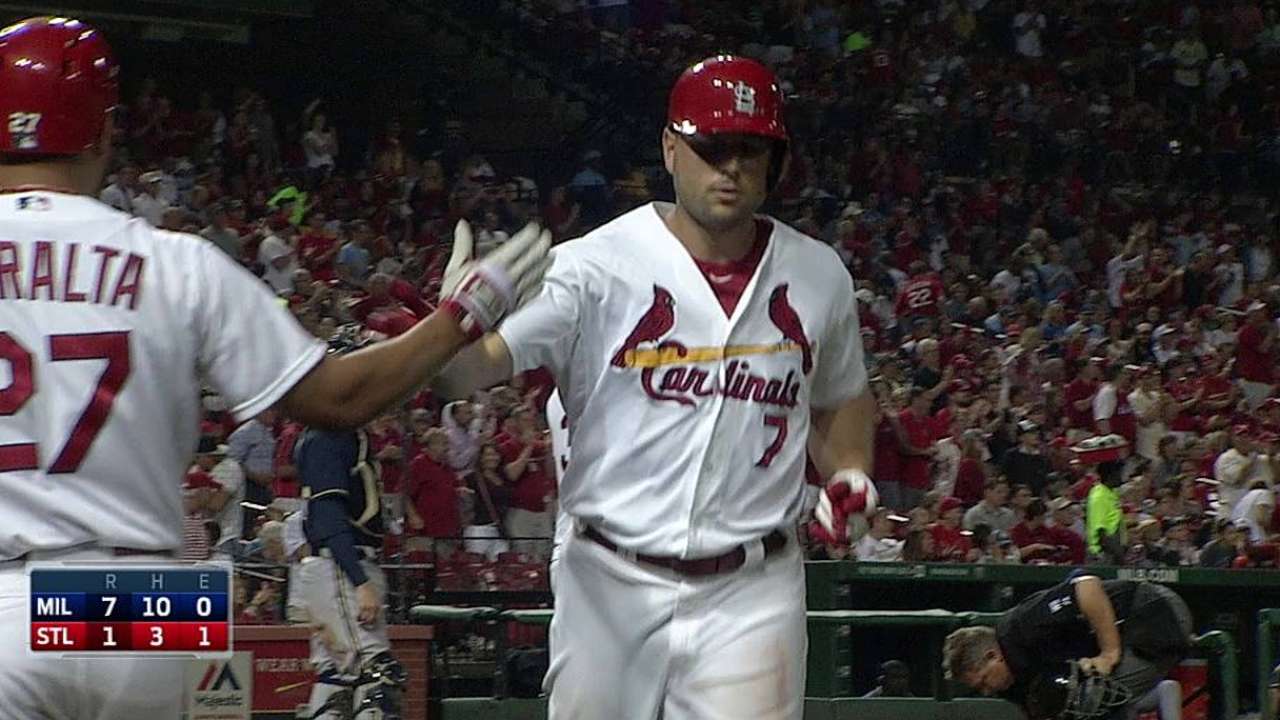 ST. LOUIS -- There was no particular play, nor a list of items for Adam Wainwright to point to this time when searching for what might have gone awry as the Cardinals opened a three-game series with the division-rival Brewers on Friday.
Sometimes, he thought, the answer might be as simple as the other team making plays.
The Brewers pestered Wainwright early and a barrage of close plays later unraveled his outing, and the Brewers assured themselves of finishing this weekend series atop the National League Central thanks to a 7-4 win at Busch Stadium to move three games ahead of the Cardinals in the division.
"It was not an easy night," said Wainwright, who allowed all seven runs on nine hits and three walks in 5 1/3 innings. "I made some good pitches tonight, and they worked me hard. A good team does that sometimes. There's really nothing to point to. There's a couple of key plays in that game that they made good on. [When you're] playing good teams, a couple of key moments here, a couple of key moments there, that's the game."
An uncharacteristic mistake led to the Brewers' first run. After falling behind, 3-0, to Aramis Ramirez in the second inning, Wainwright attempted to steal a strike with a sinker across the plate, but instead he watched the pitch fly 396 feet into the left-field bullpen to start the scoring.
Wainwright hadn't allowed a home run in 68 innings dating back to May 30, and he had never surrendered one on a 3-0 count.
"I probably should have been ready for that," he said. "He had no reason not to [swing] right there. A 0-0 game, and he's trying to get something going for the team. I should have been better than that."
Ramirez doubled in the Brewers' second run in the second inning, and Ryan Braun added an RBI ground-rule double in the fifth inning to give the Brewers a three-run lead.
Ramirez collected three hits against Wainwright, upping his career average against him to .415. That is the best mark against Wainwright by any active player with at least 30 at-bats.
"I don't have an explanation for it," Ramirez said. "He's one of the best pitchers in the game for a while now, but I don't know, for some reason I take good swings on him and get good pitches to hit and put them in play hard. ... Like I said, he's good. I can't say what's going on there. I'm sure he doesn't [know], either."
Although the Cards' offense struggled to muster anything against Brewers right-hander Wily Peralta through the first five innings, collecting just two hits, they were still in it when the Brewers came to bat in the sixth.
But Jean Segura's comebacker deflected off the glove of first baseman Matt Adams, putting a leadoff runner on before a blooper dropped into shallow center field and the Cardinals attempted to get a forceout at second base.
After Segura was called safe, manager Mike Matheny unsuccessfully challenged and was ejected later in the inning for arguing the decision.
"I saw a perfect replay where he was out at second," Wainwright said. "Who knows if those plays end up making a difference, but one out and a guy on first is a lot different than first and second and nobody out. That game completely changed course there."
Wainwright would retire the next batter on a sacrifice, but then he hit Carlos Gomez to load the bases. Jonathan Lucroy, after fouling off a 3-2 pitch, doubled to the right-field wall to clear the bases on a pitch Wainwright threw off the plate.
"That's a pretty good pitch," Wainwright said. "If you look at the tape, that pitch is down and away, probably off the plate even. He just made a good swing on it. Good hitters do that occasionally."
Wainwright's night ended there after 5 1/3 innings. Another run would be charged to him following his exit, for a final total of seven runs on nine hits and three walks.
"He just had to work, had to try to adjust to a pretty tight zone," Matheny said. "When you come over too much of the plate when you're playing a team that's hitting the ball well, bad things are going to happen."
St. Louis, which entered Friday with the second-worst scoring offense in baseball, began to awake after finding itself in the seven-run hole when Matt Holliday sent his 11th homer over the left-field wall to start the home half of the sixth. Peter Bourjos scored in the seventh on Matt Carpenter's two-out single, and the Cardinals added two runs in the ninth on a Carpenter triple.
This was the second time in three starts that Wainwright has allowed six or more runs and the third time this season, yet this time felt different, as close plays went the Brewers' way and sent the Cardinals backward in the division.
"Those [other] games were just throwaway awful games," Wainwright said. "Tonight I had good stuff. I was working, location-wise, pretty good most of the day. It just didn't work out."
Alex Halsted is an associate reporter for MLB.com. This story was not subject to the approval of Major League Baseball or its clubs.