Crew pulls further ahead thanks to power, Peralta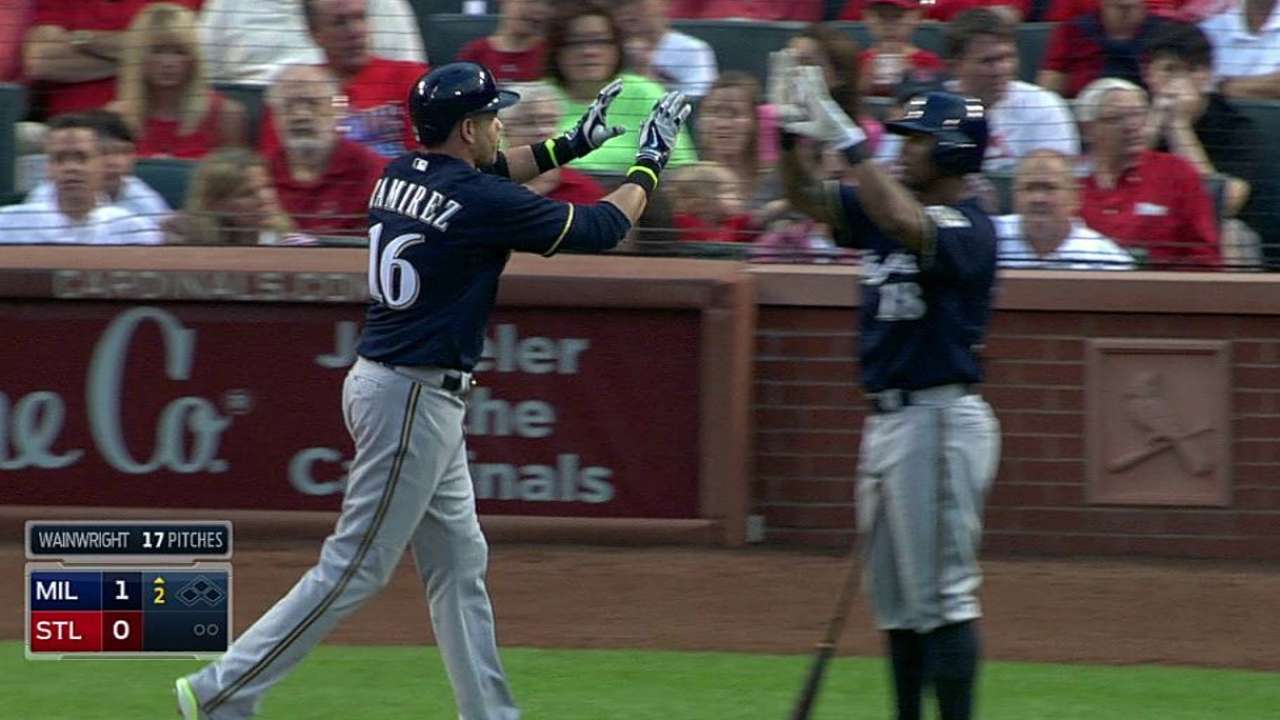 ST. LOUIS -- An afternoon rain chased the humidity from Busch Stadium on Friday, giving the Brewers and Cardinals a perfect place to begin a pennant race.
On a day that saw both teams welcome a Trade Deadline addition and shuffle their respective rotations, Milwaukee rode a welcome wave of hits and another Wily Peralta gem to a 7-4 win over the Cardinals.
With Peralta logging his 13th victory and Francisco Rodriguez his 32nd save -- tying the Major League leaders in those categories -- the Brewers ensured they will return to Milwaukee on Sunday night with sole possession of first place in the National League Central.
Aramis Ramirez was a triple shy of the cycle by the fifth inning as he continued to torment St. Louis ace Adam Wainwright, and Carlos Gomez, Jonathan Lucroy and Ryan Braun emerged from extended slumps to help boost the Brewers to 61-49, three games better than the rival Cardinals.
The Pirates are right in the mix as well, though manager Ron Roenicke insists it's still too early to mention such matters.
"We're way too far away," Roenicke said. "So we'll hopefully continue to play good baseball, and we'll see where we are at the end. We need to concentrate on every game. They are all important."
Peralta allowed two runs over 6 2/3 innings to join Wainwright, Clayton Kershaw and Max Scherzer with 13 wins while improving to 3-0 with a 1.35 ERA this season against St. Louis.
Before the Cardinals found their way onto the scoreboard on Matt Holliday's home run in the sixth inning, the Brewers had built a seven-run lead, and they would need most of those runs. The Cardinals scored again in the seventh and twice more in the ninth against Zach Duke, snapping Duke's streak of 16 scoreless outings before Rodriguez recorded his second straight one-out save.
"It's a matter of getting everybody comfortable again and getting things flowing," Lucroy said. "Honestly, I think we're too good a hitting team to be held down for too long."
And after struggling offensively for weeks, the Brewers have beaten back-to-back aces. They topped David Price on Wednesday in his final start for the Rays before faring even better against Wainwright, the NL's All-Star Game starter, who entered the night with a 1.92 ERA. The figure stood at 2.26 after he surrendered seven earned runs on nine hits in 5 1/3 innings.
That's the most runs he's ever allowed in a start against Milwaukee, and the second-most hits.
"Tough night," Wainwright said. "I made some good pitches tonight, and they worked me hard. A good team does that sometimes."
"That's a huge win," said Peralta. "The last two pitchers we've faced are Cy Young pitchers having unbelievable seasons, and we're able to swing the bat that way. That's a good sign for us."
The Brewers built that lead with a balanced attack led by Ramirez, who in the second inning hit a 3-0 pitch for a home run that bounced atop and over the fence in left-center -- the first home run Wainwright has ever surrendered on that count.
Ramirez added an RBI double off Wainwright in the third inning and an infield single in the fifth, boosting his career mark against the ace to .415. He has seven more regular-season hits off Wainwright than runner-up Hunter Pence, and is tied with Corey Hart and Andre Ethier for the most home runs (three).
"I don't have an explanation for it," Ramirez said. "He's one of the best pitchers in the game for a while now, but I don't know, for some reason I take good swings on him and get good pitches to hit and put them in play hard. ... Like I said, he's good. I can't say what's going on there. I'm sure he doesn't [know] either."
Other Brewers got into the action. Gomez snapped an 0-for-20 slide with a one-out single in the fifth inning and scored when Braun snapped his own 0-for-19 slump with a ground-rule RBI double.
In the sixth, the Brewers had two calls go their way -- a balk charged to Wainwright and a reviewed play at second base involving Jean Segura -- and cashed in for four more runs, three on Lucroy's bases-loaded double off Wainwright and another on Braun's bloop double off reliever Seth Maness.
The Brewers' 1-2-3 hitters, Gomez, Lucroy and Braun, went a combined 2-for-37 in the just-completed series against Tampa Bay but were 5-for-11 with five RBIs, four runs scored and three walks on Friday.
"They did a lot of damage," Roenicke said. "We'll get everybody doing this and see if we can get the offense … on a roll for a while. With the good pitching, it would be nice to see."
Can a few good games turn things around for an entire offense?
"Oh, I don't know," Roenicke said. "That's hard to answer, but things can turn in a hurry, and you don't know when it is going to happen. Hopefully, we continue to have the good at-bats like we've had."
Adam McCalvy is a reporter for MLB.com. Read his blog, Brew Beat, and follow him on Twitter at @AdamMcCalvy. This story was not subject to the approval of Major League Baseball or its clubs.