Street closed: Rays' comeback shut down
Closer escapes bases-loaded jam in ninth; Trout, Hamilton homer in win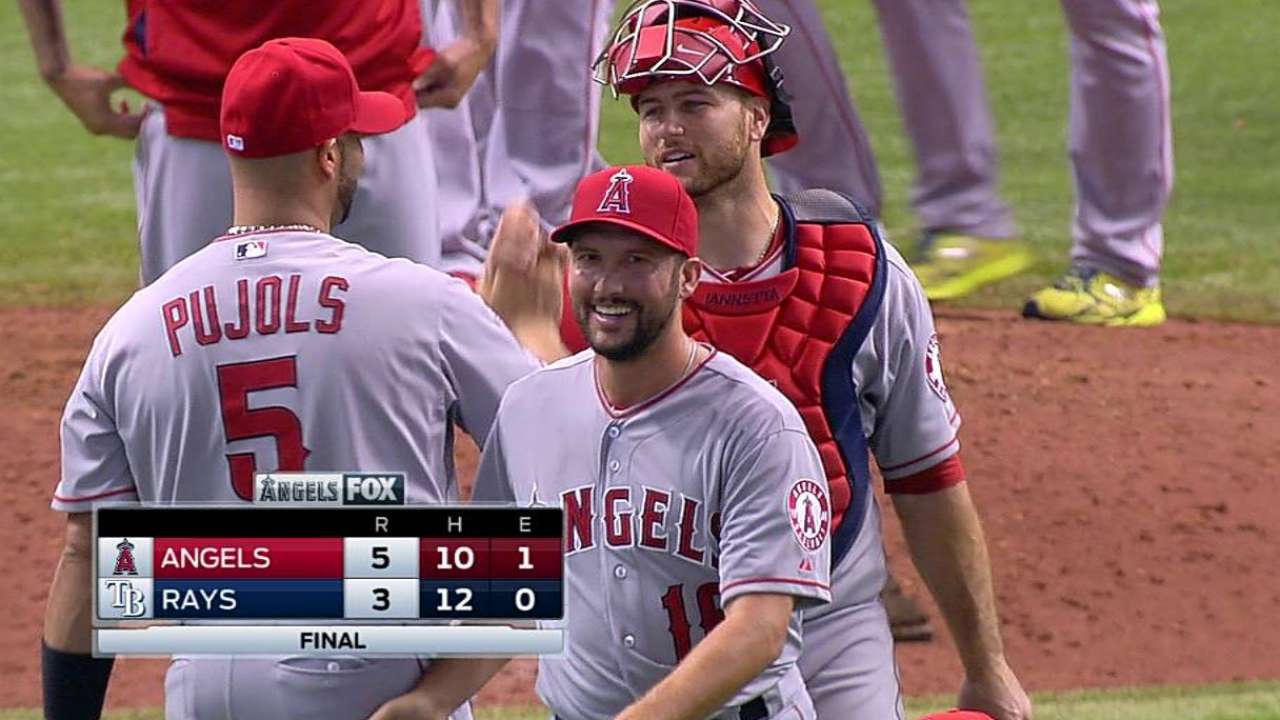 ST. PETERSBURG -- Huston Street lived out his motto 12 times, and then went home.
In the bottom of the ninth inning of the Angels' 5-3 win against the Rays Friday night, with the bases loaded and nobody out, the Angels' closer stared down the top of the Rays' order and focused on his favorite baseball cliche.
"You just try to make the next pitch," Street said. "It's the motto that I've tried to live by, and I've gotten a lot better at it, I'd say, in the last four or five years.
"The moment itself is just one pitch at a time. If you choose to focus on bases loaded, nobody out, the odds say you're gonna get beat. If you choose to focus on, 'Make my pitch, down and away,' well, the odds on that one pitch -- one pitch at a time -- the odds are always in your favor as a pitcher."
Two strikeouts, one popout to short center field and 12 one-pitch-at-a-times later, Street had clinched the series opener at Tropicana Field. The Angels are now an MLB-best 34-15 since June 6.
Street, coming into the game sporting a 0.95 ERA and 28 saves in 29 chances, entered in the ninth inning with a 5-3 lead. But he allowed a leadoff single to Cole Figueroa, walked pinch-hitter Brandon Guyer and allowed a chopped infield single to Kevin Kiermaier to load the bases with no outs for the top of the order.
But Street struck out Desmond Jennings and Ben Zobrist, and got Matt Joyce to sky to center field to end the game.
"We're comfortable in the fact that guys in our bullpen have been making pitches for a long time, and especially somebody like Huston, you know it's a matter of time before he starts making pitches," manager Mike Scioscia said.
The Halos' relievers have been lights-out of late, near the top of the league in a slew of statistical categories for the month of July. Last month, the Angels' bullpen led the American League in innings pitched (96), strikeouts (95) and ERA (1.69), and finished second in saves (12) and batting average against (.198).
Still, it made things interesting Friday night. In the Angels' locker room after the game, a reporter joked to Street about having "half a blown save."
"Not even," Street laughed in response. "They didn't score any runs."
So make that 29 saves in 30 opportunities for Street, acquired by the Angels from the Padres on July 18. And make that a 0.92 ERA -- tops among closers in the Major Leagues.
One hit by the Rays, though, and Street would have been looking at a tie game, or a Tampa Bay walk-off. It nearly happened, too -- the pitch before striking out, Zobrist lined a Street changeup barely foul down the right-field line.
"Sometimes you get lucky, too," Street said. "They hit a couple balls that were close, on the lines. See, you know, after one like that, you try not to analyze it too much. You just kind of say, 'Well, I'm glad that one's over, and I'm glad we won.'"
A blown save by Street would have wasted home runs by Mike Trout and Josh Hamilton, who keyed the Angels' offense against Tampa Bay starter Jeremy Hellickson.
Two batters into the game, the Angels led, 2-0. Kole Calhoun led off the top of the first inning with a walk, and Trout followed with a two-run shot, his 25th homer, getting his hands through an inside fastball and cracking it into the left-field seats. Erick Aybar drove in Albert Pujols later in the inning to make it 3-0.
After a Rays run in the second, Hamilton tucked a solo homer just inside the right-field foul pole in the top of the third to give the Angels a 4-1 edge.
Tampa Bay cut the deficit to 4-3 in the fifth, but the Angels answered again in the sixth on an RBI double by Chris Iannetta. That set the stage for Street.
"We came out, we were good, and we had every chance to win that game late," Rays manager Joe Maddon said. "Seven, eight, nine get on base, load up the bases and here comes one, two, three, we can't get anything done and that's really disappointing."
It was just fine by Street, though.
"Any time you're bases loaded, nobody out, and you end up with a win -- I'll take that outing all day long," he said. "I mean, you don't want to do it every time, but we win, we win. I go home happy."
David Adler is an associate reporter for MLB.com. This story was not subject to the approval of Major League Baseball or its clubs.