Niese efficient, but unable to match Vogelsong
Lefty pitches into ninth despite allowing five runs; bats held to two hits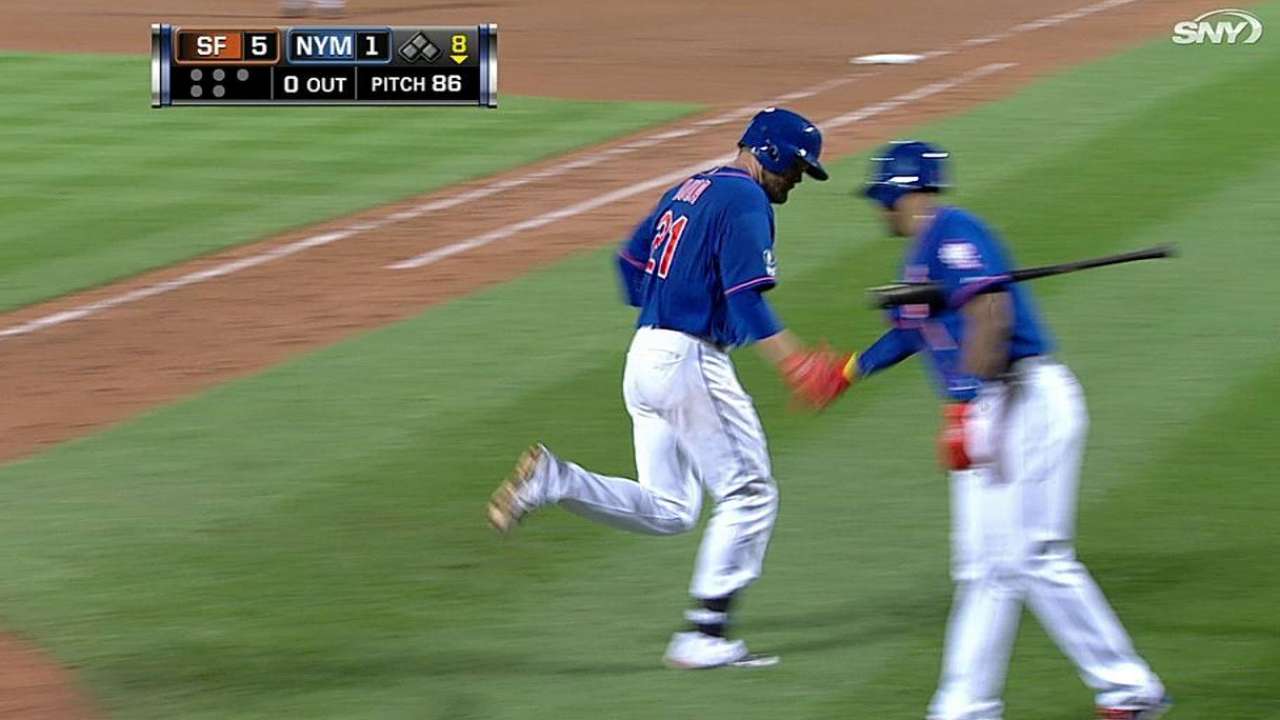 NEW YORK -- This time, Jon Niese got his way.
The Mets' left-handed starter was due to bat during a potentially crucial moment in the sixth inning Friday night against the Giants, and manager Terry Collins allowed him to take his turn at the plate, a departure from the approach he took six days ago when Collins inserted a pinch-hitter despite Niese's relatively low pitch count -- a move Niese made clear he was unhappy about.
That decision, however, did not pay off. Niese lined into a double play to end the sixth, then gave up three runs in the seventh as San Francisco took the opener of the four-game set, 5-1, at Citi Field.
"It's an option. It's always an option," Collins said of the pinch-hit possibility this time around. "But I thought he was rolling along pretty good. He put a pretty good swing on it, but we made a little bit of a baserunning boo-boo there [Juan Lagares getting caught off second].
"We have to get this guy some work. If he keeps coming out after five innings or 60 or 70 pitches, he's not going to help us when we really need it in crunch time to where he gets into the 80- and 90-pitch mark. We've got to get some strength in his shoulder, and I thought tonight was good for him."
And so that moral victory, seeing Niese get deep into a game for the first time in a month and the first time since a disabled-list stint to rest his left shoulder, was the only one the Mets came away with. He needed just 87 pitches in his eight-plus innings of work, during which he allowed all five San Francisco runs (three earned) on nine hits.
The Giants' game plan was clear: be aggressive early. Only four San Francisco at-bats lasted more than four pitches, and as a result, only once did Niese exceed a dozen pitches in an inning.
That came during the three-run seventh, highlighted by Hunter Pence's two-run triple to right-center. Niese was ahead 1-2 before he left an 88-mph fastball out over the plate, a pitch similar to two Pence had just fouled off.
"I figured he was in swing mode there," Niese said. "What I should've done was bury something or throw something out of the zone. But I did him a favor there, leaving something up and away for him. That's a situation where I can't make a mistake, and I did."
It took away from what was largely an effective an efficient outing for Niese. He showed great command throughout, throwing more than three-quarters (68 of 87) of his pitches for strikes and finding the zone on the first pitch to 27 of 35 batters.
"The only ball he threw early in the game was the one to second base," said Giants manager Bruce Bochy.
That error allowed two unearned runs to score. After Juan Perez opened the second with a double, Niese induced a comebacker off the bat of Gregor Blanco. Just as Perez was seemingly caught between second and third, Niese's poor throw to shortstop Ruben Tejada allowed Perez to advance to third. Both runners eventually came around to score.
Giants righty Ryan Vogelsong was even better, tossing a complete-game two-hitter. The Mets didn't get their first hit until the sixth -- Lagares singled to center -- and sent just one over the minimum number of batters to the plate in the game.
The only blemish on Vogelsong's night was Lucas Duda's home run in the eighth.
"I shook Buster [Posey] off when I shouldn't have," Vogelsong said. "I had a feeling he was sitting on that pitch, but I thought if I threw it where I wanted to, I could either lock him up or get it by him."
The long ball underscored the improved approach Duda has employed of late. Collins stresses to his hitters to "hit it where they pitch it," and the scorching first baseman did just that, walloping a 1-2 slider on the outer edge of the plate over the fence in left. It was his 20th homer of the season and just his third to that part of the field.
Tim Healey is an associate reporter for MLB.com. This story was not subject to the approval of Major League Baseball or its clubs.