Twins' bullpen unable to protect lead in Chicago
Parmelee hits solo homer; Vargas debuts with two-run double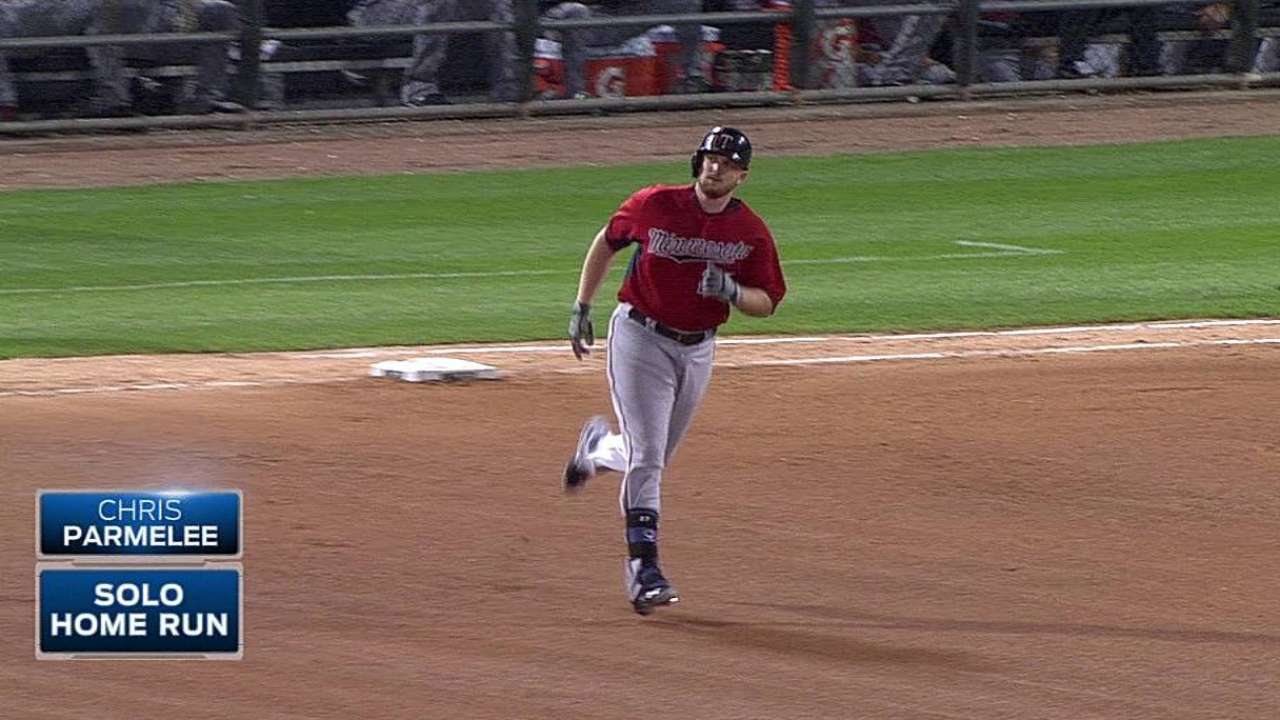 CHICAGO -- Ron Gardenhire liked his team's chance after scoring five runs off of Cy Young candidate Chris Sale in the third inning on Friday night.
"I bet Las Vegas would take those odds," he said.
But the Twins' pitching woes continued, and led to a pair of blown leads in the White Sox come-from-behind, 10-8 win at U.S. Cellular Field.
Trailing, 7-6, in the eighth, Chicago scored four runs on six singles, then held off the Twins' rally in the ninth as Jake Petricka picked up his seventh save.
Paul Konerko brought home the tying run and Alexei Ramirez followed with the go-ahead tally, capping three consecutive hits with Jose Abreu, who has hit in 39 of the last 40 games, including 21 straight.
"Abreu, I had success with my cutter with him. Once I got strike one, I was just going to cutter him to death," said reliever Casey Fien, who allowed four runs and was charged his fifth loss. "But he got me before I got him."
The Twins scored runs in the seventh and eighth innings, including a go-ahead homer by Chris Parmelee on a full-count in the eighth. Brian Dozier tied the game at 6 after reaching on a challenge by Gardenhire in the seventh. Dozier advanced on consecutive groundouts, then scored on a single by Kurt Suzuki, who is hitting .447 against the White Sox this season.
"He has those quality at-bats pretty much it seems like every time up," Gardenhire said of Suzuki. "He goes deep in counts. With RBIs out there, he has a tendency to knock them in."
Minnesota forced 70 pitches from Sale through three innings, and scored via five consecutive hits -- three straight singles followed by a pair of doubles, including a ground-rule double by Kennys Vargas in his Major League debut -- before Sale was able to retire two straight to end the frame.
Sale allowed no runs and two hits the rest of the way, and threw just 37 pitches over the next three frames, finishing six innings with four earned runs, eight hits, one walk and seven strikeouts.
"He's filthy," Gardenhire said. "The guy is really tough. We were a little more aggressive today. He was a little more in the zone and we didn't chase out of the zone, so a little bit better for us tonight than it was the last time"
"I just was kind of erratic," Sale said. "Fastball command wasn't really there at all the whole night. But [catcher Tyler Flowers] knowing me better than I know myself really got me through that one inning and got me through six, which wasn't going to be a very good guess at the beginning of the night, and the third inning.
Twins starter Logan Darnell left after 81 pitches over four innings, giving up four earned runs on five hits, four walks and four strikeouts.
Suzuki had an RBI groundout in the ninth, but the Twins couldn't get any more after loading the bases with no outs.
Vargas, on his 24th birthday, finished 1-for-5, and had an error at first base that led to a White Sox run.
"Drove in a couple runs and competed out there well for us," Gardenhire said of the rookie. "Once he slowed down a little bit [and] the game got going, I think he looked a little more comfortable."
The White Sox took a 2-0 lead in the second when Moises Sierra lined an RBI triple to right and scored on an Adam Eaton bunt single.
Every White Sox starter had a hit and only Gordon Beckham went without an RBI.
Daniel Kramer is an associate reporter for MLB.com. This story was not subject to the approval of Major League Baseball or its clubs.