White Sox refuse to lose, rally past Twins
Alexei drops in single for go-ahead RBI; Abreu extends hit streak to 21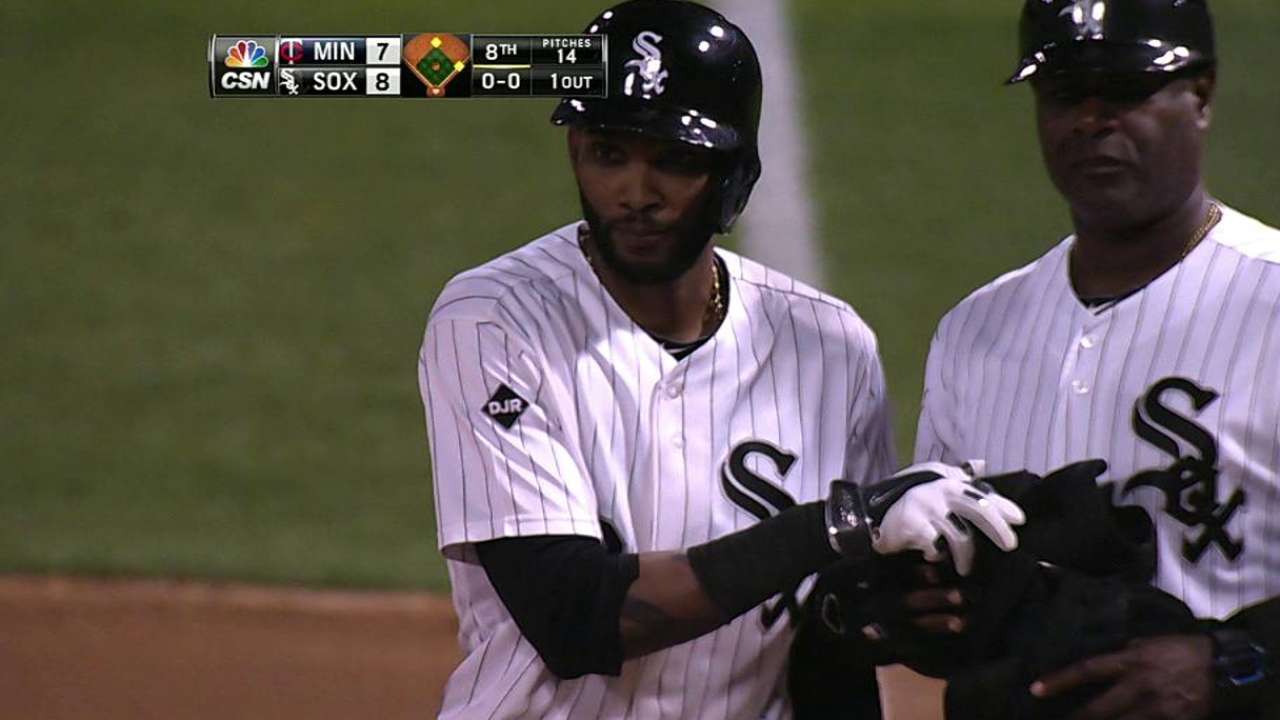 CHICAGO -- Chris Sale got hit.
Then Sale got angry Friday night at U.S. Cellular Field. But the White Sox offense got him even during a 10-8 victory over the Twins before a crowd of 28,060 that was one of the loudest of the season on the South Side.
The Twins (48-60) did have a chance to win, but the White Sox pounded out 17 hits in their 23rd comeback win of 2014. It's a game that the White Sox (54-56), who were 28 games under .500 at this point in 2013, wouldn't have won last year.
But when every player in the starting lineup comes away with at least one hit, and every starter but Gordon Beckham had at least one RBI, it's easy to offset a rare off night for an ace hurler who entered the contest featuring a 1.88 ERA.
"Just how we drew it up," said Sale with a broad smile of his team's sixth win in eight games. "It was a little bit of everybody. Everybody in the lineup got a hit today, which is awesome. Scoring runs early, scoring runs late and in between.
"This team never quit fighting, especially when I put us in a pretty good hole right there. We never quit battling and put some good at-bats together and some runs on the board."
Sale didn't factor into the outcome, leaving the game after giving up five runs (four earned) on eight hits over six innings, while striking out seven. In the month of July, Sale allowed just three runs on 22 hits in 31 2/3 innings.
Five runs scored for Minnesota in the third, after the White Sox grabbed a 2-0 lead on Moises Sierra's triple and Adam Eaton's bunt single in the second. Eaton has hit in eight straight and reached base safely in 18 straight games.
After retiring Danny Santana on a routine grounder to shortstop Alexei Ramirez, the Twins recorded five straight hits, with Josh Willingham and Kurt Suzuki picking up RBIs. It was Kennys Vargas' first Major League hit, a ground-rule double to right, which really drew Sale's ire.
Vargas stranded the bases loaded in the first when Sale fanned the rookie on four pitches, punching him out on a changeup. Sale jumped ahead at 1-2 in the third, but caught too much of the plate with a 98-mph fastball, and Vargas produced to score two runs. Sale followed with a few yells and arm gyrations near the mound, representing utter anger with himself.
"Didn't really have command of anything," said White Sox manager Robin Ventura of Sale. "Pitch count got up real high. They worked him over in that inning of being able to get a good hitter's count and take care of it. Just an off night for himn but at least the offense came back and helped him out."
"He's filthy. The guy's really tough," said Minnesota manager Ron Gardenhire of Sale, who struck out 12 Twins over eight shutout innings during a start on July 26. "We were a little more aggressive today. He was in the zone a little bit more and we didn't chase out of the zone."
Chris Parmalee's homer off of Eric Surkamp actually gave the Twins a brief 7-6 lead in the top of the eighth, but the White Sox didn't stay down long. Ramirez's soft single to right scored Jose Abreu with the go-ahead run, as the White Sox rallied for four in the eighth off of Casey Fien (5-5).
Abreu and Paul Konerko, something new and dominant and something more established and proven, helped fashion that rally. One out after Eaton reached on a base hit to left, Abreu singled to center marking the 10th straight plate appearance he has reached base. Konerko followed with a single to left to tie the game and send Abreu to third. That sequence set up Ramirez.
Jake Petricka got the save, his seventh, after loading the bases with no outs and escaping with just one run.
Abreu extended his career-best hitting streak to 21 with a fourth-inning, run-scoring single, and has hit in 39 of his last 40 games. He had three hits, a walk and a hit by pitch on Friday, to go with three hits and two intentional walks in Thursday's win over the Tigers.
There was more to this game than Abreu, described accurately by Konerko as "a monster," in a good way of course. Tyler Flowers added two hits and two RBIs, including his seventh homer, while Alejandro De Aza and Sierra each had two hits and an RBI. And those three represent the No. 7 through No. 9 hitters in the lineup.
"That's our team. We have a lot of good hitters," Konerko said. "When we are playing well, it's not just one guy carrying the load. We have a lot of good at-bats. When you have a night like that where you are swinging, you should get that win."
Just ask Gardenhire, who certainly would have liked his victory chances if told earlier in the day that his Twins would score eight runs in a game started by Sale.
"I bet Las Vegas would take those odds," Gardenhire said.
Scott Merkin is a reporter for MLB.com. Read his blog, Merk's Works, and follow him on Twitter @scottmerkin. This story was not subject to the approval of Major League Baseball or its clubs.