No small feat: Petit's first HR helps best Jays
Journeyman's go-ahead shot in 8th follows strong start by McHugh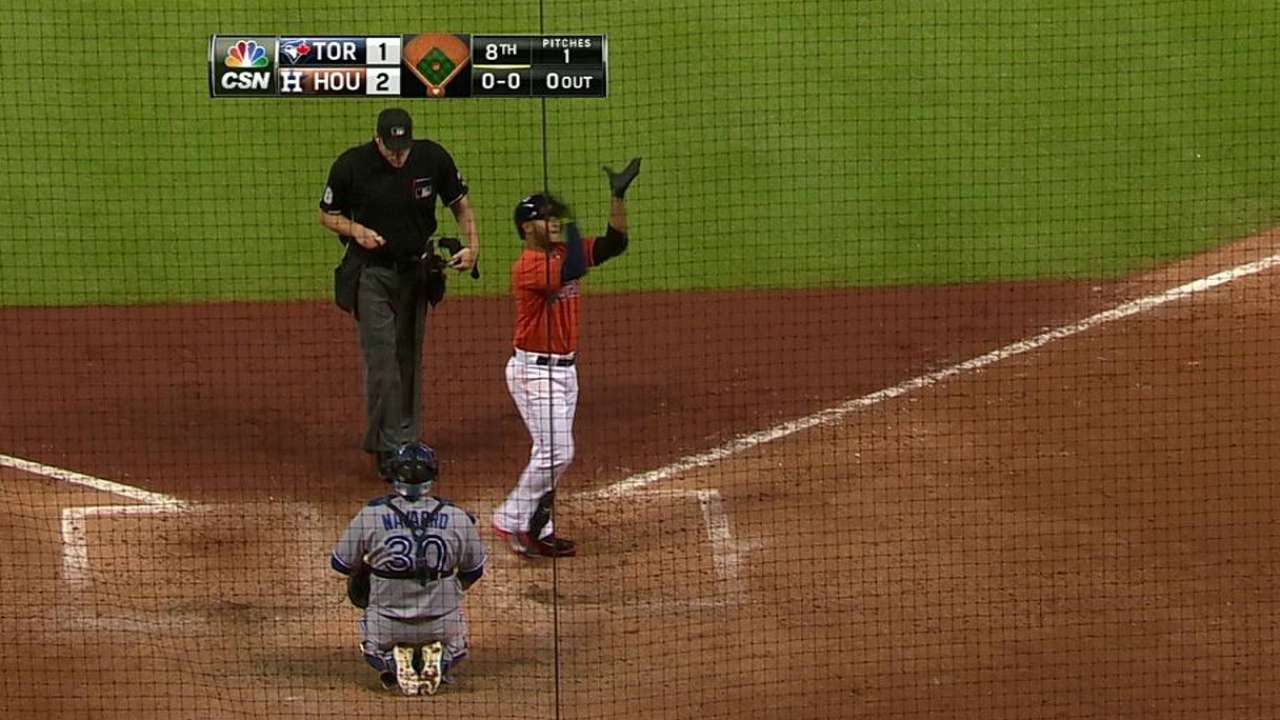 HOUSTON -- The wife of Astros infielder Gregorio Petit told him she wasn't going to be able to attend Friday's game at Minute Maid Park because she had a headache. It's a decision that probably led to an even bigger headache.
Petit, a journeyman Minor Leaguer who this season is getting his first taste of the big leagues in five years, clubbed a go-ahead homer in the eighth inning -- the first of his career -- to send the Astros to a 3-1 win over the Blue Jays.
Although most Astros fans probably don't know much of anything about Petit, who was called up a week ago, his homer was nothing short of a magical moment and the highlight of his career, which began in 2002 in the A's organization.
"I've been waiting for this moment for a long time," Petit said. "I've been battling a lot and showing my game a lot, and waiting for an opportunity. I'm just going to keep enjoying this and keep living this dream, and I don't want to wake up. And I won't."
The homer, which came on the first pitch thrown by lefty reliever Aaron Loup and found the second row of the Crawford Boxes, ran the Astros' streak of consecutive games with a home run to seven, which is a season high. They've hit 12 homers in the last seven games.
"That is definitely an unlikely hero," manager Bo Porter said. "He got a good pitch and didn't miss it. That was pretty good."
Petit said he had several text messages from his wife, Yessica, expressing regret for missing his big moment.
"I got like seven messages with crying faces all over my phone," he said. "She said, 'I won't forgive myself for this, I missed your first one'. I said, 'It's OK, you can YouTube it or whatever.'"
Petit, 29, appeared in 25 games with the A's in 2008 and '09 before signing with the Astros this past winter. He spent most of the season at Triple-A, hitting .297 with 19 doubles, 10 homers and 43 RBIs before being called up with Marwin Gonzalez nursing a sore hamstring.
Petit bought a home in Houston last November before even signing with the Astros because he had become familiar with the area through a friend and it's a relatively short flight to his home in Caracas, Venezuela. He'll be able to put the baseball on the mantle of his new home after it was retrieved from an Astros fan.
"If I didn't have [a spot to display the ball], I will find one," he said with a smile.
Astros starter Collin McHugh gave his team another strong outing, but he still hasn't won in two months. He went 6 1/3 innings and allowed one run and five hits, while striking out five batters in throwing 111 pitches.
"It wasn't great today as far as command goes," McHugh said. "I got a couple of big strikeouts with it, but for the most part it was fastball command and cutters up and in to the lefties, and trying to keep them off-balance all night."
The biggest moment for McHugh came in the second, when he pitched out of a jam after runners had reached second and third with no outs.
"I felt like that was a critical break point there," Porter said. "Collin did a tremendous job of making quality, quality pitches there to get out of a really tough situation with second and third and nobody out."
The Astros' bullpen held the Jays to one hit in 2 2/3 scoreless innings, with Darin Downs throwing an inning, Jose Veras (1-0) recording two outs and Chad Qualls working the ninth for his 12th save. He had allowed seven earned runs in his previous three appearances.
"I was happy get Qualls back out in a save situation given his last couple of outings," Porter said. "He came through tonight and saved the game for us. That was huge."
But this day belonged to Petit.
"Petit is one of my good friends and to see him be able to come through like that late in the game, big game like this, it was awesome," McHugh said. "It was fun to watch. He deserves all the credit. He's been working hard for all these years and to see him get a shot is fun."
Brian McTaggart is a reporter for MLB.com and writes an MLBlog, Tag's Lines. Follow @brianmctaggart on Twitter. This story was not subject to the approval of Major League Baseball or its clubs.