After Trade Deadline, dealing's not done
Byrd, Rios, Zobrist among players who could make it through waivers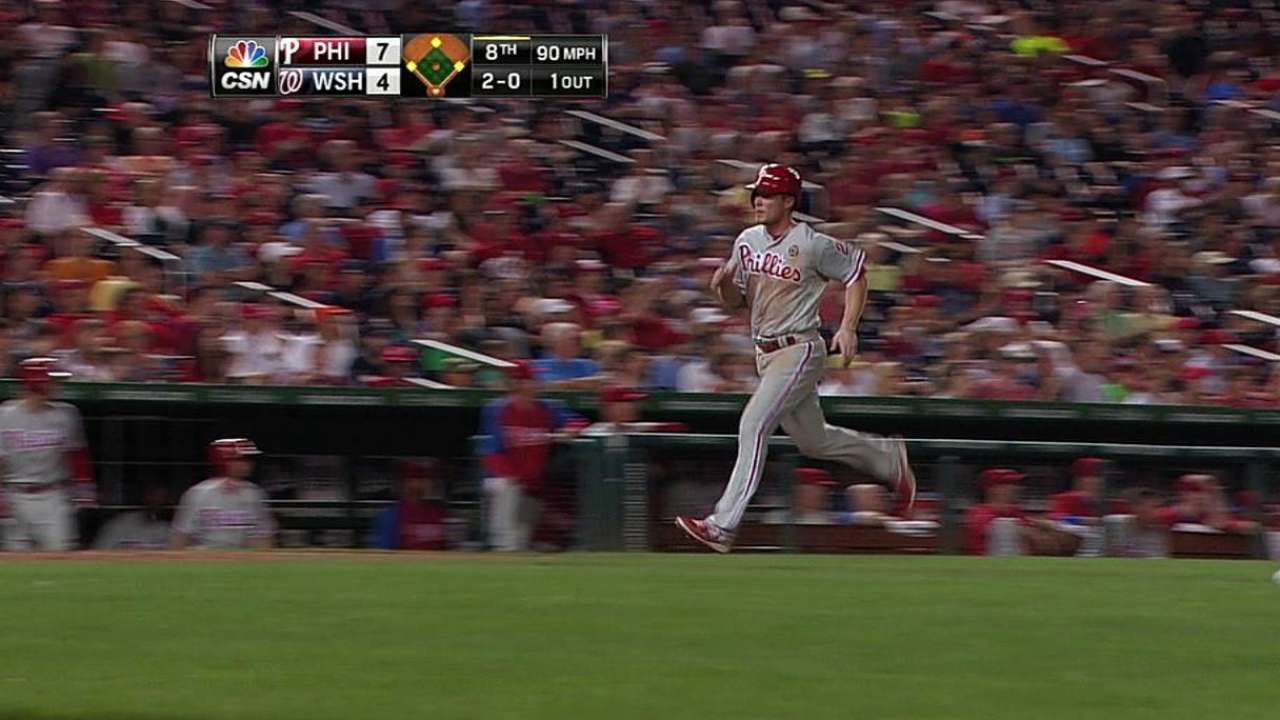 The Trade Deadline has passed. Which doesn't mean that there can't be any more trades, of course.
The only difference since 4 p.m. ET Thursday came and went is that general managers need to get a player through waivers before starting to wheel and deal again. And history suggests that, for a variety of reasons, several big names will make it through waivers. Here's a look at some players who stayed put this week but could still be moving soon.
Marlon Byrd, Phillies, OF. Despite making virtually everybody on the roster available, the Phillies couldn't get a deal done before the Deadline. Given the number of clubs who could have used a right-handed bat with some pop, it's surprising that Byrd's still around, although according to one report, he exercised his no-trade clause to veto a trade to Seattle, because he wanted his $8 million option for 2016 guaranteed.
Alex Rios, Rangers, OF. One reason he wasn't moved before the Deadline was that he has only four home runs. But he does lead the American League with eight triples and also has 22 doubles. He hit 25 homers with the White Sox in 2012. He has 22 homers overall since that season.
Ben Zobrist, Rays, IF-OF. In all the attention paid to David Price before the non-waiver Trade Deadline, it was somewhat overlooked that the versatile Zobrist attracted quite a bit of interest, as well. His contract is a club option for $7.5 million in 2016 or a $500,000 buyout.
LaTroy Hawkins, Rockies, RHP. He's 41 years old but sure isn't pitching like it. He has a 2.92 earned run average and 17 saves in 18 opportunities. There's a club option for 2015 for just $2.25 million, which means he might not make it through waivers.
Bartolo Colon, Mets, RHP. When he's been good this year, he's been very, very good. When he's been off, he's been very hittable. But he's a veteran who could get on a roll. And since he'll make $11 million next season, it seems unlikely he'd be claimed.
Josh Willingham, Twins, OF. The Twins were reportedly willing to move Willingham, who can be a free agent at the end of the season, ahead of the Deadline, but didn't get an offer they liked. But an injury or a mini-slump by a contender could change the landscape. Minnesota could also deal left-hander Brian Duensing or right-hander Casey Fien.
Aaron Hill, D-backs, 2B. There were teams looking for help at second base prior to the Deadline. The issue with Hill would be money. He's owed $12 million in both 2015 and '16.
A.J. Burnett, Phillies, RHP. He has a limited no-trade clause and a complicated mutual option that could pay him up to $12.75 million next year. But there were nibbles before the Deadline and, when he was with the Pirates, the younger pitchers loved having him as a mentor. He could be a nice fit for a club needing a middle-of-the-rotation starter to get them over the top.
Daniel Murphy, Mets, 2B. Here's another second-sacker who could help a team looking to strengthen that position. After making the All-Star team, he got off to a slow start in the second half but has been hot lately. He's making $5.7 million this year, is arbitration-eligible next year and can be a free agent following the 2015 season.
Justin Morneau, Rockies, OF. He's having a nice bounceback season, and the Rockies may want to rebuild around him. On the other hand, he's 33 and making $6.75 million in 2015 with a $9 million mutual option in '16. So they'd have to at least listen to offers.
Adam Dunn, White Sox, DH. Yes, he strikes out a lot. But he's also a big bat who has 17 homers and an .812 OPS and will be a free agent at the end of the season.
Jonathan Papelbon, Phillies, RHP. Papelbon is having a nice season as a closer and has postseason experience. He also makes a lot of money -- $13 million next year and an easily-reachable $13 million for 2016. Phillies general manager Ruben Amaro Jr. has made it plain that he'll pick up a significant portion of that, though.
Antonio Bastardo, Phillies, LHP. A month before the Deadline, he had a 2.68 ERA and was drawing a lot of interest. In a dozen outings before the Deadline, though, his ERA was 10.38. Still, he's a lefty, and if he gets back on track, could be an attractive pickup. He has one more year of arbitration before free agency.
Paul Hagen is a reporter for MLB.com. This story was not subject to the approval of Major League Baseball or its clubs.