Slow offensive night offsets Elias' strong start
Morales' RBI double accounts for only offense behind rookie southpaw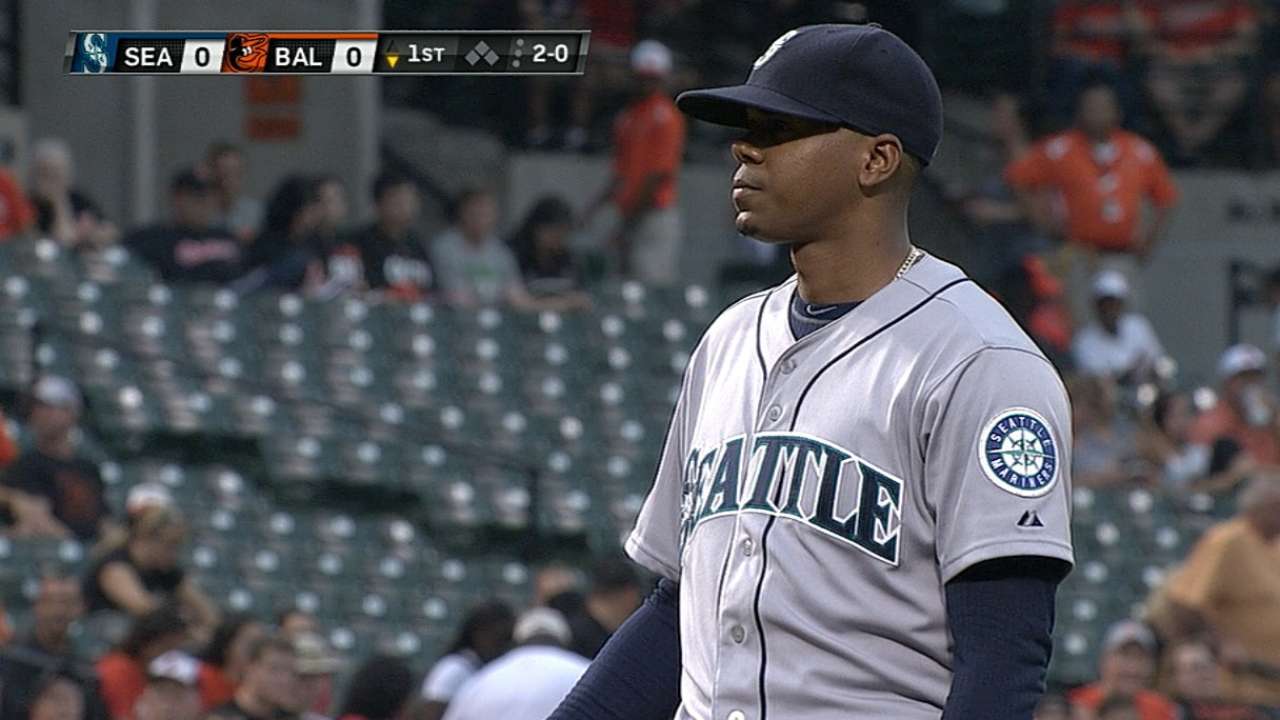 BALTIMORE -- Reinforcements arrived Friday for the Mariners, but not enough to make a difference as Orioles left-hander Wei-Yin Chen shut down the Mariners for the second time in nine days in a 2-1 victory at Camden Yards.
The 29-year-old from Taiwan allowed just one run on five hits over 7 1/3 innings to improve to 12-3 with a 3.76 ERA. Chen pitched eight scoreless innings against Seattle in his previous start, a 4-0 victory at Safeco Field on July 24.
The Mariners added some right-handed hitters in the interim in the hope of improving their attack against southpaws, but new center fielder Austin Jackson went 0-for-3 with a walk and two strikeouts in his debut in the leadoff spot and right fielder Chris Denorfia was 0-for-4.
Baseball is not a sport to judge in one game, however, particularly for players who hopped on planes to get from their former teams to Baltimore and parachuted into a brand-new situation just before Friday's game.
"It felt like a normal night baseball wise," said Jackson. "The travel was a little different, but that's to be expected when you're trying to get here quick. But we'll go back to the hotel, get some rest and settle in and come back tomorrow and try to get a win."
Robinson Cano, who made his transition to a new club over the course of Spring Training, understood what his new teammates were going through.
"We all know Denorfia is a guy who can play this game, and Jackson is one of the best leadoff hitters in the game," Cano said. "He helped the Tigers get to the World Series. You have to give them a chance. It's hard when you're traveling and the first day with a team, you maybe know one or two guys. But Denorfia had some good swings today and Jackson had a walk in a big situation there in the top of the eighth. If we'd have got a hit there, we'd have tied it up. It's part of the game."
Manager Lloyd McClendon also took the big-picture view of his new additions, saying his club got better in the last 24 hours and the moves will pay off over time.
"I felt both of those guys made our lineup look real nice," he said. "It's a very competitive lineup and it's a lineup I'm proud to write out every day. It was pretty good. I think if we play as hard and with as much energy as we played with tonight and if we get that type of pitching performance, we're going to win our shares of game."
But the Orioles got a better pitching performance from Chen, who won his fifth straight game and struck out a season-high eight batters in the process.
"He was spotting up real well with his fastball and throwing his offspeed stuff in good counts," said Jackson, who didn't reach base until drawing a walk to end Chen's night. "He pitched a good game. He's got a sneaky fastball that kind of gets in on you a little bit."
Seattle did get a boost from the recently-acquired Kendrys Morales, who ripped an RBI double into the left-field corner in the fourth, scoring Cano from first base to tie the game at 1. Cano and the ball arrived at the plate at the same time, but catcher Caleb Joseph dropped the relay throw for Seattle's lone tally against Chen.
It was Morales' second double in as many nights after he didn't have any extra-base hits in his first five games with Seattle. Morales went 1-for-4 and is hitting just .115 (3-for-26) since his arrival.
Pitching on his 26th birthday, Mariners rookie southpaw Roenis Elias allowed just two runs (one earned) in 5 2/3 innings, but he took the loss as he fell to 8-9 with a 4.19 ERA. Elias allowed seven hits with one walk and seven strikeouts in an 87-pitch outing.
Speaking through bullpen coach Mike Rojas, the Cuban native said he benefited from facing the Orioles twice in a row, having received a no-decision in his prior start when he allowed just one run in five frames.
"It helped me a little bit," Elias said. "I've seen them before. I knew I had to work them backwards, and I did."
The Orioles struck first on a run-scoring single from Manny Machado when Baltimore strung together three hits off Elias in the third, including a little nubber by Nick Markakis that just stayed fair down the third-base line to set up Machado's two-out RBI.
Elias then held the Orioles in check until the sixth, when Machado doubled and rookie shortstop Chris Taylor committed an error on a ground ball from Adam Jones when he looked to throw to third with Machado running, but dropped the ball as both runners wound up safe.
"Maybe I tried to be a little too quick," said Taylor. "I knew it was going to be a close play and I just didn't handle it on the transfer. We play a lot of close games and every play is a big deal. Every play counts. I'd have loved to get that one back, that's for sure. But that's not the way it works. You just have to take it and come back and play tomorrow."
"He was making the right play," said McClendon."The ball just came out. It's a tough break. This kid has played extremely well."
That opened the door for Baltimore, which pushed across an unearned run on a single up the middle by J.J. Hardy after Elias had struck out the next two batters for a 2-1 lead.
The loss evened the Mariners' record at 2-2 on their six-game road trip. Seattle is 5-9 since the All-Star break to put its overall mark at 56-53, while the Orioles improved their AL East-leading record to 61-47. It was Baltimore's seventh straight one-run decision, and they've gone 5-2 in those games.
Greg Johns is a reporter for MLB.com. Follow him on Twitter @GregJohnsMLB as well as his Mariners Musings blog. This story was not subject to the approval of Major League Baseball or its clubs.