MLB.com Columnist
Bill Ladson
Fister loses duel as Nationals hit into tough luck
Righty allows two runs in seven as Washington lines out seven times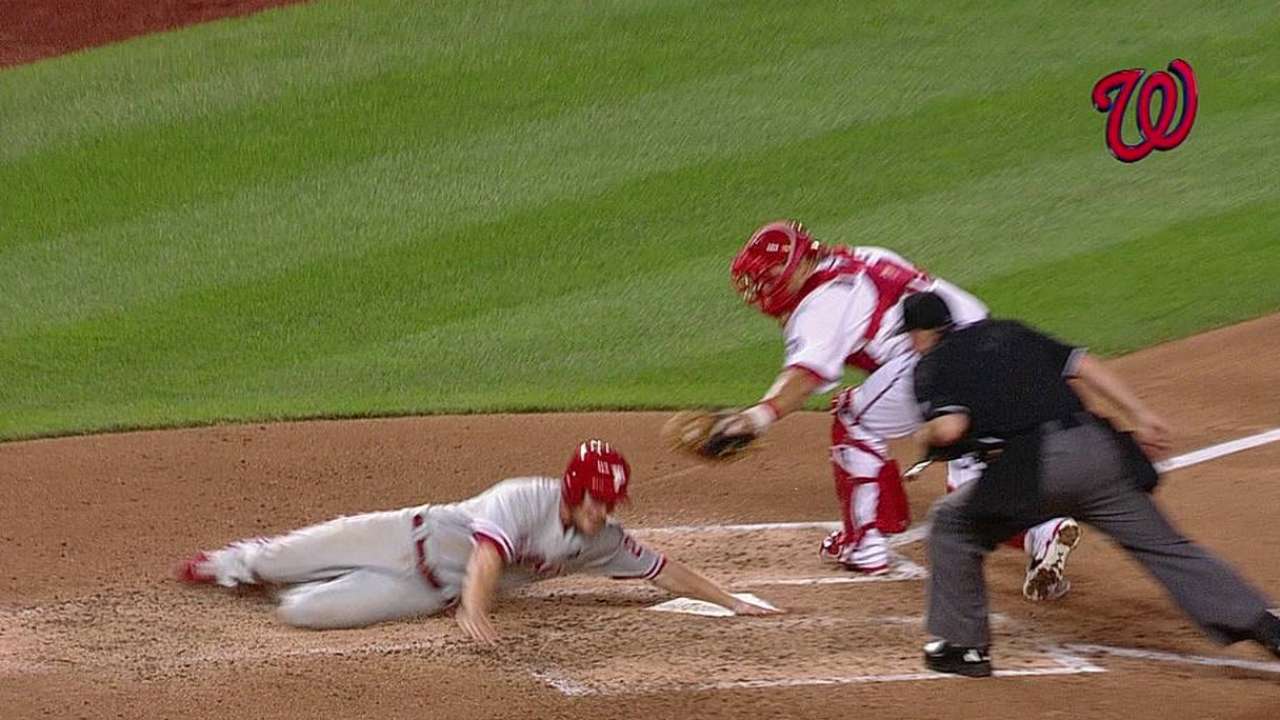 WASHINGTON -- Marlon Byrd's solo home run in the sixth inning proved to be the difference on Friday night as the Phillies edged the Nationals, 2-1, at Nationals Park.
Nationals right-hander Doug Fister tossed seven strong innings, allowing just two runs on six hits. He had two innings he likely wishes he could take back. In the second, after getting two quick outs, Fister lost it for a brief moment. Grady Sizemore doubled over the head of Bryce Harper in left field. After Carlos Ruiz walked, Cody Asche singled to right field, scoring Sizemore and making it a 1-0 game.
"It was the second inning and I got a little wild, and I didn't execute," Fister said. "I have to do better than that. That's what it comes down to."
Then in the sixth, with the game tied at 1, Fister was again able to get two quick outs, but on an 0-1 pitch, Byrd homered over the right-field wall to give Philadelphia the one-run lead.
"I left it over the plate a little bit too much," Fister said. "I was kind of surprised that he took it the other way. ... That's what Byrd does. He hits fastballs well. I have to make sure that pitch is down and in."
The Nationals couldn't muster much offense against Phillies starter Roberto Hernandez. Washington scored its lone run -- an unearned run at that -- in the second. Adam LaRoche led off and popped up toward the mound. It looked like Asche was going to get the ball, but the ball dropped for a base hit. To make matters worse, the third baseman tried to get LaRoche at first base and threw the ball away for a two-base error.
Ian Desmond followed and singled to center field, scoring LaRoche.
Throughout the game, the Nationals hit into some tough luck. They lined out seven times, while two other balls went to the warning track.
"I think Susan Sarandon said it: 'Hit it where they ain't.' We didn't do a very good job of that tonight," manager Matt Williams said. "What can you do? Once you hit it, you can't steer it. [The Phillies] just happened to be standing there."
Said Jayson Werth, "We couldn't find a hole out there. Hernandez pitched a good game. He had good stuff all night. He sunk the ball pretty good and kept us off balance. We had our chances. We didn't come through. It's too bad.
"Any time Doug is out there pitching, you know he is going to give you his best. He is the type of guy you want to play good defense for and score runs for. He is out there busting his butt."
The Nationals made it interesting in the ninth against Phillies closer Jonathan Papelbon. After LaRoche and Desmond singled with one out, Harper struck out on a 3-2 pitch and Asdrubal Cabrera -- making his Nationals debut -- struck out on three pitches to end the game.
"I liked our chances. We had them on the ropes a little bit," Werth said. "He is a veteran closer. He has been doing it a long time. He knows what he is doing. We came up a little short tonight. We still have a chance to split the series and get the next two. We'll be all right."
It's a little more than a week, but it's evident that the Nationals miss third baseman Ryan Zimmerman, who is on the disabled list because of a Grade 3 hamstring strain. Without him, the club has not hit a home run in its last nine games.
"You can't replace a guy like Ryan Zimmerman," Werth said. "We are going to miss him, but we have to pick up, we have to make do and win games without him. That's what good teams do -- make adjustments and pick each other up."
Bill Ladson is a reporter for MLB.com and writes an MLBlog, All Nats All the Time. He also can be found on Twitter @WashingNats. This story was not subject to the approval of Major League Baseball or its clubs.