Sarah's Take: Trade could have strengthened Dodgers
Although Los Angeles leads NL West, club still has needs to address to get to playoffs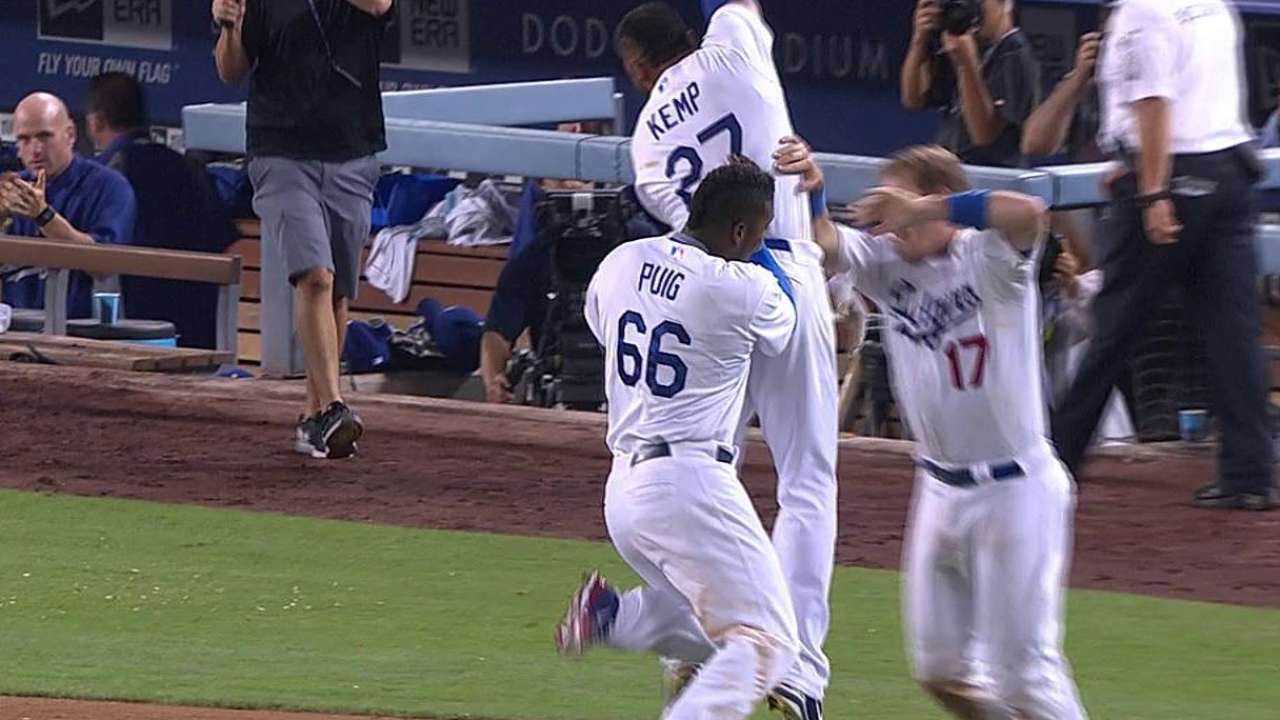 The Major League non-waiver Trade Deadline has come and gone. Many teams with playoff hopes made headline-catching trades that likely will impact the divisional races, but the Los Angeles Dodgers were quiet in the market.
With a 3 1/2-game lead in the National League West, the Dodgers could have been strengthened, but general manager Ned Colletti couldn't find a trading partner. Most teams want to obtain young inexpensive top-notch prospects for their expensive veteran talent, and the Dodgers were unwilling to trade any of their top prospects.
On Monday, Los Angeles did make a trade with the Chicago Cubs to add extra infield depth. After Erisbel Arruebarrena ignited a brawl while playing in Triple-A, the Dodgers don't want to reward him with a promotion to the Majors this year. Colletti didn't feel Los Angeles had infield depth to assure Arruebarrena would be kept in the Minor Leagues, especially if Hanley Ramirez was injured, so the Dodgers acquired Darwin Barney for Minor League right-handed pitcher Jonathan Martinez.
Immediately after acquiring Barney, Los Angeles sent him to Triple-A to gain experience at both shortstop and third base. During his Major League career, he primarily has played second base.
Adding infield depth is important, but it doesn't catch anyone's headlines. Despite playing well for the past two months, the Dodgers have demonstrated weaknesses that could prevent them from going to the playoffs or advancing to the World Series. Since it has been 26 years since the Dodgers participated in the Fall Classic, most fans don't care what it takes for them to earn a world championship.
The current ownership group has had a record-setting payroll for the past two years. This has sent a message that the ownership will do almost anything to guarantee Los Angeles a winning team, and most people don't care whether Colletti weakens the organization, as long as the Dodgers play in October.
Everybody who watches the Dodgers somewhat closely understands both Dan Haren and Josh Beckett are the weak links in the starting rotation. Pitching well in April, Haren lost some of his velocity, so he is unable to change speeds effectively. His curveball doesn't seem to break sharply down anymore. The pinpoint control, Haren's trademark, has disappeared in the past. Still not walking people, he has allowed home runs at an alarming rate. At the tail end of his long career, Haren should be put into the bullpen, but Los Angeles doesn't have a replacement starter unless the club promotes Zach Lee.
Through June, Beckett pitched well, but then he injured his hip. The Dodgers put him on the disabled list, but they didn't want to promote a pitcher to take Beckett's spot. They rushed him back. Since then, Beckett hasn't pitched well. He needs another trip to the disabled list, but Los Angeles doesn't have any Minor League pitcher to replace Beckett for two weeks.
Before Spring Training began, the media believed the Dodgers' bullpen would be a strength of the team. Neither Chris Perez nor Brian Wilson has performed the way Los Angeles expected. If the starter doesn't go past the sixth inning, the Dodgers have trouble holding onto the leads.
Unlike many teams in pursuit of a playoff berth, the Dodgers had Major Leaguers to trade away. These players wouldn't have weakened the team if they were traded.
Since manager Don Mattingly moved Matt Kemp to right field, Andre Ethier hasn't started a game. Moving Kemp was the correct decision. He has responded fantastically offensively. During his career, Ethier has needed to play regularly to be successful offensively.
Wanting to use Ethier as an insurance policy for when an outfielder injures himself, Colletti didn't want to trade him, but Joc Pederson is ready to come to the Majors. Colletti could have used Ethier as a piece to replenish the Minor Leagues.
No team should make a trade for the sake of making a trade. But the Dodgers have needs to be addressed in order to advance to the World Series. Colletti's caution at this year's non-waiver Trading Deadline may have cost the Dodgers postseason glory.
Sarah D. Morris can be reached at sarahmorris27@gmail.com. This story was not subject to the approval of Major League Baseball or its clubs.