Deadline deals bring big-time fantasy impact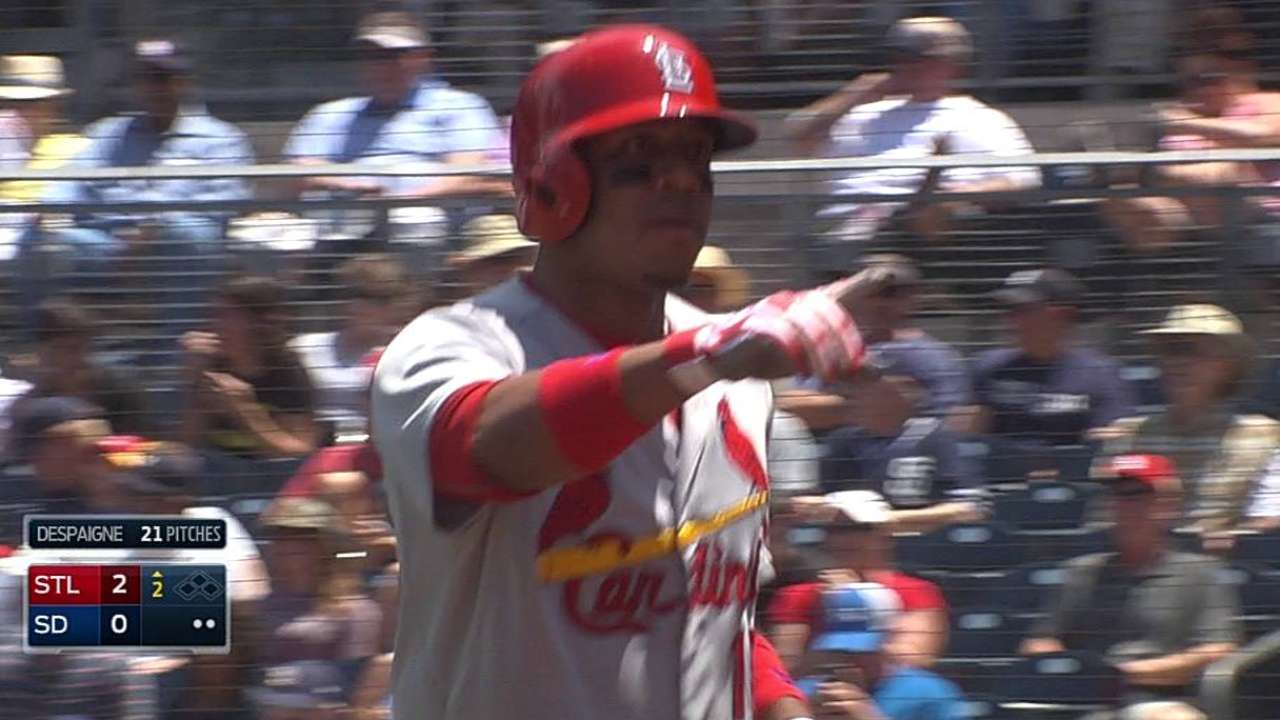 July 31, 2014 produced arguably the busiest non-waiver Trade Deadline day in MLB history. Let's break down the many fantasy values that were changed from the deadline deals.
Value Up
Oscar Taveras: The trade of Allen Craig should open up a regular role for Taveras, who ranks as the Cardinals' top prospect. Taveras is widely considered to be one of the most talented youngsters in the Majors, and he should be scooped up in all leagues.
Will Middlebrooks: The Red Sox are expected to recall Middlebrooks and give him another chance to lock down the third base job. His numbers in Triple-A have not been impressive, and even though Middlebrooks offers plenty of power potential, mixed-league owners should take a wait-and-see approach.
Tommy Milone : In nearly 500 career innings, Milone owns a 3.84 ERA, so he can help some mixed-league teams. He was blocked in Oakland, but should soon slide into Minnesota's rotation.
Zach Walters: The 24-year-old Walters has fared well in Triple-A, and the Indians could promote him at some point in August in an effort to see if he can be part of their 2015 lineup. Once he arrives, Walters offers enough upside to be a factor in deep mixed leagues.
Francisco Lindor: This elite prospect has logged little time in Triple-A, so 2015 is a more accurate projection for his arrival to the Majors. But now that Asdrubal Cabrera has been dealt, Lindor has a clear path to the Majors. Walters could be moved to another position to accommodate for Lindor when he is ready.
Javier Baez: The 21-year-old Baez has posted 20 homers and 16 steals in Triple-A this season, so he will be a mixed-league factor as soon as he arrives. Because the Cubs dealt Emilio Bonifacio, they can slide Arismendy Alcantara into a full-time spot in center field and then bring up Baez to play second base as soon as they feel he is ready. That might not happen until September, but Baez now has a clearer path to play in the Majors this season.
Jarred Cosart: The 25-year-old Cosart owns a 3.57 career ERA, which is pretty impressive for a young hurler who has worked extensively in the tough American League West. His 1.42 career WHIP shows that he still has more work to do, but Cosart could find his job a little more manageable in the Marlins' pitcher-friendly home park. Matchups against the Mets, Phillies and Braves will also likely be more attractive than the divisional foes he leaves behind.
Jake Marisnick: The Astros paid a fairly hefty price for Marisnick, so they will likely want to insert him into their lineup in short order. With five steals in 48 career at-bats, the 23-year-old has shown that he has the speed fantasy owners covet.
Rajai Davis: The departure of Austin Jackson should leave plenty of playing time for Davis, as he can pick up some of the slack in center field. The speedster is a must-own player for all leagues for the remainder of the season.
Nick Franklin: Even with the struggles from Brad Miller this season, the Mariners did not give Franklin a real chance to play shortstop in the Majors. The Rays obviously have higher hopes for him, as he was arguably the centerpiece of the David Price deal. Expect to see Franklin in the Majors very soon, as the Tampa Bay's regular second baseman.
Didi Gregorius: The slick fielder is currently listed atop the D-backs' depth chart at third base and shortstop, so he should still have a regular job when Chris Owings returns from the disabled list. Gregorius offers little offensive upside, but he could be a factor in National League-only leagues.
Allen Craig: As a general rule, change is a bad thing for players who are overachieving and a good thing for players who are underachieving. Craig's move to Boston can only help him, as he was not aiding fantasy owners this season.
Value Down
Austin Jackson: The center fielder has not been especially good this season, and some of his fantasy value has been propped up by a strong Tigers lineup. The 27-year-old Jackson could be a mixed-league option out of the leadoff spot in Seattle, but he will no longer be followed by the likes of Ian Kinsler, Miguel Cabrera and Victor Martinez.
Martin Prado: The move to Yankee Stadium is not much of a factor, as Chase Field is more of a hitter-friendly park and Prado does not offer much power either way. He was used as a full-time third baseman in Arizona, but he could lose some playing time with the Yankees, as he is blocked at the hot corner by Chase Headley. Prado could pick up a few starts per week between the outfield, second base and third, but his overall playing time should decrease.
Emilio Bonifacio: The speedster had a full-time job with the Cubs, but he will likely be a part-timer with the Braves. Atlanta does not have a prolific offense, and if Bonifacio is starting just three games per week, he will not be a factor in mixed leagues.
Trevor May and Alex Meyer: Both youngsters could still get their shot in August, but the rebuilding Twins did not trade away any starters, and they added one in Milone.
Ichiro Suzuki: The aging veteran will likely have to share some of his playing time with newly acquired Martin Prado. This should end any chance of Suzuki having deep mixed-league value.
Brad Hand or Justin Turner: The Marlins seemingly added Cosart to be a key piece in their rotation, so either Hand or Turner will head to the bullpen. Both hurlers had thrown well enough in recent weeks to garner attention in deep mixed formats.
James Jones : The speedster is likely out of a starting job, because of the arrival of Austin Jackson. When he is playing regularly, Jones has the wheels to help mixed-league owners, but he will now likely fall to waivers in those formats
Gerardo Parra: He has not been a mixed-league asset for the past two months, but Parra can fall to waivers outside of NL-only leagues now that he is a fourth outfielder in Milwaukee.
Joe Kelly: The 26-year-old should be slotted into Boston's new-look rotation, but Kelly will likely find life much harder in the AL East. There are several hitter-friendly parks in the division, and Kelly will have a tougher time dancing around his 1.38 career WHIP.
Brock Holt: Holt's brief stint of mixed-league relevancy are likely over after the Red Sox added multiple starting hitters. The diminutive sparkplug will likely return to a utility role, which will mean roughly three starts per week.
Value Neutral
David Price: Aces are aces. Price was great in Tampa Bay and he will be great in Detroit.
Jon Lester: See Price.
Asdrubal Cabrera: Cabrera will continue to be an everyday player, and the Nationals and Indians offer comparable lineups. He has not been much of a mixed-league asset, and that is unlikely to change.
Stephen Drew: Drew showed a bit of power in the second half of July, and hitting in Yankee Stadium should be beneficial, but his 2014 value will be more decided by how he hits than where he hits.
Yoenis Cespedes: The slugger is leaving a job hitting third in the highest-scoring lineup in baseball, so he could easily fall in the "Value Down" category. But Fenway Park should help Cespedes out a bit, and hitting cleanup for the Red Sox is not a bad role either.
Sam Fuld: Fuld had been helping deep-league owners in recent weeks by offering cheap speed, and that could continue in Oakland. He could pick up the heavy side of a platoon with Jonny Gomes, or he could play plenty of center field if Coco Crisp and Craig Gentry continue to deal with injuries.
John Lackey : The right-hander will never again be a difference-maker in mixed leagues. But Lackey was a solid mid-rotation starter for the Red Sox and he should post similar numbers with the Cardinals. Anything he loses in offensive support should be made up by moving to a team that is in a postseason race, rather than one playing for 2015.
Chris Denorfia: Denorfia will likely fill the same role on the Mariners, as a fourth outfielder who starts a few games each week and pinch hits often.
Jonny Gomes: Gomes should still play against southpaws and sit against right-handers. This will allow him to retain his minimal AL-only value.
Fred Zinkie is a fantasy baseball writer for MLB.com. This story was not subject to the approval of Major League Baseball or its clubs.