Locke stung by infield mishap, home runs
Lefty rattled in three-run sixth; Walker belts 16th HR for Bucs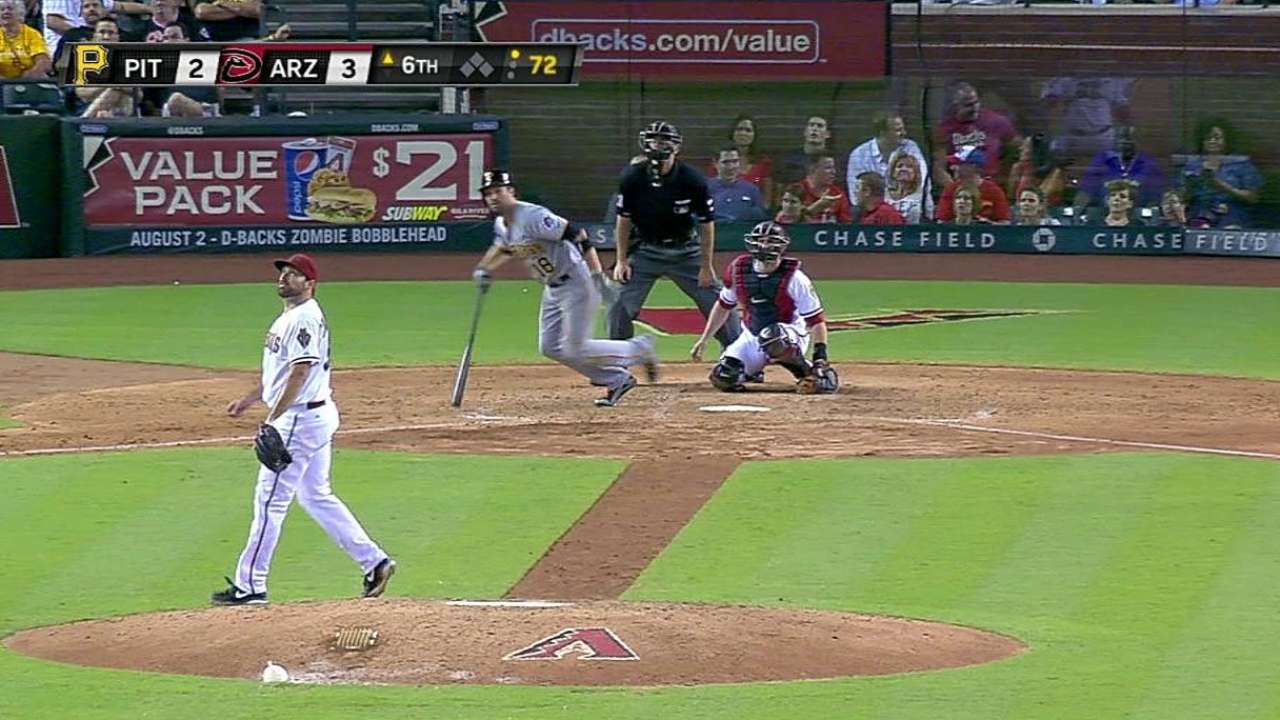 PHOENIX -- Instead of looking to make moves with the future in mind, perhaps the Pirates should've looked for help in the past at the Trade Deadline. Maybe somebody like Lastings Milledge.
It worked for the D-backs, who got a pinch-hit, tiebreaking two-run homer in the sixth inning Thursday night from Andy Marte -- in his first Major League at-bat since 2010 -- and turned it into a 7-4 victory over the Bucs.
And just to contribute to the Throwback Thursday feel, the win in relief went to Oliver Perez -- yes, the former Buccos lefty who threw his last pitch in Pittsburgh in 2006.
Marte, who was called up from the Pacific Coast League's Reno outpost to replace traded infielder Martin Prado, did not arrive and suit up until the second inning. Four innings later, he clocked an 0-1 pitch from Jeff Locke to break a 3-3 tie with his first homer since Sept. 8, 2010, when he was with the Indians.
There were indications that the Bucs, preoccupied pregame with pumping themselves up after the trade-market shutout and with routine pre-series meetings, weren't quite up to snuff on Marte. Locke was certainly surprised to see a guy in the batter's box he hadn't seen since they were Atlanta farmhands.
"I haven't seen him since Braves camp," Locke said of the well-traveled Marte. "I didn't even know he was on the team. I had no idea."
Neither did Locke have an idea of how to approach him, other than Pitching 101: Keep the ball down -- which he failed to do.
"I got a changeup in the zone, and he's got some power and hit it," Locke said.
Two batters later, Aaron Hill also went yard to end a Locke outing that had begun dominantly then briefly became gutsy. Locke retired the first eight men he faced and turned his first jam into a highlight, fanning Paul Goldschmidt to end the third with the bases loaded.
"It's tough to strike out Goldschmidt any time," manager Clint Hurdle noted. "So to strike him out with the bases loaded after falling behind 3-1 ... he made a big pitch there."
From there, bad defense and bad pitches sent Locke's outing south, ruining the 2-0 lead he had been given on Russell Martin's two-run double in the second off Arizona starter Josh Collmenter.
Locke almost worked his way out of a second straight bases-loaded jam in the fourth but had the misfortune of Collmenter bouncing the two-out grounder to third base. Alvarez fielded the ball, took three steps, pounded the ball into his glove -- then uncorked a throw at the feet of first baseman Ike Davis.
Davis was charged with the error, on the grounds that the ball did not hit the ground before reaching his glove and dribbling past him. Regardless, the challenging throw with the pitcher running resulted in two unearned runs that made it 2-2.
"[Locke] had a chance to get out of the fourth. We were in position to put the inning away," Hurdle said. "That's a catchable ball. [Davis] has played a lot of first base and has caught that ball before. He didn't catch it [this time] and nobody felt worse about it than he did."
Davis experienced something more common for infielders at the end of ground balls, not first baseman on throws: Getting caught "between hops."
"I tried to get a read on the throw, and I wasn't sure how far it would carry," said Davis, who pulled his glove back -- the way one would catch eggs at the county fair. "I backed off, rather than reach out and get it. I should've played it differently."
The D-backs jumped to a 3-2 lead on Jordan Pacheco's two-out RBI single in the fifth.
The Bucs briefly caught up, on Neil Walker's homer in the sixth -- his 16th, matching the career high he set last season.
"It was frustrating giving that up," said Collmenter, given the hook after the homer. "I had a feeling he was looking first-pitch curveball and threw it anyway. It was just a hunch, but I should have stuck with it and thrown something different."
With two on and two outs later that inning, Jordy Mercer hit a 405-foot rocket off Perez. Unfortunately, Chase Field's wall in dead center is 407 feet from home plate. Ender Inciarte settled under the ball for an easy catch.
Locke's last two starts have been comparable, and not in a good way. Saturday in Colorado, he allowed six runs on 10 hits, three of them home runs. Thursday night, it was six runs (albeit the first two unearned) on nine hits, two of them home runs.
"Most games in Colorado ... I kick 'em to the curb," said Hurdle, alluding to the altitude that skewers pitching efforts. "Today, some pitches got elevated."
"We had some innings that went on longer than they needed to go," said Locke, diplomatically. "The pitch count starts too get up. By the sixth, I was feeling a little fatigued."
Tom Singer is a reporter for MLB.com and writes an MLBlog Change for a Nickel. He can also be found on Twitter @Tom_Singer. This story was not subject to the approval of Major League Baseball or its clubs.