Zunino's big blast clinches series for Mariners
Ackley hits two-run bomb of his own in see-saw finale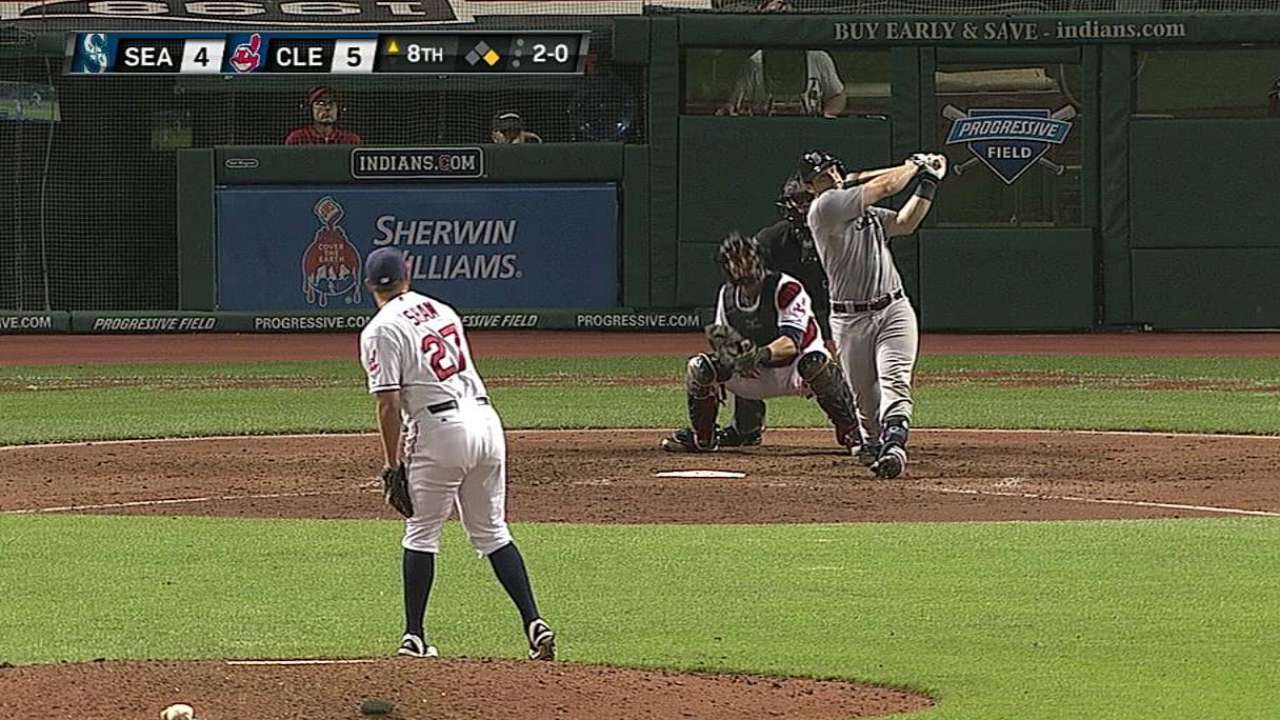 CLEVELAND -- Lloyd McClendon is learning something about his Mariners these days -- learning they can take a punch and fight back.
This time it was catcher Mike Zunino supplying the retaliatory blow with a two-run homer in the eighth inning as Seattle topped the Indians, 6-5, to win Thursday's series finale at Progressive Field.
"We've done that all year," McClendon said. "We've been knocked down time and time again and we seem to keep getting up. Tonight's effort didn't surprise me at all."
A night after getting shut out on three hits and just 85 pitches by Indians ace Corey Kluber, the Mariners knocked right-hander Zach McAllister out after 3 1/3 innings in taking a 4-1 lead, then had to bounce back late after Cleveland regained the lead.
But McClendon said his hitters had the same approach, just better success, after running into one of the American League's hottest pitchers a night earlier.
"The guy last night had Cy Young stuff. That's what people don't understand," McClendon said. "Sometimes it's not the hitters. The guys on the mound, they drive Mercedes Benzes, too. He was good. This guy left some pitches in the middle of the plate and we took advantage of them."
Seattle had lost six straight at Progressive Field coming into the series, but it took two of three and stayed three games back of the Blue Jays in the race for the final AL Wild Card spot.
"Especially after we took the lead and then got down again and were able to come back and get the win, that's huge," said left fielder Dustin Ackley, who contributed his own two-run home run in the third inning. "For our offense to come out showing we can score and put some runs up, it's a good win."
Ackley got the Mariners started with his shot to right field in a three-run third inning, and Zunino lifted Seattle back into the lead with his own blast to left in the eighth, which moved him into first on the team with 17 homers for the season.
Zunino has three home runs in his last four games, including a pair that just cleared the 18-foot high fence down the left-field line at Progressive Field.
"It is a nice little porch over there in left," Zunino said with a smile, "but I'm just getting enough to get 'em over. That's all I'm trying to do."
The Mariners spotted veteran right-hander Chris Young a 4-1 lead, but the Indians pulled back into a tie as Young lasted just 5 1/3 innings while allowing four runs on seven hits. Young was shooting for his 10th win of the season, a level he hasn't hit since 2006 with the Padres, but instead took a no-decision to remain 9-6 with a 3.19 ERA.
"He didn't have his best stuff," McClendon said. "It wasn't coming out the greatest tonight. But I'll tell you what, he's gutsy and he battled. He gave us everything he had, he just ran out of gas."
"We won the game and the guys picked me up," Young said. "I wasn't sharp tonight, I fell behind too many hitters. But the guys showed the character of our club and kept battling. Zunino had the big swing late. It was a great win for us, a great series. Hopefully we'll build some momentum from this."
Ackley's home run was his first since May 11 -- and fifth of the season. The 359-foot poke gave Seattle a 3-1 lead, and Robinson Cano added another run moments later with his 400th career double, driving in rookie shortstop Chris Taylor.
Taylor lifted his average to .353 after five games with a 2-for-5 night while also making an excellent diving stop in the sixth on an infield single by David Murphy to keep a runner at second before reliever Dominic Leone finished off that frame.
Seattle used six relievers, with Joe Beimel getting the win to improve to 3-1 as he finished off the seventh inning. Fernando Rodney cleaned up in the ninth for his AL-leading 30th save.
Kendrys Morales doubled to lead off the second inning -- his first extra-base hit since being acquired by trade from the Twins last week -- and scored the game's first run.
The Mariners added two more players -- outfielders Austin Jackson and Chris Denorfia -- just prior to Thursday's non-waiver Trade Deadline, and the intent is clear. The club is pushing for a playoff berth, and the players know what's at stake.
"There are a couple guys in this clubhouse we'll lose, and I love everybody in here and appreciate the work everyone has done," Young said. "Hopefully we'll see those guys again. But I'm also extremely excited about the two guys we got. I played with Chris Denorfia in San Diego and he's a great guy, a great teammate and will be a great addition. And Austin Jackson is a fantastic player. So it's in our hands. We have to go out and make this work and get the job done."
Greg Johns is a reporter for MLB.com. Follow him on Twitter @GregJohnsMLB as well as his Mariners Musings blog. This story was not subject to the approval of Major League Baseball or its clubs.