Escobar's triple boosts Ventura to victory
Shortstop drives in tiebreaking runs after starter's stellar seven innings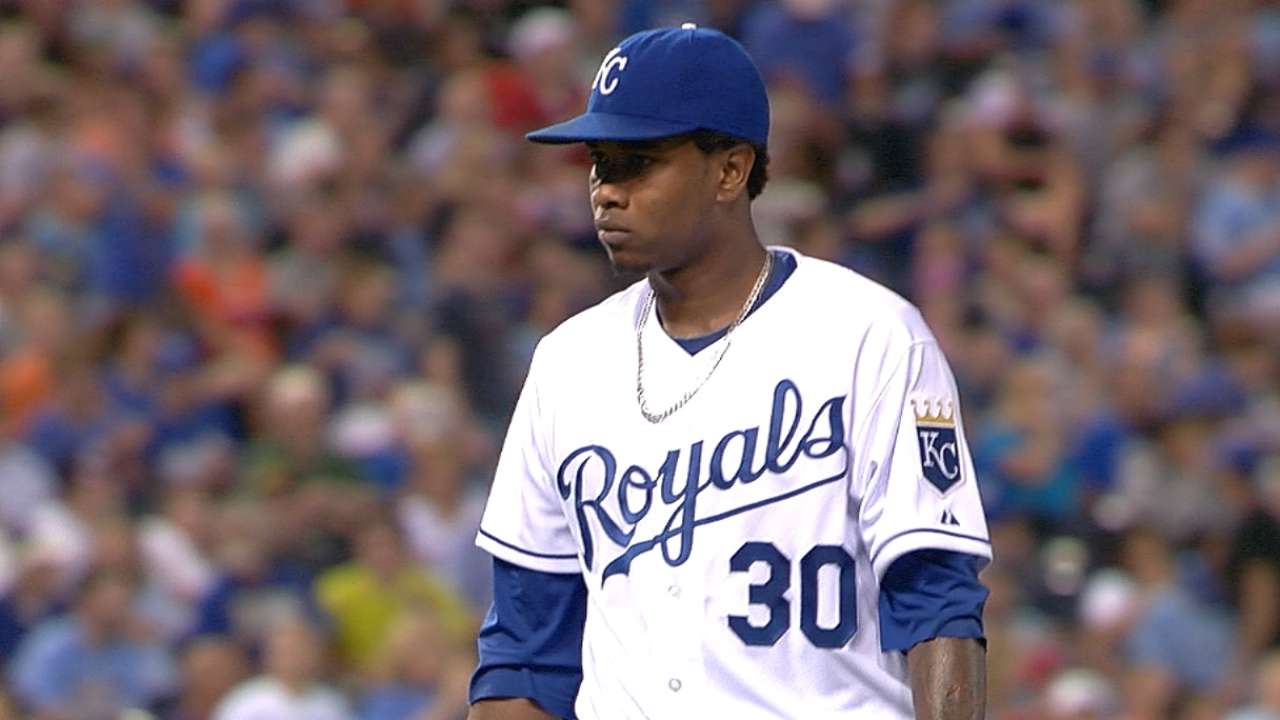 KANSAS CITY -- Yordano Ventura's night began with conspicuous befuddlement.
Four pitches into Thursday's start, Ventura stared quizzically back at the spot where Danny Santana had launched a leadoff home run. His batterymate, Salvador Perez, hovered over the plate, peering out into cavernous Kauffman Stadium, equally baffled.
But any trouble for Ventura stopped there, as the Royals rookie bounced back to manhandle the Twins for the remainder of his seven innings in Kansas City's 6-3 win.
"It's the first batter of the game; I can't get out of my game plan because of one home run," Ventura said.
Santana's home run would be the only earned run on Ventura's final line. His electric stuff culminated in a second straight seven-strikeout game. Those 14 strikeouts in the last two contests nearly trump the 15 he recorded in the five starts that preceded them.
"I thought he threw the ball really well," Royals manager Ned Yost said. "It took him a couple innings to get his curveball going, but once he got it going, he was real affective with it."
The win did not come without a significant blow. Kansas City first baseman Eric Hosmer exited the game in the sixth inning when he aggravated his injured right hand. Postgame X-rays revealed a stress fracture of the third metacarpal, an injury that Yost estimated would take three to six weeks to heal and require a disabled-list stint.
"Any time you lose a player of his caliber, it hurts, but you got to find ways to overcome it and we did tonight," Yost said.
With Hosmer removed from the game, the Royals rattled off a four-run seventh inning to break a 2-2 tie. Alcides Escobar headlined the inning with a go-ahead, two-run triple.
Jarrod Dyson provided the fifth and sixth runs. He plated Escobar with a single up the middle, stole both second and third, then scored on a throwing error to make it 6-2.
"My job is to rip off bags and put pressure on the defense, and I was able to do a great job of that," Dyson said.
The usual suspects, relievers Wade Davis and Greg Holland, took care of the eighth and ninth innings, respectively, with one slight caveat for Davis: He allowed his first extra-base hit of the season. Kurt Suzuki slugged an RBI double off Kansas City's setup man, ending his season-long streak at 45 2/3 innings and 178 batters faced.
"I've never seen anything like it, I mean never," said Yost of Davis' streak.
After the Santana homer, Minnesota tacked on its second run on Kansas City third baseman Mike Moustakas' successive throwing errors in the third.
Moustakas bungled a potential double-play ball with one out, sailing a throw past Omar Infante. Then Moustakas, attempting to cut down a run at the plate, airmailed his second straight throw. That error resulted in the Twins' second run of the game.
Twins starter Kevin Correia kept the Royals off the board until the fifth. Back-to-back doubles by Raul Ibanez and Moustakas created the first run. Dyson produced the second when he reached on an error by the Twins that scored Moustakas from second to tie the score at 2.
Kansas City inched to within four games of first-place Detroit after the Tigers fell Thursday. The Royals completed their homestand at 5-2 and have now won three straight series.
"This game was a big win for us. It got us to four behind Detroit," said Yost, unaware of the Tigers' loss earlier in the night. "We want to keep pecking away at that."
Jackson Alexander is an associate reporter for MLB.com. This story was not subject to the approval of Major League Baseball or its clubs.