Gio's rough start, shaky infield defense sink Nats
After lefty gives up five runs in fourth, bats unable to pick up starter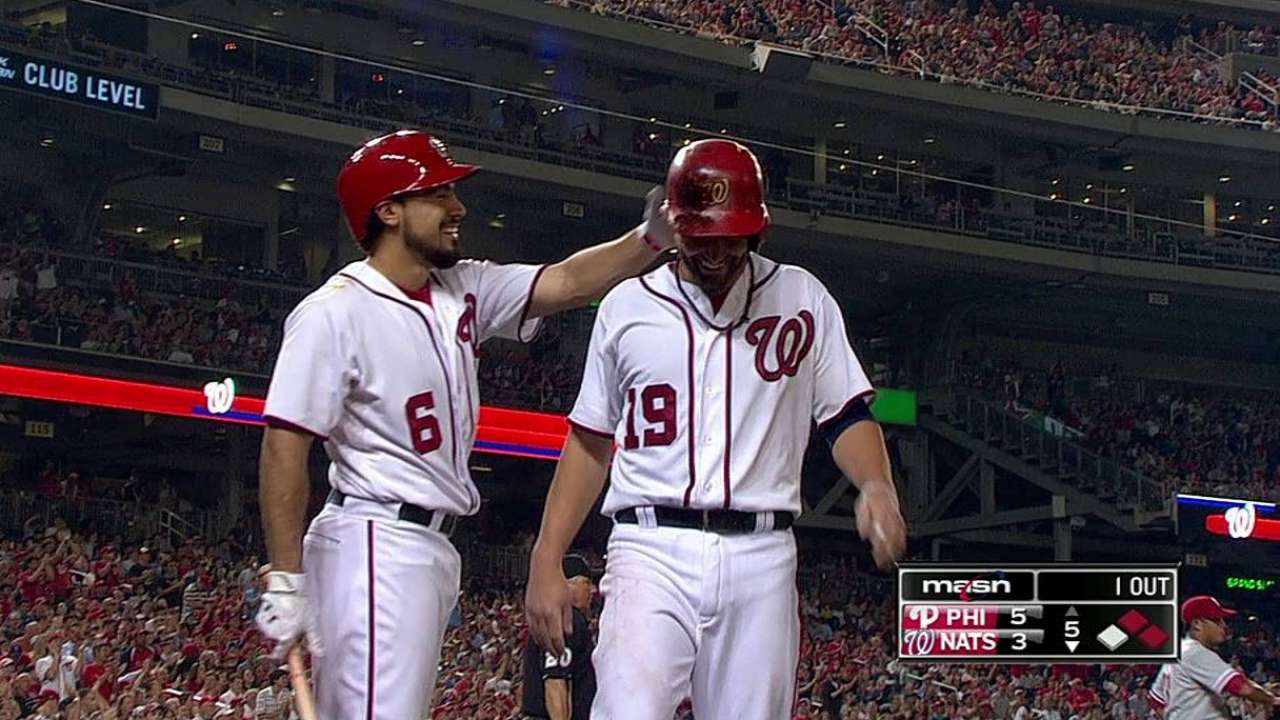 WASHINGTON -- Sometimes the game of baseball is a beautiful thing.
That wasn't the case for the Nationals on Thursday night.
A slew of errors and mental mistakes combined with deficient pitching from starter Gio Gonzalez and the bullpen debilitated Washington in a 10-4 series-opening loss to the Phillies at Nationals Park. And the sentiment in the clubhouse after the game was unanimous: It was just one of those nights.
"Nothing was going our way," Gonzalez said.
Initially, the Nationals appeared poised for a victory after Phillies starter Cliff Lee left the game in the third inning with a strain in his throwing elbow. The left-hander had surrendered just one hit through his first 2 2/3 innings, but his sudden departure meant the Nationals would go up against the lackluster Philadelphia bullpen for the final six-plus innings.
Yet after Antonio Bastardo finished the third by inducing Span into a fly out to center, the Phillies tagged Gonzalez for five runs in the fourth, two of which came on defensive mishaps from Nationals fielders.
Marlon Byrd and Carlos Ruiz opened the inning with back-to-back singles before Grady Sizemore doubled both runners home to give the Phillies a 2-0 lead. A walk from Darin Ruf and a sac bunt from Adres Blanco put men on second and third for pinch-hitter Dominic Brown, who grounded softly to second baseman Danny Espinosa.
Espinosa opted to try to throw Sizemore out at home instead of taking the out at first base, a decision that allowed Sizemore to slide safely into home for the Phillies' third run of the inning without an out being recorded.
"The hindsight play is to go to first base and give them that run, but we're playing the infield in to cut down that run on a regular-paced-hit ground ball," manager Mattt Williams said of the play. "It was just a little slow for him to get him at the plate."
Ben Revere added the fourth run of the inning on an RBI single. Jimmy Rollins followed that up with a single of his own before Chase Utley connected on a tailor-made double-play ball to Espinosa. However, shortstop Ian Desmond dropped the flip -- the second gaffe of the inning -- allowing Brown to score and give the Phillies a 5-0 lead.
Gonzalez was pulled after Desmond's mistake in favor of left-hander Ross Detwiler, who got Byrd to ground out to end the frame. In 3 2/3 innings, Gonzalez gave up five runs on eight hits -- a performance catcher Wilson Ramos said was a result of the left-hander catching too much of the strike zone.
"Some ground balls didn't go my way," Gonzalez said. "They found the holes. I got the pitch I wanted. I got the result I wanted. They just found their way through [for] base hits. The fourth inning just got me."
The Nationals responded with a run in the bottom of the fourth on an RBI single from Ramos. They pulled within two runs an inning later when Span connected on a two-run single with the bases loaded, but the Phillies tacked on two more runs in the sixth off reliever Jerry Blevins to extend their lead to 7-3.
The Nationals added a fourth run in the seventh after a leadoff double from Kevin Frandsen, who started in place of Adam LaRoche. Frandsen took third on a Ruiz passed ball before Espinosa singled him home.
A one-out single from Span put runners on first and third, but neither Anthony Rendon nor Jayson Werth could deliver a decisive hit.
"For me, a good night is when you do something positive and [we] win," said Frandsen, who went 2-for-4 in his first game at first base since May. "You take advantage of any opportunity. I come to the park every day ready to play."
The Phillies scored three runs off Nationals reliever Craig Stammen in the eighth on RBI singles from Byrd and Sizemore to put the game out of reach. In total, Washingts' bullpen surrendered five earned runs on nine hits over 5 1/3 innings in the contest.
"I don't think they're worn down. I don't think their innings are excessive or anything like that," Williams said of the bullpen, which allowed five earned runs in a loss to the Marlins on Monday. "I think it's just one of those little ruts."
Despite the loss, the Nationals cling to a lead in the National League East. Not to mention, the team has proven the ability to come back from series-opening losses, like when it defeated the Brewers in back-to-back games earlier this month to claim a victory in the first series after the All-Star break.
But it starts with moving forward. It starts with forgetting what happened Thursday night.
"You come home, you hope to get off to a good start. We didn't," Frandsen said. "Hopefully, the last three games here we can play well. But it starts with tomorrow. We have to play well from the first inning on."
Daniel Popper is an associate reporter for MLB.com. He also can be found on Twitter @danielrpopper. This story was not subject to the approval of Major League Baseball or its clubs.