Teheran drops duel with Dodgers' Kershaw
Braves righty goes distance, but LA ace is one run better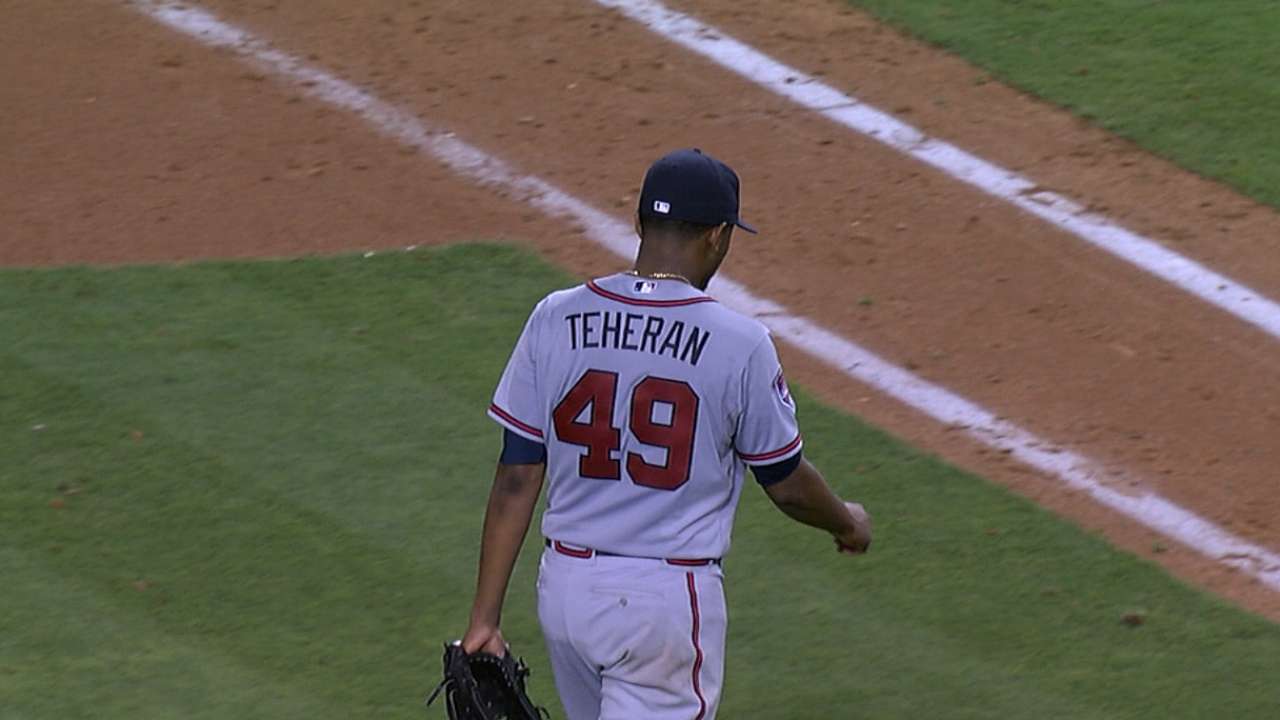 LOS ANGELES -- When the Braves flew across country from Atlanta on Monday, they knew they were entering their most daunting stretch of the season. But while spending the next couple of weeks playing a number of legit postseason contenders, they might not find life to be as rough as it was the past two days at Dodger Stadium.
After being dominated by Zack Greinke on Wednesday night, the Braves returned on Thursday with the hope that Julio Teheran would outduel Clayton Kershaw. But it did not take Teheran long to see that even one of his most impressive outings would not be enough against Kershaw, who went the distance in a 2-1 win that secured a three-game sweep for the Dodgers.
"You had two of the best arms in the big leagues going against each other," Braves third baseman Chris Johnson said."You knew one of them was going to come out on that other side. It stinks for us that it was Julio. But you've got to tip your cap to him. It's Clayton Kershaw."
Kershaw was one out away from matching the Major League lead with his third shutout. But his masterpiece was not much better than the tough-luck gem produced by Teheran, who surrendered just five hits and a pair of runs while also notching a complete game. The 23-year-old Braves hurler allowed each of the first three hitters he faced to reach safely. He then retired 23 of the last 27 batters he faced.
"It was fun," Teheran said. "It wasn't that easy to face [Kershaw]. I felt like I had a real battle out there. I was doing my best to win that battle."
Unfortunately for Teheran, his degree of difficulty was enhanced by the presence of Yasiel Puig, who has batted .511 with a 1.395 OPS in the 11 games against the Braves dating back to last year, including the postseason. Puig drew a first-inning walk and scored from first base on Adrian Gonzalez's double. He added further damage with a third-inning solo shot that proved decisive for the Dodgers, who have won five straight against the Braves dating back to last year's National League Division Series.
"They're nice wins for us," Dodgers manager Don Mattingly said. "They've got a good club, a club we played in the playoffs last year, and these games could go either way. So, obviously, they're good games for us to win."
The Braves lost an ugly series opener on Tuesday and then simply were outdone in the two pitchers' duels that capped this three-game set. Teheran and Alex Wood showed the poise of veterans as they limited the Dodgers to four runs in the 15 innings they combined to complete Wednesday and Thursday. Unfortunately, they were going up against Greinke and Kershaw, who combined to allow two runs in the 17 innings they worked.
"It's Greinke and Kershaw," Johnson said. "When they throw like that, you're going to lose, I don't care what team you are."
Kershaw's shutout bid ended when Justin Upton's hustle turned a two-out grounder to third base in the ninth inning into a game-extending RBI single that was was allowed to stand after a replay review. The Dodgers southpaw then quickly composed himself and finished the game by getting Evan Gattis to ground into a fielder's choice at second base.
Despite allowing nine hits, Kershaw limited his damage to one run and maintained the Major League's best ERA (1.71). This effort earned him his first regular season win against the Braves, the only NL team against which he had never previously notched a win.
Kershaw benefited from three double plays and B.J. Upton sliding over the second base bag during a stolen base attempt in the fourth inning. The Braves began the fifth with consecutive singles, but Andrelton Simmons then grounded into the first of his two double plays. As Kershaw was pitching around the trouble he encountered, Teheran was completing his own impressive outing against a potent lineup that had rocked him when he had last stood on this mound in Game 3 of the NLDS. Between Puig's third-inning homer and eighth-inning double, Teheran retired 16 of the 17 batters he faced.
"Julio was really, really good," Braves manager Fredi Gonzalez said."That's two nights in a row that our starters have given us terrific outings. If you only give up two runs, you've got a real good chance to win ballgames. We didn't the last couple. But it was a really, really solid outing by Julio tonight and Woody [on Wednesday]."
Mark Bowman is a reporter for MLB.com. This story was not subject to the approval of Major League Baseball or its clubs.