Marlins can't contain Reds after call at plate
Morris allows go-ahead hit after lengthy review overturns third out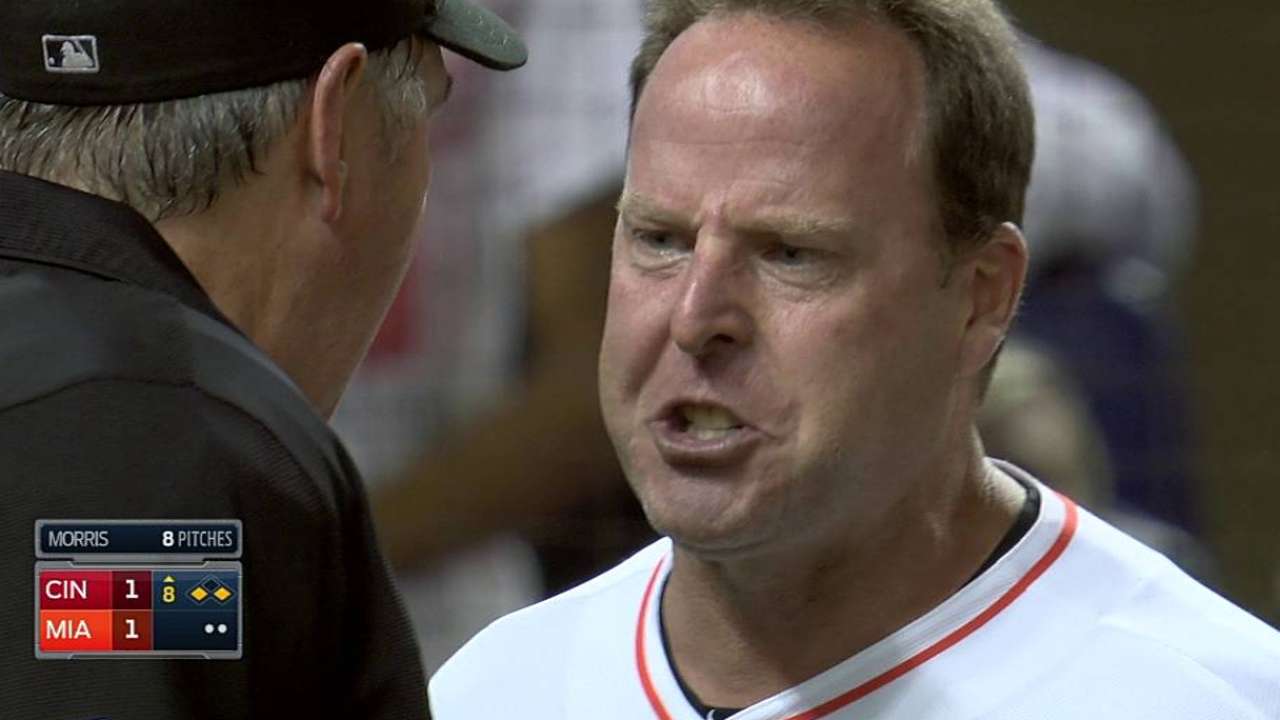 MIAMI -- For the Marlins, it was more than a game of inches on Thursday night. It became a game of interpretation in what turned out to be the decisive eighth inning.
MLB's collision rule overturned what would have been an inning-ending double play, and it set up the Reds' three-run rally to a 3-1 victory over Miami at Marlins Park.
Losing, on what the Marlins considered a "technicality," enraged the entire organization.
"As a former catcher in this league for 13 seasons, as a grinder who loved this game and respect this game so much, this game has been a part of my life forever," said Miami manager Mike Redmond, who was ejected in the eighth. "To lose a ballgame tonight on that play is a joke. It's an absolute joke."
Until the disputed eighth inning, Miami right-hander Tom Koehler was making Giancarlo Stanton's first-inning homer off Johnny Cueto stand.
Everything swung after catcher Jeff Mathis' positioning came into question.
The overturned call allowed Zack Cozart to score the tying run on Todd Frazier's sacrifice fly, and Ryan Ludwick put Cincinnati ahead with two-run single. The would-be, inning-ending double play was overturned after a six-minute, 10-second review. When home-plate umpire and crew chief Mike Winters rendered the decision, Redmond sprinted to argue and drew his fourth ejection of the season.
"I don't blame the umpires here," Redmond said. "Mike Winters -- lot of respect for these guys. We made a mistake today. Not just in this game, but for the game of baseball."
The replay ruling is decided in New York and relayed to the umpire crew in Miami. Afterwards, MLB issued a statement, which read, in part, "We plan to discuss this situation further with the appropriate parties."
The Marlins and Reds entered the game with identical 53-54 records, and both are scrambling to climb up in the playoff race.
"You sit here and you think about it and you wonder what you could've done and the route you could've taken to catch the baseball," Mathis said. "Could've made the play ... by getting out of the way and coming back to tag him. But I'm not going to do that."
Cozart, who didn't slide, believed he wasn't given a lane.
"I guess I could have ran him over legally, because he ended up having the ball in front of the plate too, but I didn't want to do that," Cozart said. "There was nowhere really for me to go. I thought it was pretty obvious from the replay that they made the right call."
Miami has now dropped two straight. In both games, the eighth inning proved decisive.
Clinging to a slim lead, the Marlins found themselves in an immediate bind when Cozart lifted a pop fly to short center field. Second baseman Jordany Valdespin raced back, called off center fielder Marcell Ozuna, but he was unable to make a backhanded catch. An error was charged on the play.
Pinch-hitter Devin Mesoraco slapped a single to left, and Koehler was lifted after 83 pitches. Mike Dunn inherited runners on first and second with the speedy Billy Hamilton at the plate. Hamilton dropped a sacrifice bunt to the mound, but Dunn couldn't collect the ball for an error.
With the bases full, Bryan Morris came in with a daunting task of the bases-loaded, no-out situation. The right-hander struck out Kris Negron, and Frazier lifted a fly ball to right. Cozart tagged and raced home as Stanton threw a one-hopper to the plate. Mathis applied the tag on Cozart.
"It's a tough situation to get out of," Koehler said. "Then, a guy comes in out of the bullpen, makes some great pitches to get one out. We've got a right fielder who makes probably one of the best throws you'll see. Can't be more direct. To have it interpreted the way it was and to have a game taken out from underneath us is sickening."
Cozart was awarded home and Morris returned to the mound after the long delay. Ludwick then lined his two-run single to center.
"It's one of those situations when you're trying to stay calm no matter what happens," Morris said. "They got that hit next batter. We're biting the bullet on this one."
Three batters into the first inning, the Marlins had a run on Stanton's solo shot to left. The laser was the slugger's 25th homer of the season, one more than he had in 2013.
After Stanton's homer, the Marlins had a chance for a second run wiped out when Casey McGehee was thrown out at the plate on Garrett Jones' single to center.
The outrage over the reversal in the eighth inning prompted McGehee to point out that in the first inning, he was out by a wide margin, but maybe could have contested that catcher Bryan Pena didn't offer a lane.
"I got thrown out on a similar play," McGehee said. "I'm out. Yeah, we could have probably made an argument that technically he got in front of the plate at some point. It's not baseball. That's the game we all grew up playing. It's a joke."
Joe Frisaro is a reporter for MLB.com. He writes a blog, called The Fish Pond. Follow him on Twitter @JoeFrisaro. This story was not subject to the approval of Major League Baseball or its clubs.