Kershaw goes distance for 10th straight win
LA rides nine-K gem to sweep of Atlanta, sixth victory in a row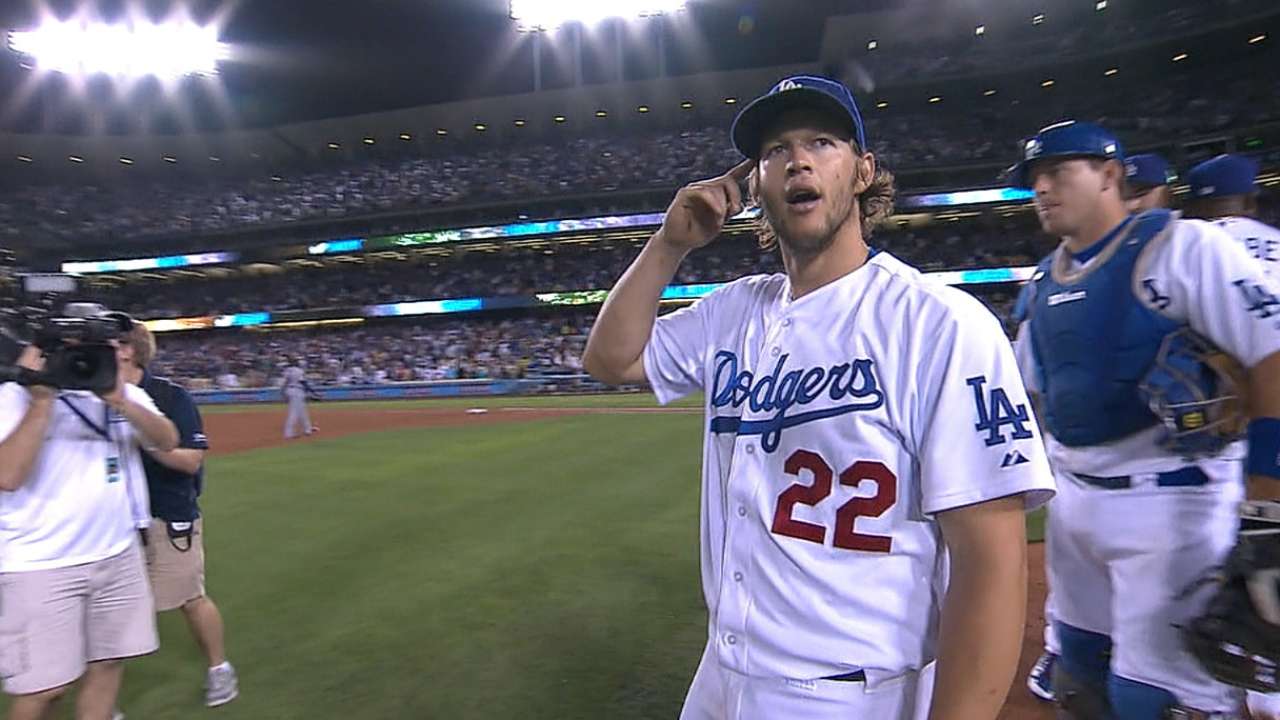 LOS ANGELES -- Clayton Kershaw's blockbuster summer is starting to get a little predictable.
Every sequel is the same -- the same plot line, the same outcome. Only the antagonist changes.
On Thursday night, that role belonged to the Atlanta Braves. They played it to perfection.
Nine innings, one run, nine strikeouts -- Kershaw basked in the limelight yet again, towering over the Braves in a 2-1 Dodgers victory, their season-high sixth in a row. The left-hander won his 10th decision in 11 starts and missed his second consecutive shutout by one out.
Kershaw moved to 13-2 on the season with a Major League leading 1.71 ERA.
He hasn't lost since May 28.
"He's just on the warpath every time he pitches," said manager Don Mattingly. "Just attack, and he's going to keep coming, and then it's over, and he starts over."
"We're spoiled rotten," added catcher A.J. Ellis.
For Kershaw, Thursday was in many ways a repeat of his last 11 outings -- a stretch in which he's gone 10-0 with a 0.94 ERA. But the outing was by no means stress free -- some ninth-inning drama nearly derailed him.
After a four-pitch eighth inning set the stage for Kershaw's second straight shutout, B.J. Upton's one-out single in the ninth led to Atlanta's run when his brother, Justin Upton, beat out a grounder to third base for an infield single with runners on the corners and two outs.
Mattingly challenged the incredibly close play, but the call would stand.
"It was exciting. [Juan Uribe] made a really great play. Justin is really fast," Kershaw said. "The ump made the right call, but it would have been nice to get it overturned."
Though it ended the shutout bid, that lone blemish wasn't enough to change the Braves' fate. Kershaw got the next batter, Evan Gattis, to ground into a fielder's choice to shortstop Miguel Rojas to end the game.
Kershaw played the starring role, but he had just enough help from his supporting cast to complete the sweep.
Second baseman Dee Gordon made two stellar plays -- a stumbling basket catch behind second base in the second inning and a barehanded grab and acrobatic throw in the fourth. Gordon injured his right shoulder on the second play, but he would go on to finish the game -- as did Ellis, who took a foul ball off of his knee in the seventh. Both players' status for Friday's game with the Cubs is unknown.
Offensively, the Dodgers provided their ace with just enough of a cushion against Braves All-Star right-hander Julio Teheran, who pitched a nine-strikeout complete game of his own, allowing two runs in a tough-luck loss.
"You had two of the best arms in the big leagues going against each other," said Braves infielder Chris Johnson. "You knew one of them was going to come out on that other side. It stinks for us that it was Julio.
"But you've got to tip your cap to him. It's Clayton Kershaw."
The Dodgers wasted little time in providing run support, as Adrian Gonzalez doubled to right-center in the first inning, scoring a hustling Yasiel Puig from first.
Puig tacked on the Dodgers' second run in the third inning with a home run to left field -- his 13th of the season and first since July 4.
The credits could have rolled there. Kershaw took care of the rest.
With closer Kenley Jansen and reliever J.P. Howell both unavailable, Mattingly said he didn't consider removing Kershaw at any point in the ninth.
"There's times he'll let you know if he's having trouble at all," Mattingly said. "Tonight he comes off after the eighth and smiled at me like, 'Why not?'"
And why not? Kershaw proved worthy once again of Mattingly's trust. That's nothing new -- nothing out of the ordinary.
"I wouldn't say I'm amazed at this point," Gonzalez said. "It's him. ... What he's been doing this year is pretty incredible. It's the kind of stuff that 40-50 years from now people are going to talk about what he's done.
"And he's still got a lot left to do."
Michael Lananna is an associate reporter for MLB.com. This story was not subject to the approval of Major League Baseball or its clubs.