Yanks trade with Sox for first time since 1997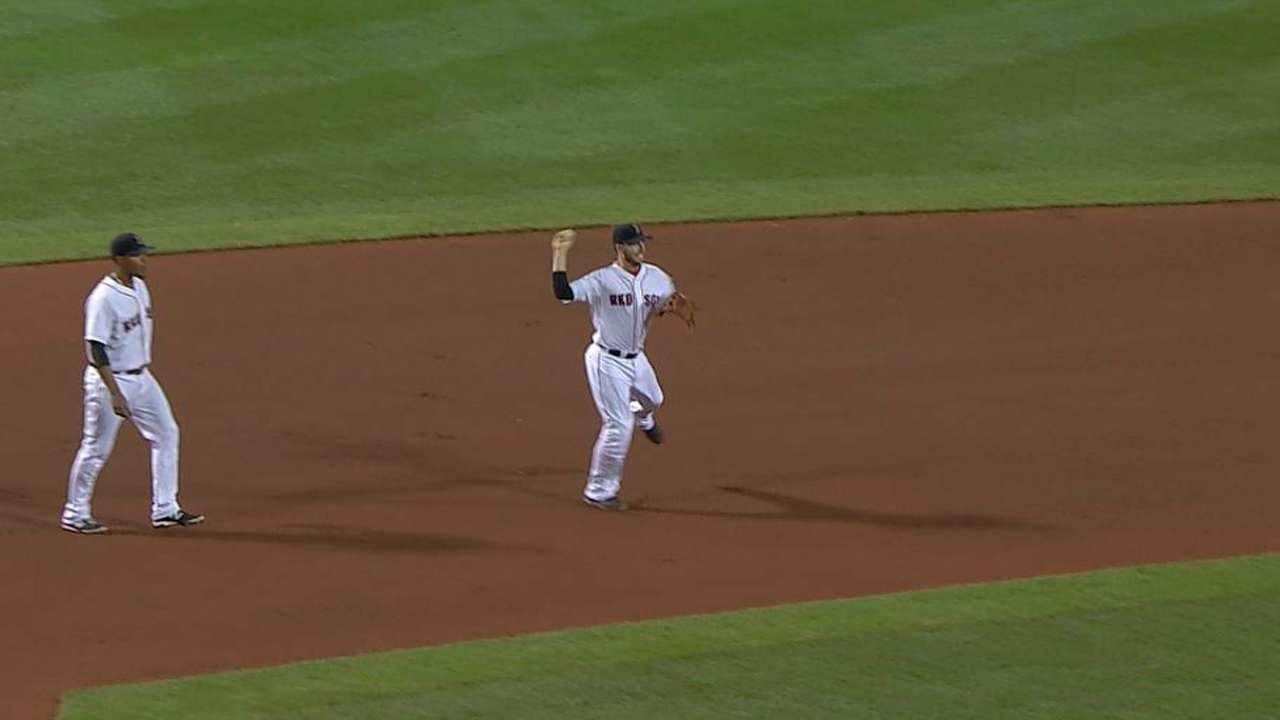 It takes a specific set of circumstances for the Yankees and Red Sox to pursue a trade together, something that the American League East blood rivals haven't dared to do since 1997.
As the most marketable pieces of the Red Sox were shipped away on Thursday, their clock rolling ahead to 2015 with Jon Lester, John Lackey and Andrew Miller leaving town, Yankees general manager Brian Cashman wondered if he could get in on the action.
Swapping text messages on Thursday afternoon with Red Sox counterpart Ben Cherington, the clubs quickly hammered out the terms of a deal: infielder Stephen Drew and $500,000 would go to the Yankees in exchange for infielder Kelly Johnson. New York will be responsible for the remainder of Drew's salary, approximately $5 million.
"The Drew stuff happened today," Cashman said. "I threw an idea Boston's way when they started moving and shaking as much as they were. Once they declared themselves the way they did, I floated a text Ben Cherington's way and we worked really quickly off of that."
Cherington said that the Yankees were not the first team to inquire about Drew, but the timing was right.
"We had talked to a handful of teams about Drew -- teams we thought that might be in need of a shortstop -- and it just so happened the Yankees were the team that fit and it fit for them," Cherington said. "It sounds like he might play a little bit more second base there than short, but we just worked it out today. That one happened obviously late and was the last thing we did."
The Yankees and the Red Sox had not completed a trade since Aug. 13, 1997, when New York re-acquired catcher Mike Stanley and infielder Randy Brown in exchange for pitcher Tony Armas Jr. and a player to be named later (pitcher Jim Mecir). The Red Sox later flipped Armas to the Expos as part of the Pedro Martinez deal.
Because the Red Sox are looking ahead to next season, the history between the clubs did not raise any red flags for Cherington, who said that he hopes Drew will play well in pinstripes.
"No, given the circumstances -- look, we hope it helps them," Cherington said. "I like Stephen, we all like Stephen. He's a good player. It hasn't worked out the way any of us wanted it to, certainly the way I wanted it to. Hope it works out for him there. The Yankee thing wasn't an issue in that particular conversation."
The clubs, partners in the legendary Dec. 1919 sale of Babe Ruth, have made just two other deals since George M. Steinbrenner's 1973 purchase of the team. In March 1986, the Yankees traded outfielder Don Baylor to Boston for outfielder Mike Easler, and in Sept. 1994, the Yankees purchased reliever Scott Bankhead from the Sox.
"One of our two teams has to be in a playoff mode, and the other -- in my opinion -- has to be rebuilding to some degree. That's obviously what happened on the last one that our franchises did," Cashman said. "There's a great deal of respect between the Red Sox and Yankees, both of our sides. It's an amazing rivalry, but [we're] certainly very careful when we do business with each other. That's an obvious statement."
Bryan Hoch is a reporter for MLB.com. Follow him on Twitter @bryanhoch and read his MLBlog, Bombers Beat. Ian Browne contributed to this report. This story was not subject to the approval of Major League Baseball or its clubs.