Making the grade: Deadline deals analyzed
MLB.com columnists give their take on action-packed day of trades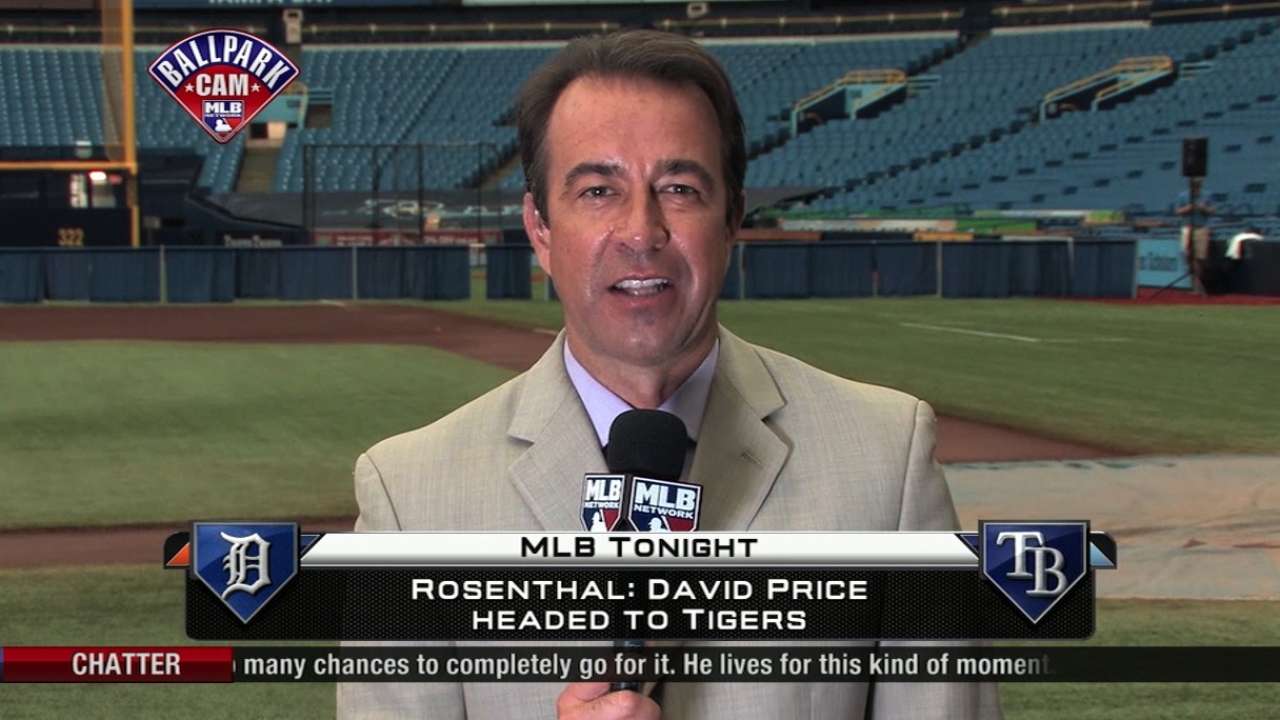 So, was that enough action for you?
There were nine trades involving 14 teams -- and three deals that legitimately qualified as blockbusters. There were big leaguers swapped for big leaguers, contending teams trading regulars and Twitter going crazy.
This, clearly, was a non-waiver Trade Deadline day to be remembered. In fact, the whole summer-swap season -- which began with the big trade that sent Jeff Samardzija and Jason Hammel to the A's -- was extremely satisfying in terms of intrigue.
MLB.com columnists Richard Justice, Phil Rogers and Anthony Castrovince weighed in with some instant analysis on what the Trade Deadline wrought.
1. Which contender improved the most?
Castrovince: It has to be the A's. As good as they were, there were so many questions about that Oakland rotation a month ago. Would Sonny Gray, Jesse Chavez and Scott Kazmir be able to give them upwards of 200 quality innings apiece? Big question. Suddenly, it's an almost totally different set of starters looking to lead the A's to October paydirt. It helps that Jon Lester is October-tested, and now the A's have Hammel, one of their prized acquisitions, as their fifth starter. I do have concerns about the power they sacrificed in giving up Yoenis Cespedes and bringing in Jonny Gomes (one of the least-productive outfielders in baseball this season), and that concern is compounded by the neck situation Coco Crisp is playing through. But the rotation has gone from iffy to A-plus, and that could carry the A's a long way.
Justice: Tigers? A's? Take your pick. David Price was the best player to change teams, and the Tigers got him. However, the A's got Lester, who has a 2.11 ERA in 13 postseason appearances (11 starts). He has a 0.43 ERA in four World Series starts. Price has a 5.06 ERA in nine postseason appearances. But that's pretty much irrelevant. He's older and wiser now, and no one is pitching better than him right now. The Tigers were already cruising toward October, and this deal was made to better position them against another postseason disappointment. To beat Detroit now means beating baseball's best rotation, especially Price and Max Scherzer. If the Tigers and A's meet for a third straight October, it will about as good a show as this game can deliver. Also love what the Cardinals did in now lining up John Lackey behind Adam Wainwright and Lance Lynn. Now if Oscar Taveras takes advantage of this opportunity to play, the Cardinals will feel really good about their day.
Rogers: The Tigers. Landing Price while giving up only Austin Jackson and Drew Smyly gives Detroit a matchup with the Athletics' deep rotation, even after the acquisition of Lester. Price, like Lester, has been on a roll the past couple of months, and he could move into the No. 1 starter's role ahead of Scherzer and Justin Verlander. He provides balance that will help against playoff opponents with big left-handed bats and won't just be a rental. He could potentially replace Scherzer in 2015 and could stay there long term if he wants.
2. Which contender needs to make a move in August?

Castrovince: The Pirates. They made a play for Price, kicked the tires on Lester and came out standing pat. I just see a big opportunity for the Bucs in a winnable division, and I'm surprised they didn't part with their Minor League depth to upgrade that rotation. Maybe A.J. Burnett is still an option for them in August, though they've expressed concerns about his 2015 option, so I doubt it. All I know is that the Brewers (Gerardo Parra) and Cardinals (Justin Masterson and Lackey) were more aggressive than the Pirates. We'll see if that has any bearing on an ultra-tight National League Central race.
Justice: The Pirates would still to love to upgrade their team. They were in the hunt for most of the pitchers that changed teams on Thursday, but they were unable to finish any of the deals. The Yankees likely will continue to look to improve as well, and they'll have an advantage if big-name players like John Danks and Cliff Lee go on waivers. They have a tougher time finishing deals that require prospects because their system is thin. But if the Pirates see an opportunity to improve by taking on additional dollars, they'll almost certainly do it. The Giants will continue to look for second-base help, but if they can just get Brandon Belt, Angel Pagan and Hector Sanchez back on the field for the remainder of the season, that'll be a huge step in the right direction.
Rogers: The Giants. With the needle pointed south for almost two months now, it's hard to remember they once had a 9 1/2-game lead on the Dodgers. The offense that supplied a ton of unexpected power early has regressed to the norm, and beyond. A second baseman with punch would be the ideal solution, but Dustin Pedroia wasn't among those players the Red Sox were looking to move. A versatile bat like Ben Zobrist or even Emilio Bonifacio could have been an upgrade, but general manager Brian Sabean didn't find a move that made sense. So it's on Buster Posey, Hunter Pence, Pablo Sandoval and a post-concussion Belt to get the lineup going.
3. My favorite trade of the Deadline was …
Castrovince: The Price trade was just a perfect capper to a ridiculous day, coming in just before the final tick of the clock. It really highlighted that the "races" to which we refer go far beyond division lines, because I'm not convinced the Tigers make this trade if A's GM Billy Beane hadn't done so much to improve the A's. It was as if Tigers GM Dave Dombrowski was the poked bear, roaring to life, and he did so in a big and bold way. I also love that the three-way deal, like several others in the last 24 hours, involved so much big league talent changing hands. Price's arrival makes Verlander arguably the fourth-best starter on the Tigers, which is pure madness, and the Rays did the right thing capitalizing on his value now rather than holding onto him in their bid for (at best) a second AL Wild Card spot. The Mariners also did what they needed to do, adding an offensive upgrade in Jackson for a team that has a chance to end a 13-year October drought.
Justice: The Rays traded their No. 1 starter even after sprinting back into contention. For three general managers to sort through the noise and needs to complete a big, complicated deal is as good as the Trade Deadline can get. The Rays and Mariners both got better, but the Tigers' acquisition of Price is one of the bombshell moments of the day. This was an incredible day in that teams made huge, franchise-changing deals. The Red Sox suddenly have a dramatically different look with Allen Craig and Cespedes, and without Lackey and Lester. The Cardinals now will write Taveras' name on the lineup card and see if he can start to realize some of the potential we've seen for years. Whew. What a day.
Rogers: The Cardinals dealing Craig and Joe Kelly to the Red Sox for Lackey. Not only did John Mozeliak add an arm with experience, but he cleared up a logjam with the lineup. Matt Adams had supplanted Craig as the long-term first baseman and the organization had developed an outfield surplus. This deal gives Taveras a chance to show us all what he did to get his glowing reputation, as well as making room for Stephen Piscotty and Randal Grichuk down the road. Craig's value was hurt by a down season, but Mozeliak didn't turn a blind eye to his crowded house.