Hernandez solid, but offense can't execute
Lefty gives up three runs in 5 2/3 innings; Arenado plates sole run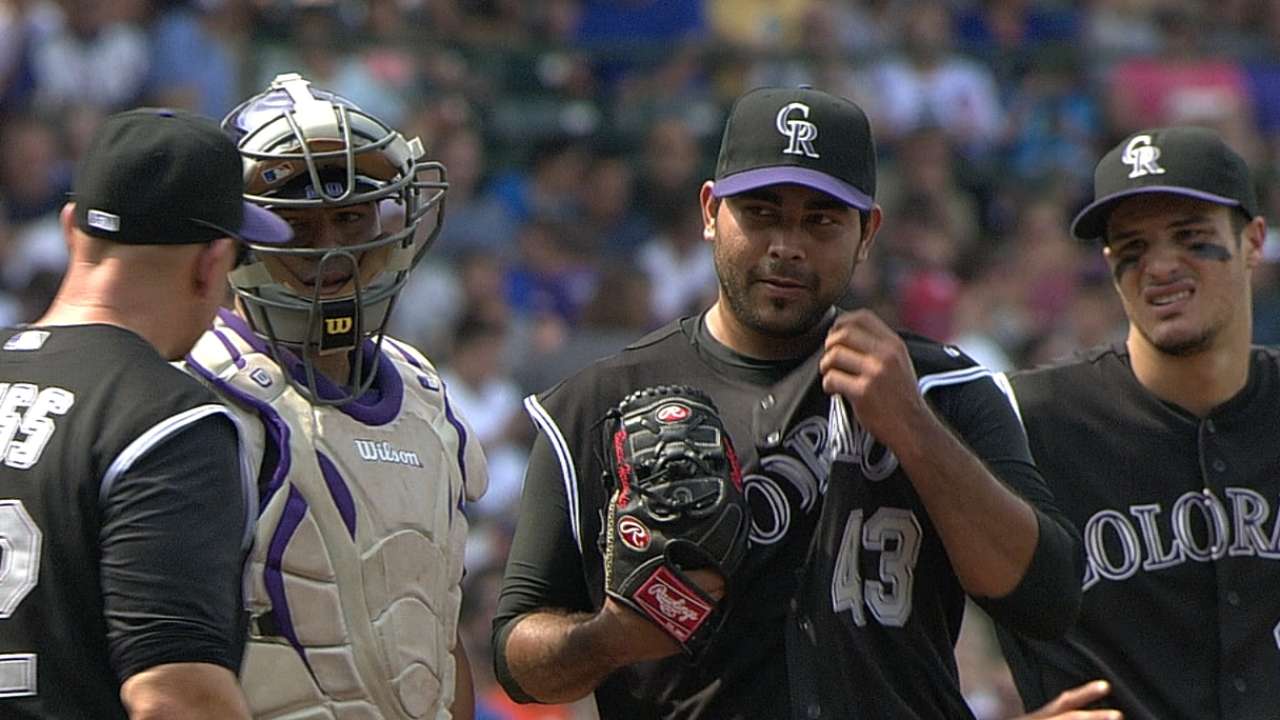 CHICAGO -- Charlie Culberson did a Paul Bunyan ax slam of the bat into the dirt near home plate, then slammed his helmet in the same manner after umpire Gerry Davis ended Thursday's game with a strike-three call.
Culberson had just watched as Hector Rondon's slider sealed the Cubs' 3-1 win over the Rockies at Wrigley Field in front of 35,7239.
The called final strike came after Wilin Rosario struck out swinging in another 3-2 count. It all came with two on base, and it highlighted the Rockies' poor offensive execution, which is undermining the competent pitching they're receiving lately from whomever is on the mound.
"It was a strike," Culberson said. "That's how it goes. [Davis] looked at me a couple times and I said, 'That wasn't toward you.'
"I had a chance to tie the game up and I didn't do it. I was just frustrated."
The Rockies went into Thursday with the NL's best starting pitching ERA since the All-Star break at 2.66. Lefty Pedro Hernandez, whose contract was purchased from Triple-A Colorado Springs earlier in the day, threw 5 2/3 representative innings for Colorado. In fact, until he gave up three runs in the sixth, he was outstanding.
But the strikeouts of Rosario and Culberson brought the Rockies' K total to nine, and ran the count to 50 in the four-game series with the Cubs, who overtook the Rockies for the 14th-best NL record. The Rockies batted .204 with no homers in the series.
The ninth, when the Rockies wasted Nolan Arenado and Justin Morneau singles to open the frame, capped a day in which the Rockies' offense had few chances to execute, and didn't execute when it had the chance. The Rockies -- who own a Majors-worst 17-36 record on the road -- managed one hit in the first six innings against Cubs starter Jake Arrieta (6-2).
Arenado's RBI double with no outs in the seventh cut the deficit to two runs, and there were two on with no outs when Carlos Gonzalez flied to center and Rosario popped out in the infield. Culberson drew a walk, but DJ LeMahieu grounded out to short.
"It's been tough all year for us, getting in those situations where we can get runs," Rosario said. "That's the baseball game. You've got to keep going, get fighting."
Manager Walt Weiss, who touched on the team's offensive struggles in his pregame press conference, said it was not going to be easy in the ninth against Rondon, who earned his 14th save.
"It's not an easy assignment," Weiss said. "Rondon is throwing the ball well and he threw some tough pitches to Culberson. He looks like he's going to be pretty good."
In a year of starting pitching injuries, Hernandez became the Rockies' 14th starter this season. He started for the Twins at the end of last season, but patiently sat in Colorado Springs for his callup.
"It's a hard situation when you see a lot of new faces coming in, going out, but right now I'm here and I've got to keep going, doing the job," Hernandez said in Spanish, with Rosario interpreting.
Hernandez tossed five scoreless innings, but ran into trouble in the sixth. Arismendy Alcantara and Chris Coghlan singled, then Hernandez walked Anthony Rizzo, and pushed in a run by walking Starlin Castro.
Justin Ruggiano popped a sacrifice fly and Luis Valbuena drove in another run on a groundout.
Rockies lefty Yohan Flande, whose five starts included a 6 2/3-inning effort in the first game of the Cubs series, pitched scoreless ball in the final 1 2/3 innings. Flande was scheduled to start Saturday in Detroit.
That start could go to Tyler Matzek or Jordan Lyles, out since June 4 with a broken left hand. He made his second and presumably final rehab start for Colorado Springs on Thursday night. It's unclear if Lyles' return will put Flande, a career Minor Leaguer until this year, in the bullpen.
"It's possible, but we have some things to sort out and we have an off-day [Monday] coming up," Weiss said. "Flande has done a good job, too, and he's pitched better than his numbers indicate [5.72 ERA]. He looked good coming out of the 'pen today."
Thomas Harding is a reporter for MLB.com. Read his blog, Hardball in the Rockies, and follow him on Twitter @harding_at_mlb. This story was not subject to the approval of Major League Baseball or its clubs.