Gyorko, Venable homer in slow offensive day
Despaigne allows six runs over 5 2/3 innings; Padres manage three hits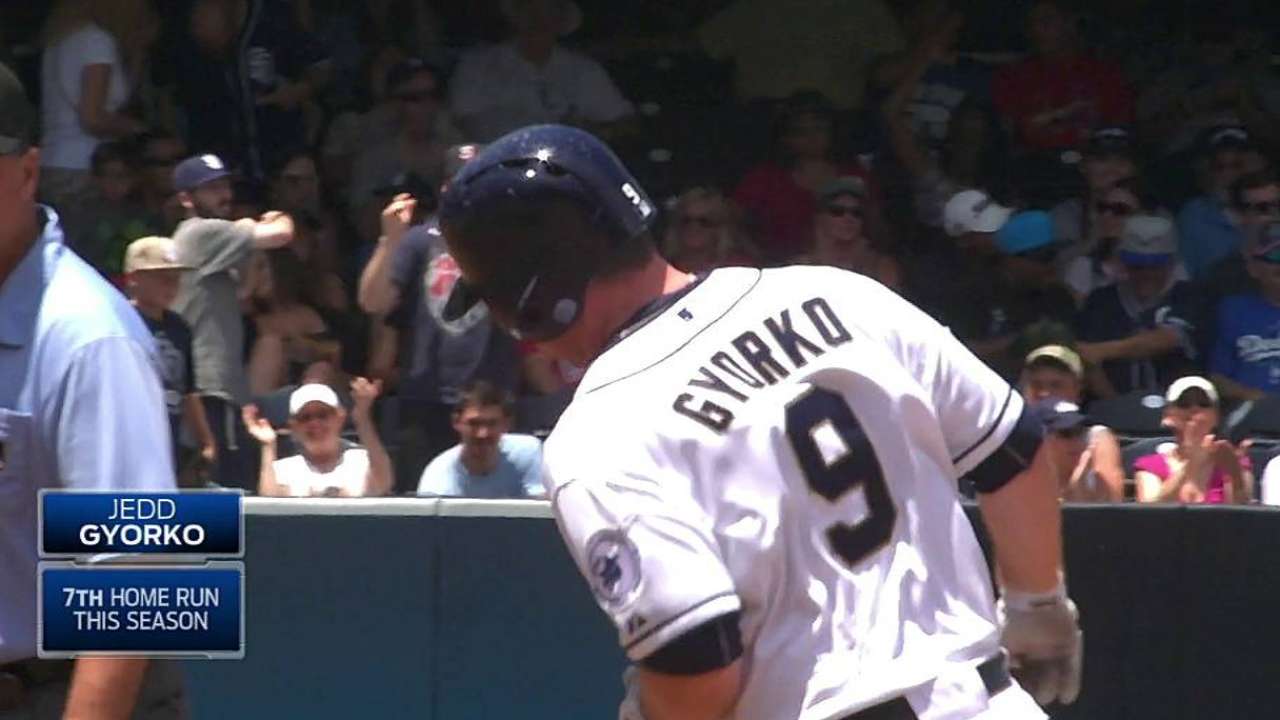 SAN DIEGO -- Odrisamer Despaigne had his second straight uneven performance on Thursday and the Padres couldn't keep up on offense after an early pair of solo homers, as San Diego wasted a chance to sweep the Cardinals and lost to St. Louis, 6-2.
Despaigne allowed more than two earned runs for the first time in seven career starts, giving up six runs and nine hits in 5 2/3 innings with one walk and three strikeouts.
Since logging a 1.33 ERA in his first five starts in the big leagues and coming within five outs of the Padres' first no-hitter on July 20, his last two outings have yielded eight earned runs in 9 1/3 frames (7.71 ERA).
"With Odrisamer, we saw the same sort of package of stuff, but he just couldn't seem to wiggle out of some difficulties," manager Bud Black said. "They just sort of bunched some hits together against him."
Jedd Gyorko and Will Venable both homered for the second straight day in the second inning of what looked like would be a barnburner early on. But Shelby Miller and the Cardinals (57-50) gave up just one hit to the Padres (48-60) the rest of the way to deny San Diego its second series sweep this year.
"When you're aggressive with your fastball, you have that option to go to your offspeed stuff," Venable said. "It wasn't like we were beating [Miller] on his fastball, other than a couple of them. He was doing exactly what he wanted."
Despite being the two lowest-scoring clubs in the Majors, the Cardinals and Padres showed off some power early on.
Oscar Taveras, who had a permanent starting spot in right field open up for him when the Cardinals traded away Allen Craig on Thursday morning, belted a two-run homer in the second inning to put St. Louis in front.
"I prepared for the game by watching video of the pitcher and seeing what he throws," Taveras said. "I was looking for a changeup, and he threw it. I got a good result."
Then Gyorko, who is 7-for-14 with two homers in four games since returning from the disabled list, and Venable both connected off of Miller to tie it up in the bottom half.
But from there, the two starting pitchers went in different directions. As Miller (8-8) stabilized and retired 13 of the last 14 batters he faced, Despaigne (2-3) unraveled.
The Cuban rookie allowed a two-run single to Matt Holliday in the third, then loaded the bases with no outs in the sixth to give the Cardinals a chance to break it open. Despaigne briefly looked like he might escape after Taveras lined into a double play, but Peter Bourjos and Miller followed with consecutive singles to make the score 5-2 and knock out Despaigne with the bases juiced once again.
Blaine Boyer came on and issued a free pass to Matt Carpenter to walk in another run before striking out Kolten Wong to keep the score 6-2.
It was already too late for any comeback, though, as Miller mowed down the Padres again in the sixth before Kevin Siegrist, Pat Neshek and Trevor Rosenthal each threw a perfect inning of relief to close it out.
"The secondary pitches came into play for [Miller] as the game went on, and he landed them for strikes," Black said. "Their bullpen did a nice job, too. Neshek was an All-Star, then Rosenthal's got a big arm. They shut us down."
Yasmani Grandal was scratched just minutes before first pitch after his knee flared up while squatting down to catch Despaigne's pregame bullpen session.
However, Black and Despaigne both downplayed the notion that the last-minute change contributed to Despaigne's troubles, and Black said that Grandal is expected to play Friday against Atlanta.
"His stuff was the same as it's been all season," Black said. "He just didn't get the results, and sometimes that happens."
Will Laws is an associate reporter for MLB.com. You can follow him at @WillLaws. This story was not subject to the approval of Major League Baseball or its clubs.