Miller under control as Cards roll through Padres
Righty settles in, issues no walks; Taveras hits second career homer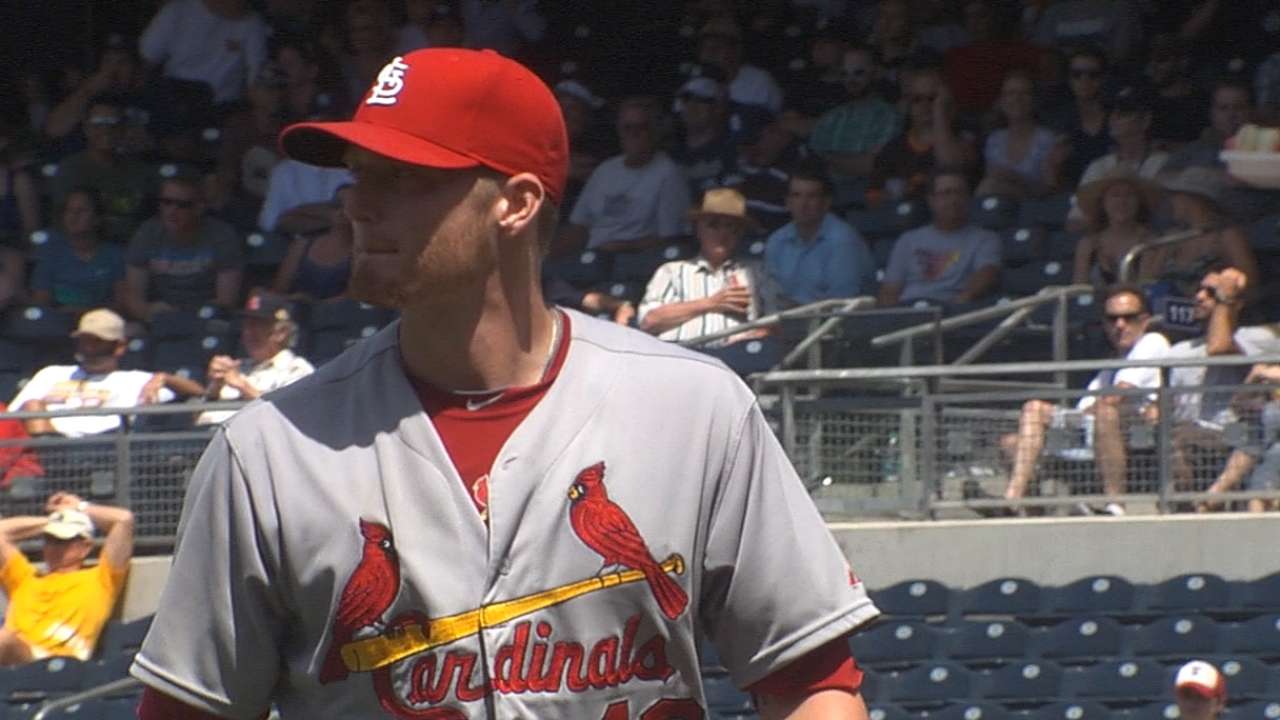 SAN DIEGO -- The Cardinals fortified their rotation during a three-day stay in San Diego, first with the acquisition of Justin Masterson and then with John Lackey. The rotation complexion change leaves Shelby Miller as the staff's most inexperienced starter, though his performance on Thursday showcased why he can still be a critical piece.
Miller limited the Padres to a pair of solo home runs in his six-inning start, and the offense showed up behind him to lift St. Louis to a 6-2 win in the series finale at Petco Park. Right fielder Oscar Taveras led the charge with a two-run homer, giving the Cardinals as many runs with the second-inning swing as they had scored in the first two games of the series.
The victory was veiled in heightened emotion, as the Cardinals learned just hours before taking the field that teammates Allen Craig and Joe Kelly had been traded for Lackey. Miller, in particular, was shaken up by the news. He and Kelly were longtime best friends, having grown up together in the organization as members of the 2009 Draft class.
"Going into it, obviously earlier today telling him goodbye, you get a little emotional," Miller said after the win. "Even now, it upsets you a little. But you have to keep going."
Miller did so in a big way, showing again that there is positive payoff to the Cardinals' decision to build in a 16-day period of rest in between starts earlier this month. Miller bugged manager Mike Matheny throughout the downtime, asking when he'd start again while constantly trying to decipher if there was an ulterior motive for the move.
Matheny asked Miller to buy into the process, and Miller now understands why. Since returning, he has scattered four runs on six hits in 11 2/3 innings. Especially notable is that he hasn't walked a batter. Miller had issued at least one walk in his previous 19 starts this year.
"I think he's getting stronger and that was kind of the hope of giving him a little bit of rest, being able to watch him have that great life and carry what we see early into those later innings," Matheny said. "I think he's looking stronger and more consistent mechanically, and then execution also."
That is allowing Miller to pitch deeper, too, which was his deficiency earlier this season. Miller finished six innings on 85 pitches Thursday. After giving up the two second-inning homers, Miller retired 13 of the final 14 batters he faced.
"Last game, I felt strong as well, but going forward even into this start, I felt a little stronger," Miller said. "That's the key thing right now. I'm trying to make the second-half push. You want to feel really good and healthy and like you're on top of your game. I felt like that's where we need to be right now."
Though the Cardinals will rely heavily on their rotation to pitch them into October, the offense remains the wild card. It was lively on Thursday, reaching a double-digit hit total for just the second time since the All-Star break. Taveras' two-run homer, which followed a two-out single by A.J. Pierzynski, cut the building tension.
"Oscar getting something going was definitely a shot in the arm for us," Matheny said.
"I prepared for the game by watching video of the pitcher and seeing what he throws," added Taveras, speaking through a translator. "I was looking for a changeup, and he threw it. I got a good result."
Matt Holliday's two-run single in the third helped the Cards regain the lead after the Padres had erased it. The club scored twice more with two out in the sixth off starter Odrisamer Despaigne, as Peter Bourjos delivered an RBI single and Matt Carpenter drew a bases-loaded walk.
"With Odrisamer, we saw the same sort of package of stuff, but he just couldn't seem to wiggle out of some difficulties," Padres manager Bud Black said. "They just sort of bunched some hits together against him."
With Kevin Siegrist, Pat Neshek and Trevor Rosenthal pitching perfect innings behind Miller, the Cardinals were able to avoid being swept in a three-game series for the first time in more than a year. They head home with a .500 road trip, poised to meet the Brewers in a big weekend series.
"These days here prove some of the toughness that we talked about these guys developing through the season," Matheny said. "There have been different kinds of adversity through this season with injuries and struggles. This is a little different time. When it gets time to jump in, they put things aside and get the job done."
Jenifer Langosch is a reporter for MLB.com. Read her blog, By Gosh, It's Langosch, and follow her on Twitter @LangoschMLB. This story was not subject to the approval of Major League Baseball or its clubs.