Actress Harden joins 'Express Written Consent'
Oscar winner dishes on '50 Shades of Grey' role while taking in Dodgers game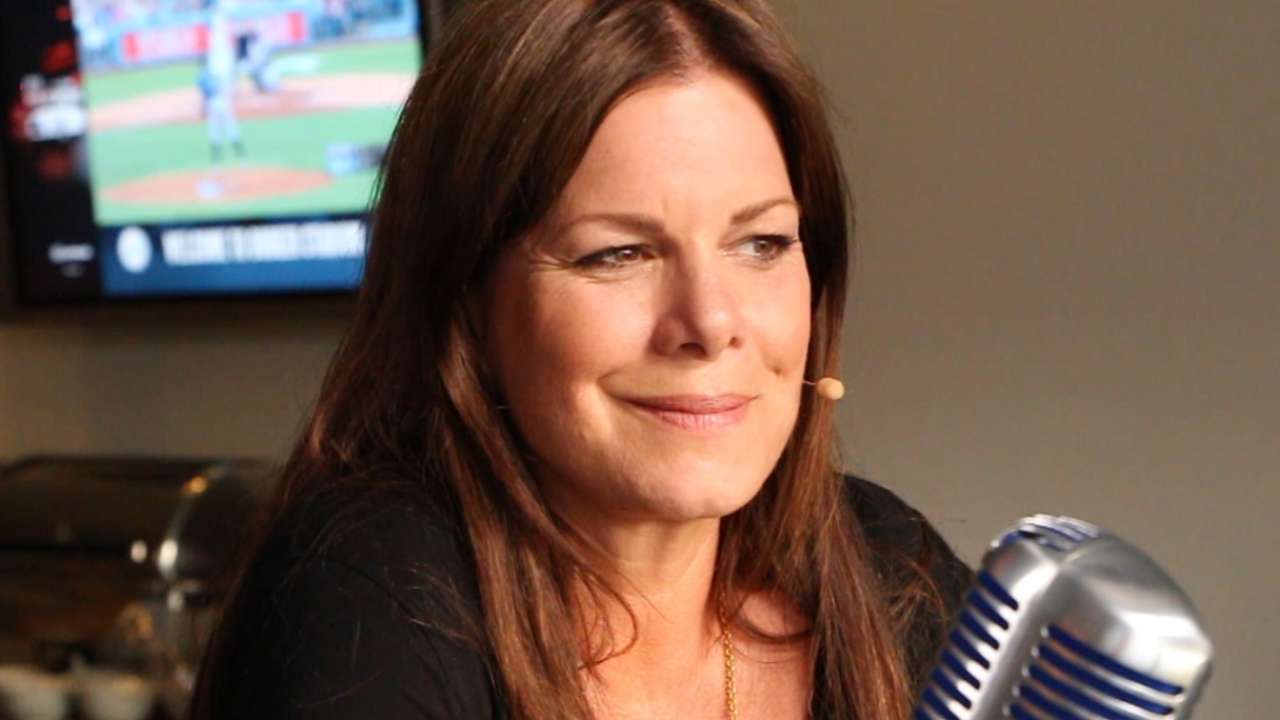 Oscar-Award winning actress Marcia Gay Harden has a role in the highly-anticipated, soon-to-be-released "50 Shades of Grey," so you'll understand if this week's episode of "Express Written Consent" gets a little ... cheeky.
Harden, a friend to MLB.com after she starred in a "Funny Or Die" spoof filmed at Dodger Stadium last October during the playoffs, seemed right at home from her perch in the EWC booth while watching a recent Dodgers-Giants game. Chatting with MLB.com host Jeremy Brisiel, Harden dished a lot about 50 Shades, which, while still several months away from being released to theaters, is creating quite a stir as anticipation builds.
But let's not get ahead of ourselves -- Harden has a pretty tame role in the film, as she explained to our crew at EWC. She plays the mom of one of the main characters, and while she has a significant presence in the movie, she's not, as she phrased it, "allowed in the red room of pain and pleasure."
Bummer.
"I did want to see it," Harden said. Instead, Harden's character, Grace, plays, well ... the mom.
"Basically serving dinner and saying 'Hi everybody, sit down,' and, 'Oh, we love your new girlfriend,'" she said. "That's my experience shooting."
Tame is good every once in a while. Harden's long career has included playing a wide variety of roles, highlighted by an Oscar-winning performance as Lee Kraner in the 2000 film "Pollock," which earned her Best Supporting Actress accolades. Her movie credits include appearances in "Space Cowboys," "Into the Wild" and "The Mist," and later, "The Hoax" and "The Invisible."
Harden has made her mark in television, too, playing FBI undercover agent Dana Lewis in "Law and Order: SVU," as well has her current role opposite Jeff Daniels in HBO's "The Newsroom."
In other words, Harden has accomplished a few things in her life. But through the success, she's managed to stay humble, and she admits that to this day, she gets awestruck by some of the superstars she's worked with.
Like Clint Eastwood, for example, while filming "Space Cowboys." Harden was so nervous meeting him that she accidentally bit a hole through her tongue.
"I was telling my brain to quit talking, because all I was doing was talking and hugging him and saying, 'I'm in your movie!'" Harden recalled. "I was making so much crazy noise that I bit a hole through my tongue."
So when they went out to do the scene, Harden turned to Eastwood and said, "I was tho nervouth to meet you. I can sthill do the line. But I bit a hole in my tongue."
Harden's line was supposed to be, "We need to get back to Houston." Eastwood changed it, however, to: "We have to get back to Space Shuttle mission control in Houston."
Needless to say, it didn't go so well. Harden managed a "Spathe Thencter Mitthon Control," which prompted Eastwood to ask for another take. Fifteen times.
Mostly, Harden likes playing characters that are relatable. She loves hearing from fans, especially those who approach her in public, that were moved by a particular role that reminded them of their own lives.
An eternal optimist, Harden picked the baseball term "grand slam" to describe what might be coming in the future.
"The future's always good," she said. "If you believe in good and you believe in yourself, the future's got to be good."
Alyson Footer is a national correspondent for MLB.com. Follow her on Twitter @alysonfooter. This story was not subject to the approval of Major League Baseball or its clubs.