Rookie baffles Cards before Padres pour it on
Bats unable to solve Hahn; bullpen surrenders eight-run seventh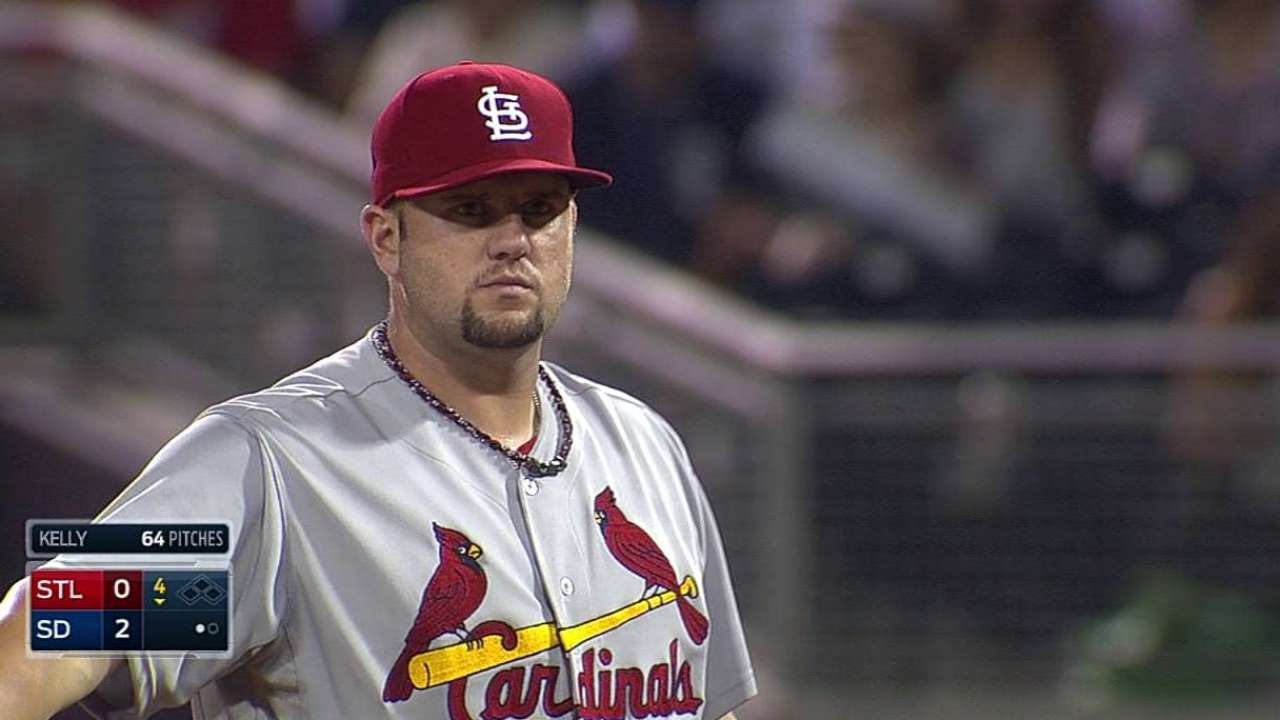 ST. LOUIS -- The Cardinals may have succeeded in bolstering their rotation on Wednesday, but their on-field performance later that night reminded that the team's biggest deficiency remains on the offensive end.
This time, the Cardinals' bats were handled by rookie Jesse Hahn, who threw seven innings of four-hit ball in what became a late 12-1 Padres rout. To be fair, by the end nothing was pretty.
The defense, though not charged with an error, was porous for a second straight night, and the Padres embarrassed the St. Louis bullpen in an eight-run seventh, the team's worst statistical inning of the year. Starter Joe Kelly lasted only through the fifth.
"Probably our ugliest loss of the year," manager Mike Matheny said. "That's the best way to describe it. You have to be realistic here. That's not the kind of baseball we've played all year. There are no excuses. It was terrible. It's just not what we do. You can take any aspect of today and it was off."
Matheny was adamant that this was an anomaly, and in many ways it was. The defense has been among the Majors' stingiest, and the Cardinals have been carried by their pitching.The lack of offensive traction, however, remains a real concern.
The Cardinals followed a six-hit series opener with another six-hit affair to drop a second straight decision against the only National League team that has scored fewer runs this year than the Cardinals.
It's hardly been obvious.
General manager John Mozeliak chose the word "frustrating" to describe his underachieving offense -- and that was before it was held to one run on Wednesday.
"Overall, we believe in the players that we're putting out there," Mozeliak said. "For some reason, it's just not clicking where we're putting those back-to-back hits or putting that crooked number up. It's not for a lack of trying. We still believe it's a talented group. Maybe manipulating the lineup a little bit will help; who knows. Mike is certainly pulling out hair trying to get it right. I think that part of it is hard. Everybody wants to see a different outcome, but it just hasn't happened."
The offense found itself in an early hole as the Padres scored in three of the first four innings. Miscommunication between right fielder Oscar Taveras and second baseman Kolten Wong led to a run in the third, a run that scored on a wild pitch.
After Kelly, who was making his fourth start since returning from the disabled list, served up a solo homer to Jedd Gyorko in the fourth, Matt Holliday's trouble corralling the ball in the left-field corner helped Yonder Alonso record his first career triple. He, too, would score. Kelly was out after throwing 91 pitches in five innings.
"They were just up when they were supposed to be down," Kelly said of his pitches, particularly citing the fastball. "I had some pretty good pitches going. I just have to locate it, pound the zone with that thing and let the off-speed do the work."
Two innings after Kelly's exit, the bullpen imploded. It took three relievers to navigate through the 12-batter frame, and again, a play not made -- Jhonny Peralta let a one-out sharp grounder go through his legs -- complicated it all.
"You can't make as many mistakes as we made today," Matheny said. "It's amazing that it says zero on the errors up there because we made mistakes everywhere possible."
Two of the Padres' hits in the inning -- a bases-clearing double and a three-run homer -- singularly totaled the number of runs the Cardinals have scored in their last 29 innings combined.
"We're seeing better at-bats since the All-Star break," said Padres manager Bud Black. "A lot of good things offensively tonight. We got to continue it."
The Cardinals foiled the Padres' shutout bid in the seventh, only because Peter Bourjos was able to beat out what would have been an inning-ending double play. He was then promptly picked off.
Both of St. Louis' runs in this series have come on outs, and the Cardinals are 1-for-14 with runners in scoring position. They didn't muster a hit out of the infield until the sixth on Tuesday. And of the two walks the Cardinals drew against Hahn, one was followed by a double play, the other a strikeout.
"I think it's going to be day to day," Matheny said when asked to characterize the state of his offense. "It's not going to be easy. We knew that since it started this way. ... They're fighting, and that's what we're going to have to do the rest of the way. "
After surging into the All-Star break, the team has scored three or fewer runs in the 10 games since returning. The club also now has a negative run differential (minus-2) this season, a reminder that they're fortunate to still be sitting six games above .500 and only 2 1/2 games out of first place.
Jenifer Langosch is a reporter for MLB.com. Read her blog, By Gosh, It's Langosch, and follow her on Twitter @LangoschMLB. This story was not subject to the approval of Major League Baseball or its clubs.