Kluber shuts out Mariners on just 85 pitches
Right-hander limits Seattle to three hits in efficient masterpiece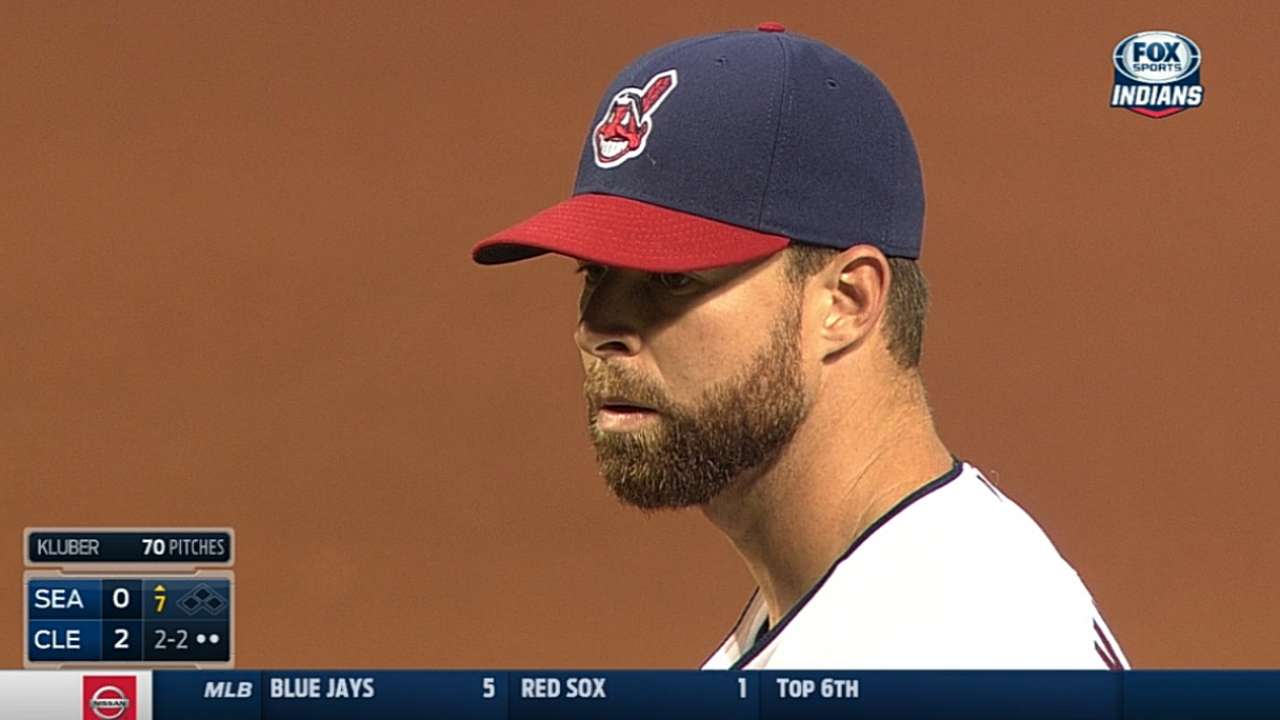 CLEVELAND -- Corey Kluber had already ascended to the rank of rotation leader through his pitching prowess, poise and performance this season. On Wednesday night, the Indians merely made things official by trading sinkerballer Justin Masterson to the Cardinals.
Masterson has led the starting staff for the past three years, but the future of Cleveland's staff resides in the right hand of Kluber. On the day that Masterson packed his bags, Kluber took the mound for the Tribe opposite Seattle ace Felix Hernandez and delivered a three-hit shutout, leading the Indians to a 2-0 victory at Progressive Field.
It marked the third game in a row that Kluber pitched into the ninth inning and the second straight game he finished nine frames. In fact, Kluber became the first Major Leaguer in the past 100 seasons to face no more than 28 batters in consecutive starts consisting of at least nine innings (without a relief appearance between outings).
"It's very exciting," Indians manager Terry Francona said of having a leader in Kluber. "And anybody who's been around him knows that he's not content. He'll be here tomorrow working every bit as hard and getting ready for his next start."
In a tribute to Masterson -- traded before the game to St. Louis in exchange for Minor League outfield prospect James Ramsey -- the Indians took the field sporting high socks. Kluber was actually unaware of that idea during pregame warmups, so the pitcher ducked back into the clubhouse prior to the first pitch and altered his uniform.
Once on the hill, as Masterson did so often at his best with the Tribe, Kluber generated a wave of groundouts and piled up strikeouts to outperform an ever-intimidating Hernandez. Kluber's signature, however, is precision and he was in fine form in that regard. The right-hander threw 12 or fewer pitches in eight of his nine innings, ending with only 85 pitches in his blanking of Seattle's bats.
The Mariners became increasingly aggressive as the game wore on, playing right into Kluber's hand.
"That's always my game plan," Kluber said, "is to try to get that early contact and just try to stay the course. They came out of the gates aggressive and they got more aggressive in the middle of the game."
Kluber ended with only 16 balls for a strike rate of 81 percent. When Dustin Ackley grounded out to end the game, Kluber became the first Cleveland pitcher since 1992 (Charles Nagy) to record a shutout on 90 or fewer pitches. The last Major Leaguer to spin a nine-inning shutout on no more than 85 pitches was Boston's Aaron Cook on June 29, 2012.
"It's almost just as good as a perfect game or no-hitter," Indians catcher Yan Gomes said of Kluber's precise performance. "I was actually getting kind of nervous in the ninth. I'm like, 'This is good -- can't mess this up.'"
Kluber (11-6, 2.61 ERA), who carried a perfect game into the seventh inning in his previous start on Thursday in Kansas City, faced the minimum in eight of his innings. Kluber never faced a three-ball count, only fell behind in the count eight times and had two of the three hits he relinquished erased by highlight-reel double plays.
Needless to say, it was a frustrating night for Seattle's batters.
"Our approach, at least mine, was to get in there and see some pitches," Mariners third baseman Kyle Seager said. "That's hard to do when he's throwing strike one and then strike two. So you're behind the whole game."
Hernandez -- whose last outing with more than two runs surrendered came on May 12 -- was equally impressive out of the gates. Seattle's overpowering ace sliced his way through the local nine for four perfect innings before flinching in the fifth. Carlos Santana led off Cleveland's lone rally against King Felix with a walk.
From there, Cleveland went on the attack.
Lonnie Chisenhall followed by ripping a pitch from Hernandez into right-center field for a double. Nick Swisher then chopped a pitch to Robinson Cano on the right side of the infield and -- with no one covering first base -- slid head-first into the bag for an unexpected single. That loaded the bases for the Indians, who did what they could to scratch something across.
After David Murphy grounded into a fielder's choice groundout, keeping the bases loaded with one out for Gomes, Cleveland got its break. Gomes slashed a pitch just inside first base and down the right-field line for a double, scoring two runs and giving Kluber all the support he would require.
"To help out Corey, that's pretty cool," Gomes said. "To look back at it, and it's like, 'Wow, man, I got pretty lucky.' I was definitely looking for a different pitch."
Hernandez only allowed the two runs in his seven innings of work, setting a Major League record with his 14th outing in a row pitching at least seven and allowing two runs or fewer. Considering the way Kluber was dealing for Cleveland, the Tribe's low offensive output was damage enough on this night.
Following Logan Morrison's single in the fifth inning, Kluber set down the final 13 batters he faced in order. The right-hander finished with eight strikeouts and did not issue a walk, setting a single-season club record with 10 games this year with at least as many punchouts and no more than one walk issued. CC Sabathia set the previous mark of nine in his Cy Young Award-winning season in 2007.
As Kluber discussed his outing, a recently-emptied stall sat a few lockers down from him.
Kluber said Masterson taught him a lot over the years.
"Probably more than I ever let him know," Kluber said. "He's been a big part of helping me learn to be a big leaguer and learn to pitch up here. Hopefully I can pass along some information he's given me along the way. I think we all accept a little bit more responsibility now.
"He was the quote, unquote leader of the staff. Guys looked to him. Now, we have to do a little bit more."
Jordan Bastian is a reporter for MLB.com. Read his blog, Major League Bastian, and follow him on Twitter @MLBastian. This story was not subject to the approval of Major League Baseball or its clubs.