Felix's continued excellence sets record as Seattle falls
Ace tops Seaver's mark for seven-inning outings with two or fewer runs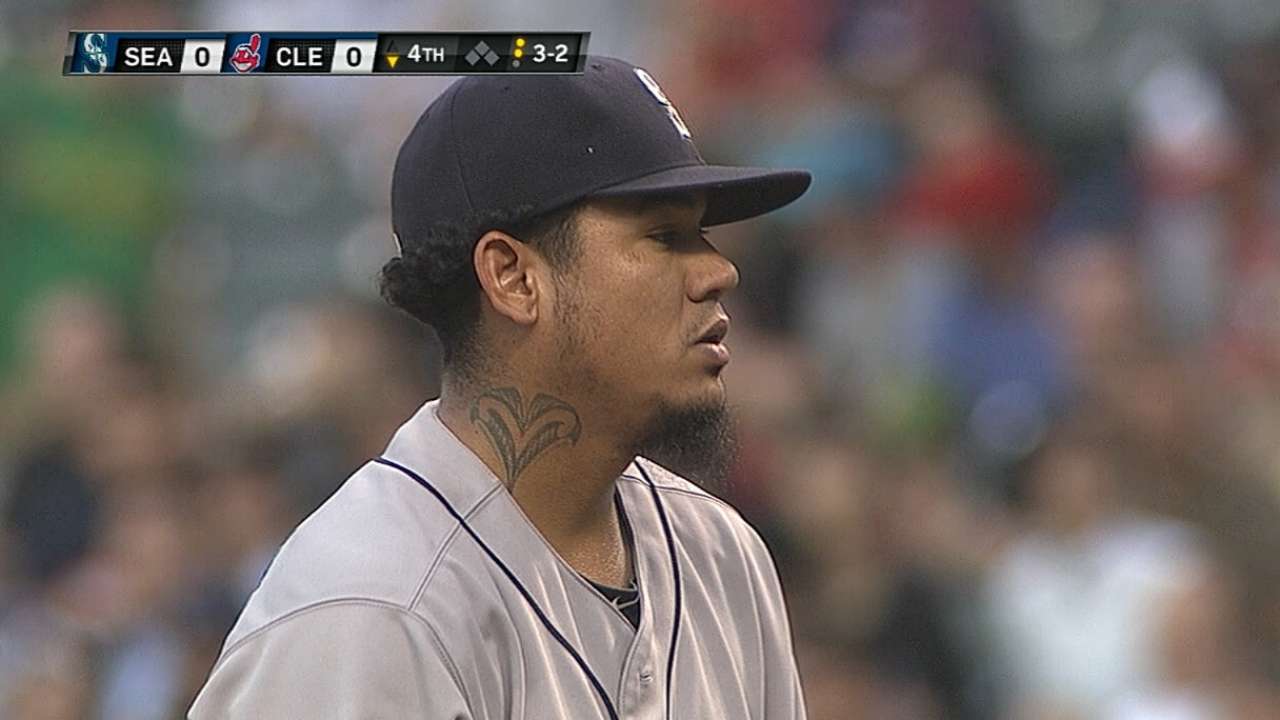 CLEVELAND -- Felix Hernandez set a Major League record with yet another pitching gem Wednesday, but the Mariners ace lost a classic pitchers' duel as the Indians' Corey Kluber shut down Seattle, 2-0, at Progressive Field.
Hernandez took the loss despite allowing just two runs on four hits over seven innings as he fell to 11-3 with a 2.01 ERA.
Hernandez broke Tom Seaver's Major League record for most consecutive starts of at least seven innings while allowing two or fewer runs with his 14th straight such outing. The Hall of Famer Seaver did it 13 times in 1971, when he went 20-10 with a 1.76 ERA for the Mets while finishing second in the National League Cy Young Award voting.
But the Mariners couldn't reward their 28-year-old star with a victory as Kluber shut out Seattle on three hits, continuing his own outstanding campaign as he improved to 11-6 with a 2.61 ERA.
"It's a tough game against a tough pitcher who did a great job," Hernandez said. "He was painting the corners and he did a great job. Give credit to him. For me, I don't know. I don't know what to tell you. I'm not happy because we lost, but this is baseball. That's all I've got to do."
The 2010 American League Cy Young Award winner acknowledged that, with the loss aside, it meant a great deal to him to surpass Seaver's mark.
"It's an honor," he said. "It means a lot to me. I'm just happy to do that. I've just got to continue to be consistent and keep doing what I'm doing."
Manager Lloyd McClendon tried not to let the setback overshadow Hernandez's achievement.
"You get past the loss, because it was a very historic night, a great individual accomplishment for Felix," said McClendon. "He's a little down because he felt he let his team down because we didn't win the ballgame, but you put this in context. There's only one guy in the last 100 years that had done this and that was Tom Seaver. That's pretty elite company. I'm pretty proud of him."
Hernandez has the highest run support of any Mariners starter this season at 4.82 runs per start in his previous 22 outings, but that help has been negligible of late as he wound up five July starts with a 1-1 record and three no-decisions despite posting a 1.70 ERA.
In Hernandez's record-breaking 14-game streak, he's 7-2 with a 1.44 ERA and five no-decisions.
Lack of offense is a continuing problem for a Mariners squad that has the lowest ERA in the American League, but has gone 6-12 over its last 18 games to fall to 55-52.
Kluber has been tough against all foes this season and he continued that against the Mariners. Two of Seattle's three baserunners were wiped out by double plays as the 28-year-old right-hander faced just one over the minimum in a sterling 85-pitch performance in a game that took just two hours, 10 minutes.
"Our guys were battling their butts off. That guy is good," said McClendon. "I've faced him many times in the past [with Detroit] and what he did tonight was not a fluke, trust me. People can make a big deal and say our offense wasn't doing this, but he's done that to real good offenses. And I was part of one of those real good offenses that he's done it, too. He's real good and all the credit goes to him."
Kluber has emerged in his third season with the Indians as one of the top arms in the AL, as the Mariners discovered in a hurry in their first time facing him.
"Nobody had really seen him that much, other than Spring Training," said Kyle Seager, who managed one of the three singles off the Alabama native. "We knew he had that good slider and good fastball with some movement.
"Our approach, at least mine, was to get in there and see some pitches and see what he had and everything. But that's hard to do when he's throwing strike one and then strike two. So you're behind the whole game. He got ahead with multiple pitches. It wasn't just getting ahead with fastballs, he was throwing all his offspeed pitches for strikes. He was pretty tough."
Hernandez was perfect through four frames before things unraveled in the fifth. Carlos Santana led off with a walk and Lonnie Chisenhall followed with a double to right-center to put runners on second and third on a ball that right fielder Endy Chavez took a bad angle on.
Nick Swisher then hit a sharp grounder to second that was snared by Robinson Cano, but Hernandez didn't cover first after Logan Morrison had vacated that spot going after the ball as well.
"That was my fault. That was terrible," Hernandez said. "I was thinking it was going through. But I should have known Cano was there and he's got good range."
"If he covers, we might still be out there playing," McClendon said.
But that loaded the bases with no outs and Hernandez got a force at home on a grounder to first by David Murphy before catcher Yan Gomes lined a two-run double down the right-field line on what Hernandez said was a good fastball on the outside of the plate.
Hernandez dug in there, getting another out at home on a grounder to first by Chris Dickerson and then striking out Jason Kipnis to keep the score at 2-0, but that was all Kluber needed as he retired the last 13 batters in order in a game he threw just 16 balls.
"Rarely do you see two guys that are that good and then on top of their game to boot," said Indians manager Terry Francona. "The way Felix is throwing, the only way you're going to win is by somebody doing something pretty special. And that's what Klubes did."
Greg Johns is a reporter for MLB.com. Follow him on Twitter @GregJohnsMLB as well as his Mariners Musings blog. This story was not subject to the approval of Major League Baseball or its clubs.