Wood, Upton shine, but Dodgers escape in extras
Lefty strikes out eight; slugger hits game-tying homer in ninth in LA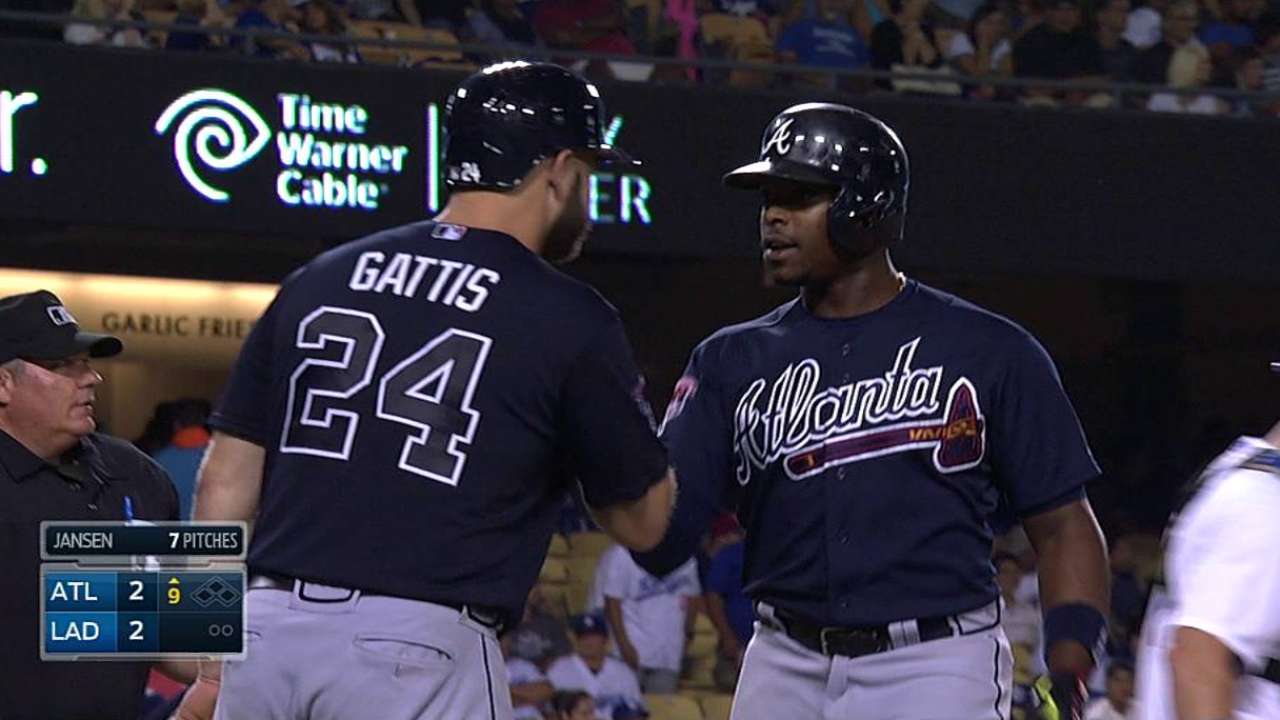 LOS ANGELES -- Alex Wood went toe to toe with Zack Greinke in the midst of a postseason setting. Justin Upton provided the reminder that he remains the middle-of-the-lineup threat that can change a game with just one swing.
But the contributions made by Wood and Upton went to waste as the Braves once again fell victim to the suddenly rejuvenated Matt Kemp during Wednesday night's 3-2, 10-inning loss to the Dodgers.
"I thought all around it was a pretty good ballgame on our part," Wood said. "We just ended up on the wrong side of it."
After Wood and Greinke waged their impressive pitchers' duel, the Dodgers gained an eighth-inning lead against Jordan Walden and then saw it vanish when Upton opened the ninth with his third hit of the night -- a game-tying home run off Dodgers closer Kenley Jansen. Once Upton's monstrous blast sailed over the left-field wall, the Braves provided some reason to wonder if they need more than just a left-handed reliever before Thursday afternoon's Trade Deadline.
With the game tied, 2-2, Braves manger Fredi Gonzalez opted not to turn to David Carpenter, who had surrendered a season-ending home run in his most recent appearance at Dodger Stadium. Nor did he want to go to Anthony Varvaro, who had allowed three runs on Tuesday while pitching for the third time in four days.
Thus, Gonzalez called on long reliever David Hale. After holding the Dodgers scoreless in the ninth, Hale became the latest victim of Kemp, who notched a pair of three-hit performances and totaled three homers during this series' first two games.
Justin Turner began the bottom of the 10th inning with a single and then took advanced to second base when Evan Gattis was unable to keep a pitch to Kemp in front of him. Kemp then jumped on a 3-2 changeup and sent it left field, allowing Turner to score in uncontested fashion.
"It's a great feeling to know that you helped your team to win a game, especially at the end," Kemp said. "Those games are exciting. Back and forth. Justin hit the home run, and we knew we had a chance to still go out there and get the win, and it's just good to get one of those."
The Braves' hopes of scoring in the 10th inning faded when Jordan Schafer got picked off of second base by J.P Howell.
An obviously displeased Gonzalez said, "It wasn't the best [inside pickoff move] I've seen."
While the Dodgers have won five in a row, the Braves now find themselves with the unenviable task of having to face Clayton Kershaw in a game they need to win to avoid a three-game sweep. They at least got themselves primed to face an ace courtesy of the dominance shown by Greinke, who recorded a season-high 13 strikeouts and surrendered just one run over eight innings.
Wood proved to be up to the task of matching this great performance. The Braves' young hurler limited the Dodgers' potent offense to just one run on six hits over seven innings. He was unfazed by the crowd, challenge or the fact that he allowed at least one runner to reach during each of his first six innings.
"It's disappointing, I thought we battled our butts off all night," Wood said. "Greinke is pretty impressive. You forget how good he is until you see him again. Some nights you've just got to tip your cap. I was happy that I was able to go toe to toe with him for seven innings in a playoff atmosphere. Sometimes, it ends up falling your way and sometimes it doesn't."
After Gattis doubled and scored on Simmons' two-out infield single in the second inning, Kemp opened the bottom half of the inning with a no-doubt shot off Wood. This was third home run in a span of five plate appearances for Kemp, who had entered Tuesday's series opener without a homer in his previous 103 plate appearances.
Kemp's latest homer accounted for the Dodgers only run until the eighth inning when Andrelton Simmons was unable to complete what would have have been his latest defensive gem. Kemp's walk and Carl Crawford's single off Jordan Walden had runners at first and second with two outs in the eighth, setting the stage for Juan Uribe, who chopped a go-ahead single through the middle of the infield. As the ball bounced into the outfield grass, it was smothered by a diving Simmons, who quickly picked himself up off the ground and fired toward the plate. But the electric shortstop was not able to get his feet set and consequently his low and wayward throw bounced in front of the mound.
Simmons appeared to injure his shoulder on the play. But he said the extra effort he put on the throw briefly aggravated his shoulder, which he says has been cranky the past few weeks.
"He kind of got [the ball] jammed up coming out of the glove and if not, it's a different ballgame," Gonzalez said. "You expect so much out of him all of the time that when he doesn't make a play like that, you kind of scratch your head. But that's a helluva play just to get to it."
Mark Bowman is a reporter for MLB.com. This story was not subject to the approval of Major League Baseball or its clubs.